An online degree can cost as little as $5,000 o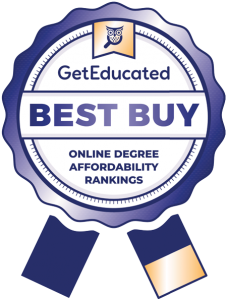 r more than $145,000. The truth: paying more for an online learning degree won't guarantee you a better education. Many factors other than academic quality affect the cost of an online program. Browse our affordability rankings below to find the best online colleges for your area of interest.
At GetEducated.com, we've surveyed more than 3,000 accredited online degrees. Our exclusive cost rankings reveal the best online colleges for degree affordability—we call them "Best Buys"—from online colleges nationwide. We started the online college affordability project more than a decade ago so you—the consumer—can honestly see and compare online degrees for affordability.
Our data-driven research creates a truly reliable system of scientific rankings. There's no fancy formulas here. We meticulously calculate total full-time tuition—including any fees—for the most accurate total cost. Our rankings cannot be bought, and therefore factually showcase the cheapest and best online universities.
Continue browsing below to find your area of interest.
Best Online Universities for Computer Science & Information Technology
Best Online Universities for Math & Science
Best Online Universities for Nursing
Best Online Universities for Liberal Arts