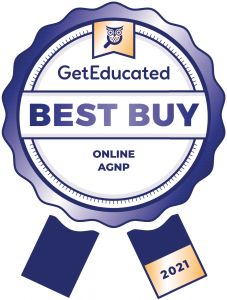 Online AGNP programs are the ticket to expanding on your clinical experience to work with an older and aging population. To increase your autonomy in a competitive healthcare marketplace, an online adult nurse practitioner program is the next step to become an AGNP. Online AGNP programs will increase your authority to prescribe medicine to patients throughout ongoing management of their illnesses. You'll learn how to excel at creating full treatment plans, and may find employment working in a hospital, specialty clinic, or even your own private practice.
Payscale reports the average annual earnings of AGNPs in the U.S. as $93,840. Considering the Bureau of Labor Statistics ten year job outlook of 45% for all nurse practitioners, becoming an AGNP looks to be a highly lucrative and sustainable career path on all fronts. But as for the here and now, choosing the right online adult nurse practitioner program that matches both your professional pursuits and your budget can make an incredible difference in your academic experience.
GetEducated has compared 68 online AGNP programs from 55 nursing schools to bring you the following "Best Buy" list. Our research is designed to reveal the most economic degree options across the United States. Considering a difference in tuition between the most expensive and the cheapest AGNP options sits above $74,700, you won't regret utilizing this research tool in your pursuit of the best degree for your career goals as well as your wallet.
ARTICLE NAVIGATION: Rankings Table | Career Guide
Average Cost (In-state): ~$35,900
Least Expensive: University of Louisiana at Monroe ~$13,900
Most Expensive: Georgetown University ~$88,660
Our data-driven research creates a truly reliable system of scientific rankings. There's no fancy formulas here. We meticulously calculate total full-time tuition—including any fees—for the most accurate total cost. Our rankings cannot be bought, and therefore factually showcase the cheapest online AGNP programs. The online degrees listed above the gray dividing line are official 2021 "Best Buys" and cost less than the national average.
Most Affordable Online AGNP Programs
Accreditation & Program Notes
To qualify for a ranking, a program must be regionally accredited. Additional programmatic accreditation is noted in the rank table.
 8   Accreditation Commission for Education in Nursing (ACEN)
10   Commission on Collegiate Nursing Education (CCNE)
12   State Restriction Note: This program is only available in fewer than 15 states.
14   Program is no longer accepting new students.
Rankings Note
These online college rankings are based on a GetEducated Spring 2021 review of regionally accredited online AGNP programs. Total cost includes full-time tuition and fees and was valid at the time of collection and specific to the online learning program. School profiles for the online master degree programs in our directory may reflect a slightly different cost based on different editorial update schedules.
The published cost is an estimated sticker price for the entire online degree including fees. Actual costs may vary by student. Factors such as transfer credits, prerequisite courses, professional licensing and financial aid availability will affect final cost
Editorial Note
Online schools do NOT pay to be included in any GetEducated online degree ranking. These rankings are editorially independent, open to any regionally accredited or candidate college that offers a master's degree that is available at least 80 percent through online learning and that is open to enrollment by the public. If your online college is regionally accredited and not currently reviewed by GetEducated, please contact us for inclusion.
These rankings of the cheapest online schools for adult geriatric nurse practitioner programs may NOT be re-posted online or reprinted in any format without a license from GetEducated ®. Consumer finance bloggers and writers can contact our editors for a free custom article on the best online AGNP programs for use on your website. Our mission: Help consumers GetEducated ® about the best online colleges for cost and credibility.
Career Guide: Online AGNP Programs
Nurses currently working as an RN, or any medical professional serving the healthcare industry, can advance their careers and earn excellent salaries by completing a master's of science in nursing. And with a focus on gerontology, you'll be ready to meet a growing need for our society.
What's a Online Adult Nurse Practitioner Program Like?
Gerontology is the study of aging and older adults. For many reasons, this field of science and healthcare is becoming more important every year. As the population ages, and life expectancy gradually trends upwards, we have a growing need for people trained to care for people in their seventies, eighties, nineties, and beyond. This field of study will teach you about the processes associated with aging from middle ages through late life, and show you how to provide care that helps people stay active, comfortable, and healthy throughout their later years.
With an aging population and more people reaching the late stages of life, there is an increased need for high-quality nurse practitioner adult gerontologists, as well as people who can lead advanced-age care facilities and other medical centers that provide support for the elderly.
An online adult nurse practitioner program at the master's level will usually cover a total of four semesters, which means two years of study before graduation. To enroll in online AGNP programs, you will need a bachelor's degree in an appropriate area of study, most likely nursing or a similar medical field. Depending in the school, there may also be GPA requirements, as well as professional-experience requirements.
Online acute care nurse practitioner programs will prepare you for a career as an adult gerontology nurse practitioner, often referred to as an "AGNP." When you enroll in online AGNP programs, you can expect a variety of classes that build your understanding of the aging process and ways to maintain the best possible health for elderly patients. Classes will take many forms, but you can expect the training to cover core subjects, such as pharmacology and decision-making in nursing, as well as gerontology-specific classes like "Adult-Gerontology Primary Care," "Gerontology Management," and "Nursing for Acute Ill Gerontology Patients."
Once complete, you'll be prepared to work in a variety of medical settings. You'll also have the skills to work under many different roles and titles. Possible career outcomes after completing online AGNP programs include…
Nurse Practitioner
Median Salary: $109,820
Job Growth: 52%
Education: Master's
Training/Work Experience: None
Most people who complete online AGNP programs will become a nurse practitioner specializing in adult gerontology. These professionals usually deal with elderly patients in a hospital or clinical setting, helping to either maintain overall health through wellness exams and support, or providing immediate care in emergency or serious situations.
Roles can vary, but you will likely be involved in diagnosing health conditions, monitoring vital signs, managing chronic illnesses, and promoting healthy choices.
Nurse practitioners overall will be a growing profession over the coming decades, but it seems reasonable that with an aging population and growing life expectancy, AGNPs (a type of nurse practitioner) will be even higher in demand.
Medical Services Manager
Median Salary: $100,980
Job Growth: 32%
Education: Bachelor's
Training/Work Experience: 5 years experience
If you work in the medical profession and want to take your career into a leadership and organizational role, a career as a medical services manager may be the right choice. While you'll likely need advanced training in management and health services, online AGNP programs could set you on the right path. With this education, you can gain the appropriate experience to qualify for a medical services manager position.
As the demand for healthcare continues to rise, so too will the need for medical services managers. These professionals will be needed to guide medical teams, including gerontologists, through the upcoming years, which are expected to see rapid growth in the medical industry.
AGNP Licensing, Certifications & Experience Requirements
Licensing, certification, and experience will depend on the career you choose, but if you work as an AGNP, you can certainly expect certification or proper licensing.
If you choose to work as a medical services manager or another type of leader in the medical profession, you may not need certification. In most cases, if you are not directly involved in the administration of care, licensing and certification is not required. But managers, chief nursing officers, and other leadership-based roles will need at least five years of experience in the profession.
Whether you work as an adult gerontology nurse practitioner or choose a different career path, a degree in adult gerontology can help you become one of the most important professionals in the healthcare industry.