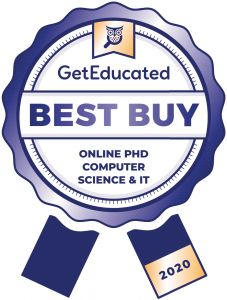 By earning an online PhD computer science degree, professionals gain standing not only in an incredibly competitive industry, but also in the world of academia. In some areas of the government, namely cybersecurity sectors or the Federal Bureau of Investigation, those leading, managing and innovating new pathways into the future of technology possess a doctorate, or are working toward one. The Bureau of Labor Statistics projects an 11% occupational growth in the CS & IT fields, leading to an incredible amount of job opportunities in information security, big data, cloud computing, and more. Considering an online PhD in information technology or computer science allows the aspiring industry leader to balance both a degree and a career with flexibility in favor of the student. However, paying for an online PhD in computer science can steer one's financial future into uncharted territory when the difference in tuition prices of the most affordable and most expensive programs reaches beyond $65,000.
GetEducated has created this "Best Buy" list surveying 30 regionally accredited online PhD computer science programs from 9 different schools to provide links to the most economical options in the U.S. This way, students are able to navigate their academic future and decide on the highest caliber education at a reasonable price. Explore each option before deciding upon the next step in an educational career with GetEducated.
ARTICLE NAVIGATION: Rankings Table | Career Guide
Average Cost (In-state): ~$58,600
Least Expensive: Dakota State University ~ $20,961
Most Expensive: Nova Southeastern University ~ $86,147
Our data-driven research creates a truly reliable system of scientific rankings. There are no fancy formulas here. We meticulously calculate total full-time tuition—including any fees—for the most accurate total cost. Our rankings cannot be bought, and therefore factually showcase the cheapest online phd computer science and IT programs. The online CS & IT degrees listed above the gray dividing line are official 2020 "Best Buys" and cost less than the national average.
Most Affordable Online PhD Computer Science
Rank
School / Degree
State
Price
Note

Dakota State University

(SD)

$20,961.00

All Students

Indiana State University

(IN)

$29,216.00

$37,664.00

In-State

Out-of-State

Capella University

DIT - Information Assurance and Cybersecurity

14

DIT - Project Management

14

(MN)

$45,225.00

$40,860.00

In-State/Out-Of-State

Military

University of the Potomac

(DC)

$50,202.50

All Students

Capella University

(MN)

$51,750.00

$46,750.00

In-State/Out-Of-State

Military

Capitol Technology University

(MD)

$56,130.00

$50,130.00

In-State/Out-Of-State

Military

City University of Seattle

(WA)

$57,876.00

$24,336.00

In-State/Out-Of-State

Military
NOTE: The following schools did not make our Best Buy ranking but are also great online options.
School / Degree
State
Price
Note

Purdue University

(IN)

$63,000.00

$75,000.00

In-State

Out-of-State

Colorado Technical University

(CO)

$64,640.00

$56,000.00

In-State/Out-Of-State

Military

Northcentral University

(CA)

$67,450.00

$53,860.00

In-State/Out-Of-State

Military

Northcentral University

(CA)

$67,530.00

$54,120.00

In-State/Out-Of-State

Military

Walden University

(MN)

$68,740.00

All Students

Nova Southeastern University

(FL)

$82,484.00

All Students

Nova Southeastern University

(FL)

$86,147.00

All Students
14   Program is no longer accepting new students.
Accreditation Note
To qualify for a ranking, a program must be regionally accredited. Additional programmatic accreditation is noted in the rank table.
23  Project Management Institute Global Accreditation Center (PMI GAC)
Rankings Note
These online college rankings are based on a GetEducated Fall 2020 review of regionally accredited online PhD computer science programs. Total cost includes full-time tuition and fees and was valid at the time of collection and specific to the online learning program. School profiles for the online doctorate degree programs in our directory may reflect a slightly different cost based on different editorial update schedules.
The published cost is an estimated sticker price for the entire online degree including fees. Actual costs may vary by student. Factors such as transfer credits, prerequisite courses, professional licensing and financial aid availability will affect final cost.
Editorial Note
Online schools do NOT pay to be included in any GetEducated online degree ranking. These rankings are editorially independent, open to any regionally accredited or candidate college that offers a doctorate degree that is available at least 80 percent through online learning and that is open to enrollment by the public. If your online college is regionally accredited and not currently reviewed by GetEducated, please contact us for inclusion.
These rankings of the cheapest online schools for computer science may NOT be re-posted online or reprinted in any format without a license from GetEducated ®. Consumer finance bloggers and writers can contact our editors for a free custom article on the best online PhD computer science degrees for use on your website. Our mission: Help consumers GetEducated ® about the best online colleges for cost and credibility.
Career Guide: Online PhD Computer Science
If you are a working IT professional and want to take your career to new heights, a doctorate in information technology, computer science, or a related field may be the best choice. By deepening and widening your technology expertise, these programs will shape you into one of the most knowledgeable and respected tech professionals in the world!
PhD Information Technology: Program Overview
These are elite-level academic programs, and you'll need an extensive education in information technology, computer science, or a similar field before you can even consider these degrees. To be admitted, you'll likely need to complete an application and a resume, as well as a statement of goals, a letter that essentially outlines why you want to become a doctor in technology.
While studying in an online PHD computer science program, you'll be exposed to classes that take a deep dive into technology. Courses will vary, but you can likely expect classes to cover advanced algorithms to managing innovations in the tech sector. You'll likely be exposed to artificial intelligence, risk analysis, statistical research, and much more. You will take advanced course that fall under names like "Algorithm Design" and "Automata Complexity Theory." You'll also have to complete a dissertation, a deep dive analysis into a specific aspect of information technology or computer science.
You can focus your education into a variety of different avenues, including general information technology, IT project management, cybersecurity, database administration, and more. With a online phd computer science, IT, data science, networks, or a similar field, you'll be well prepared for a variety of exciting positions…
Best Careers for PhD Computer Science Grads
Computer Research Scientist
Salary: $122,840
Education: Master's
Training/Experience: None
Growth: 15%
These technology experts are at the forefront of digital advancement. They invent, design, test, and improve technology, including hardware and software, to make our computer systems more effective. From new innovations to creating new ways to use existing technology, computer research scientists enjoy one of the most exciting technology careers available.
Computer research scientists usually need at least a master's degree, but a doctorate in technology will help accelerate your career.
Computer Hardware Engineer
Salary: $117,220
Education: Bachelor's
Training/Experience: None
Growth: 2%
These are the professionals who conceptualize and create the physical hardware that makes computing possible. They make processors, chips, memory boards, routers, and all the other devices that allow us to enjoy technology.
This career brings an excellent salary, and the top 10% can expect earnings over $185,000, which certainly seems achievable if you have a doctorate in a technology-related area. The only downside of this career is growth. The position is only expected to grow by 2% between 2019 and 2029, placing it behind the national average of 4%. Centralized computing and network services could decrease demand for new technologies, but an increase in connected devices could stabilize demand for hardware engineers.
Technology Professor
Salary: $79,540 (All post-secondary teachers)
Education: Doctorate
Training/Experience: Some experience often required
Growth: 9%
Technology professors are involved in both the development of new IT professionals, as well as the research and analysis of new innovations. Professors at universities and colleges can focus on almost any type of technology, from computer networks to databases to software developments to physical hardware. They may teach in their specific area of study, develop instructional plans, and modify a technology curriculum. They may also be involved in IT research, writing scholarship articles, and serve on college committees.
A online phd computer science is often required for these careers, especially if you want to work for major universities. Experience in the industry, while not always necessary, will give you a better perspective on technology and its uses and give you more credibility as an authority on technology topics.
Additional Requirements, Including Licensing & Exams
Even the highest educated technology experts need to continually learn about the latest advancements in computer science and information technology. From books to seminars to industry publications, you'll need to always keep a finger on the pulse of the technology sector if you want to remain an effective tech professional.
For doctorate-level tech experts, scholarship and academic studies are even more important. Reading high-level tech publications from other experts and researchers will ensure you stay at the top of this ever-evolving sector.