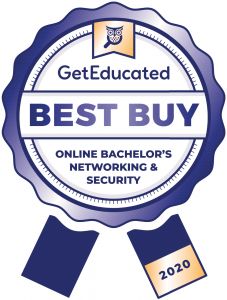 The best online networking degree programs are the ones which fit the personal goals and budget of the student. Through online programs, working students have the unique opportunity to apply new, innovative knowledge directly to the workplace. Professional competencies abound, there may be no stopping the next wave of cybersecurity and networking professionals from success. But which online IT security degree or online networking degree is the right fit for you? Information security analysts are looking at a job outlook of 33% throughout 2029. Computer network architects saw a median annual salary of $112,690 in 2019. These numbers are fantastic, but the cost of a degree and one's current financial situation can determine the academic route taken as well as the quality of education. The most expensive online IT security degree at the bachelor's level can reach up to $88,000, a make or break number for adults considering student loans and the rise from entry-level careers.
GetEducated has compared 69 bachelor's in IT security and networking from 46 regionally accredited online schools to create this ranking. Below is our editorially independent list of the current 2020 "Best Buys" for an affordable online networking degree. Become an informed consumer before becoming a student of higher education.
ARTICLE NAVIGATION: Rankings Table | Career Guide
Average Cost (In-state): ~$50,700
Least Expensive: Florida State College at Jacksonville ~ $15,084
Most Expensive: University of Advancing Technology ~ $88,000
Our data-driven research creates a truly reliable system of scientific rankings. There are no fancy formulas here. We meticulously calculate total full-time tuition—including any fees—for the most accurate total cost. Our rankings cannot be bought, and therefore factually showcase the cheapest online networking degree programs. The online networking degrees listed above the gray dividing line are official 2020 "Best Buys" and cost less than the national average.
Most Affordable Online Networking Degree Programs
14   Program is no longer accepting new students.
Accreditation Note
To qualify for a ranking, a program must be regionally accredited. Additional programmatic accreditation is noted in the rank table.
17  Accreditation Council for Business Schools and Programs (ACBSP)
41  Accreditation Board for Engineering and Technology (ABET)
Rankings Note
These online college rankings are based on a GetEducated Fall 2020 review of regionally accredited online networking degree options. Total cost includes full-time tuition and fees and was valid at the time of collection and specific to the online learning program. School profiles for the online bachelor degree programs in our directory may reflect a slightly different cost based on different editorial update schedules.
The published cost is an estimated sticker price for the entire online degree including fees. Actual costs may vary by student. Factors such as transfer credits, prerequisite courses, professional licensing and financial aid availability will affect final cost.
Editorial Note
Online schools do NOT pay to be included in any GetEducated online degree ranking. These rankings are editorially independent, open to any regionally accredited or candidate college that offers a bachelor degree that is available at least 80 percent through online learning and that is open to enrollment by the public. If your online college is regionally accredited and not currently reviewed by GetEducated, please contact us for inclusion.
These rankings of the cheapest online schools for IT security and networking may NOT be re-posted online or reprinted in any format without a license from GetEducated ®. Consumer finance bloggers and writers can contact our editors for a free custom article on the best online networking degree for use on your website. Our mission: Help consumers GetEducated ® about the best online colleges for cost and credibility.
Companies and organizations all across the country need experts in network administration and information security. Not only is there outstanding growth in these tech disciplines, qualified and skilled professionals can expect to be well rewarded for their talents.
Career Guide: Online Networking Degree
If you think you have the right abilities for one of these tech careers, you need to pick the right online IT security degree. But first, it helps to understand the difference between network administration and information security…
What is Network Administration?
Network administration is the practice of helping a computer network run smoothly and effectively. It includes designing and installing computers, as well as the software required for effective networks. It can also encompass backing up the system, creating network diagrams, troubleshooting and repairing, and monitoring the system for security flaws.
What is Information Security?
Information security, on the other hand, is more focused on the overall protection, privacy, and security of a network or a set of information. With network administration, security is part of the job; for information security, it is the job.
Onilne Networking & Information Security Degrees
An online networking degree gives you a wide range of skills that can be applied to virtually any industry. And we mean that literally: there is no conceivable modern industry that couldn't use the services of someone trained in protecting digital information or enhancing security systems.
The classes you complete when enrolled in an online networking degree can run a wide range of subjects related to technology. Courses may fall under the names "introduction to IT" or "IT applications." It could also introduce you to a variety of courses related to specific programs and coding languages, such as Python or Linux.
Best Careers in Network Administration & Information Security
Once you complete your online networking degree, you'll be prepared for a variety of careers, including many high-paying jobs.
Network & Computer Systems Administrators
Salary: $83,510
Education: Bachelor's
Experience: None
Growth: 4%
These professionals are extremely critical to the success of large organizations. They determine the network needs for organizations, then create specific plans to address these needs. They may implement software upgrades, maintain security platforms, and even train personnel on network issues, including how to best use the system.
This career brings a strong income, and the top 10% can expect salaries over $132,000. However, job growth will only be 4%. To be fair, this is exactly the same as the national average, but it's well below some of the averages seen by other careers.
Information Security Analyst
Salary: $99,730
Education: Bachelor's
Training/Experience: None
Growth: 31%
As the number of cyber attacks increases, the need for well-trained, highly-proficient information security analysts is expected to rise sharply. Companies and organizations hire these analysts to monitor an organization's network, conduct security test, and research the latest information-security procedures. Most applicants only need a bachelor's level online networking degree with a focus in information security.
The pay is excellent, as the median salary is almost $100,000. This means that roughly half of all security analysts earn six-figure incomes! If you are in the top 10% of this career field, you can expect salaries over $158,000. This is an important career, and it's clearly one for which companies are willing to pay top dollar. The growth will also be excellent, adding almost 172,000 jobs between 2019 and 2020.
Additional Requirements, Including Licensing & Exams
If you have the right skills and talents, you can immediately work in one of the many network and information-security jobs. There is almost never a need for certifications or licensing, another reason why these careers are so attractive.
You will, however, need to stay ahead of the curve on this ever-changing career field. With new technologies emerging daily, and new information-security threats happening at a rapid pace, people working with networks need to maintain constant proficiency. Industry seminars and informal classes are a great way to stay at the top of the field, and you should also consider trade publications so you are constantly aware of the latest advancements in information security and networks.
Eventually, you may even want to expand your education to include a master's degree or even a doctorate. Not only will this make you a more attractive job candidate, it could open careers that would not be possible without a graduate degree, such as a position as a computer research scientist.
Above all, remember that a tech education is never complete, even after you finish an online networking degree.