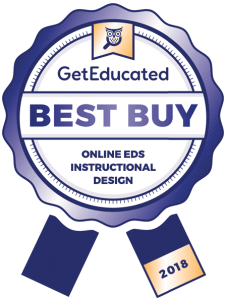 get ranking seal
Changing standards and methods in education mean that the demand for highly-trained instructional designers has never been greater. It is a great time to get the training that will put your resume—and your skills—on the top of the heap with an EdS instructional technology online program. The EdS is a much quicker (and cheaper) way to get a higher level of education and learn the latest in this rewarding field of study. Comparing schools could save you about $20,000, and you can complete your education without changing where you live and work.
We pulled together the data for all instructional design educational specialist degrees that can be completed online, saving you a step in your search process. There are 10 schools that offer a total of 13 degree programs for this specialty, and our ranking system includes all cost factors, giving you an honest view of the total cost outlay for each program. Our guide makes it easy to find the best EdS instructional technology online that fits your needs—and is a win for your wallet!
Average Cost (In-state): ~$16,100
Least Expensive: Valdosta State University ~$10,270
Most Expensive: Northcentral University ~$30,293
Our data-driven research creates a truly reliable system of scientific rankings. There's no fancy formulas here. We meticulously calculate total full-time tuition—including any fees—for the most accurate total cost. Our rankings cannot be bought, and therefore factually showcase the cheapest EdS instructional technology online programs. The online education specialist degrees listed above the gray dividing line are official 2018 "Best Buys" and cost less than the national average.
Most Affordable EdS Instructional Technology Online Degrees
Rank
School / Degree
State
Price
Note

Valdosta State University

(GA)

$10,270.00

All Students

University of Central Missouri

(MO)

$11,358.00

All Students

Georgia Southern University

(GA)

$11,900.00

All Students

University of Missouri-Columbia

(MO)

$13,001.10

$11,898.30

In-State/Out-Of-State

Military

Auburn University at Montgomery

(AL)

$13,550.00

$13,850.00

In-State

Out-of-State

University of Montevallo

(AL)

$15,000.00

$29,490.00

In-State

Out-of-State
NOTE: The following schools did not make our Best Buy ranking but are also great online options.
School / Degree
State
Price
Note

Coastal Carolina University

(SC)

$17,790.00

$32,160.00

In-State

Out-of-State

Boise State University

(ID)

$18,388.00

$50,552.00

In-State

Out-of-State

University of Florida

(FL)

$19,149.48

$22,876.56

In-State

Out-of-State

Northcentral University

(CA)

$30,293.00

$21,680.00

In-State/Out-Of-State

Military
Accreditation & Licensing Note: As in all careers with state-specific licensure requirements, prospective applicants should contact the education department in their state of residence and ensure the desired program qualifies a graduate for teacher licensure. Not all programs listed lead to licensure. Applicants can also learn more by clicking the links to request information about each degree program. To qualify for a ranking, a program must be regionally accredited. Additional programmatic accreditation is noted in the rank table.
36 Council for the Accreditation of Educator Preparation (CAEP)
Rankings Note: These online college rankings are based on a GetEducated Fall 2018 review of regionally accredited eds instructional technology online options. Total cost includes full-time tuition and fees and was valid at the time of collection and specific to the online learning program. School profiles for the online education specialist degree programs in our directory may reflect a slightly different cost based on different editorial update schedules. The published cost is an estimated sticker price for the entire online degree including fees. Actual costs may vary by student. Factors such as transfer credits, prerequisite courses, professional licensing and financial aid availability will affect final cost.
Editorial Note: Online schools do NOT pay to be included in any GetEducated online degree ranking. These rankings are editorially independent, open to any regionally accredited or candidate college that offers an EdS degree that is available at least 80 percent through online learning and that is open to enrollment by the public. If your online college is regionally accredited and not currently reviewed by GetEducated, please contact us for inclusion.
These rankings of the cheapest online schools for an EdS in instructional technology may NOT be re-posted online or reprinted in any format without a license from GetEducated ®. Consumer finance bloggers and writers can contact our editors for a free custom article on the best eds instructional technology online for use on your website. Our mission: Help consumers GetEducated ® about the best online colleges for cost and credibility.