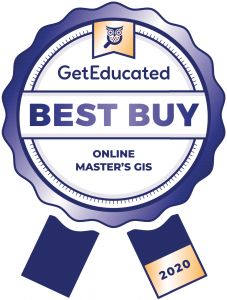 While there aren't as many online GIS master's as broader engineering degrees, this major is no less popular. Geographic Information System specialists can be utilized in various industries as geographers, cartographers, city planners, surveyors, and more with a possibility of making over $80,000 annually. However, according to the Bureau of Labor Statistics, these positions are looking at a lower than average outlook over the next nine years. Competition for the best is crucial, and having an online GIS master's provides access to the latest technology and information available in the field. This makes the choice as to what school to attend and what professional pathway to align one's studies with as important as calculating tuition and fees. We've done the hard work for you—gathering all online GIS master's and ranking according to cost—making the financial decision of earning a GIS master's degree an easier process.
Our editors compared 29 online GIS master's programs from 24 regionally accredited schools to create this ranking. Below is our editorially independent list of "Best Buys" for an affordable online GIS master's. With this information at your fingertips, don't let your decision go uninformed.
ARTICLE NAVIGATION: Rankings Table | Career Guide
Average Cost (In-state): ~$27,700
Least Expensive: University of Central Arkansas ~ $9,750
Most Expensive: University of Southern California ~ $67,830
Our data-driven research creates a truly reliable system of scientific rankings. There are no fancy formulas here. We meticulously calculate total full-time tuition—including any fees—for the most accurate total cost. Our rankings cannot be bought, and therefore factually showcase the cheapest online GIS master's degree programs. The online GIS degrees listed above the gray dividing line are official 2020 "Best Buys" and cost less than the national average.
Most Affordable Online GIS Master's Programs
Rank
School / Degree
State
Price
Note

University of Central Arkansas

(AR)

$9,750.00

All Students

Northwest Missouri State University

(MO)

$10,500.00

All Students

Florida Atlantic University

(FL)

$12,641.88

$34,911.54

In-State/Military

Out-of-State

Delta State University

(MS)

$13,693.50

All Students

University of West Florida

(FL)

$14,400.00

All Students

North Carolina State University at Raleigh

(NC)

$15,242.04

$43,259.04

In-State

Out-of-State

Texas A & M University-Corpus Christi

(TX)

$15,561.32

$32,867.52

In-State

Out-of-State

University of the Potomac

(DC)

$17,750.00

All Students

Tennessee State University

(TN)

$18,552.00

$26,688.00

In-State

Out-of-State

Unity College

(ME)

$19,500.00

$17,550.00

In-State/Out-Of-State

Military

Kent State University

(OH)

$21,210.00

$21,810.00

In-State

Out-of-State

Northern Arizona University

(AZ)

$21,360.00

All Students

University of Arizona

(AZ)

$24,812.00

All Students

Elmhurst University

(IL)

$24,900.00

All Students

University of Kentucky

(KY)

$25,406.00

All Students
NOTE: The following schools did not make our Best Buy ranking but are also great online options.
| | | | | |
| --- | --- | --- | --- | --- |
| | University of Wisconsin-Madison | (WI) | $28,537.20 | All Students |
| | University of Oklahoma | (OK) | $32,505.00 | All Students |
| | Pennsylvania State University | (PA) | $33,279.00 | All Students |
| | Northeastern University | (MA) | $34,091.25 | All Students |
| | University of Denver | (CO) | $35,232.00 | All Students |
| | Michigan Technological University | (MI) | $35,792.00 | All Students |
| | Johns Hopkins University | (MD) | $43,390.00 | All Students |
| | University of Florida | (FL) | $44,980.00 | All Students |
| | Johns Hopkins University | (MD) | $53,308.00 | All Students |
| | University of Southern California | (CA) | $55,860.00 | All Students |
| | University of Southern California | (CA) | $67,830.00 | All Students |
14   Program is no longer accepting new students.
Accreditation Note
To qualify for a ranking, a program must be regionally accredited. Additional programmatic accreditation is noted in the rank table.
Rankings Note
These online college rankings are based on a GetEducated Fall 2020 review of regionally accredited online GIS master's programs. Total cost includes full-time tuition and fees and was valid at the time of collection and specific to the online learning program. School profiles for the online master degree programs in our directory may reflect a slightly different cost based on different editorial update schedules.
The published cost is an estimated sticker price for the entire online degree including fees. Actual costs may vary by student. Factors such as transfer credits, prerequisite courses, professional licensing and financial aid availability will affect final cost.
Editorial Note
Online schools do NOT pay to be included in any GetEducated online degree ranking. These rankings are editorially independent, open to any regionally accredited or candidate college that offers a master degree that is available at least 80 percent through online learning and that is open to enrollment by the public. If your online college is regionally accredited and not currently reviewed by GetEducated, please contact us for inclusion.
These rankings of the cheapest online schools for GIS may NOT be re-posted online or reprinted in any format without a license from GetEducated ®. Consumer finance bloggers and writers can contact our editors for a free custom article on the best online GIS master's for use on your website. Our mission: Help consumers GetEducated ® about the best online colleges for cost and credibility.
Career Guide: Online GIS Master's
If you are interested in technology, maps, geography, and data, a career with geographic information systems may be perfect. But you'll need the right education. You'll need to know how to collect data and use it in a variety of software formats, and you'll need to understand how companies and organizations can used geographic data. You'll need to complete an online GIS master's!
Master's in Geographic Information Systems Program Overview
What is "GIS?" Geographic information systems is a computer-based programs that analyzes and displays geographic information for a variety of purposes. These technologies can use geographic data for numerous reasons; it can be captured, stored, manipulated, analyzed, and more. Essentially, any data that references a specific location can be used within geographic information systems.
Geographic information systems can serve many purposes. They can be used to map where things are, such as vital resources. It can be used to track the frequency of events, such as crime rates, fires, or floods. It can be used to map and predict future changes, find nearby structures, or map population densities. With a little imagination, there is no limit to what can be accomplished with GIS.
If you study for an online GIS master's, you'll complete a variety of courses that develop your technological skills. You may take classes that look at GIS from a broad-level perspective, such as mapping fundamentals or research methodology. You could also take course that are more specific, such as applying GIS to healthcare or the environment.
In a GIS master's degree online, there may also be course that focus on the needs of employers and how GIS graduates can meet the challenges of 21st-century organizations. From decision making to data collection, a masters in data science online helps you become a highly desired job candidate.
Best Careers for Online GIS Master's Grads
There are many careers that you can hold after you graduate from an online GIS master's program, including…
Cartographer
Salary: $65,470
Education: Bachelor's
Experience: None
Growth: 4%
These highly-skilled, highly-precise experts collect geographic data, measure distances and figures, and interpret information for a variety of purposes. They may be tasked with updating maps, collecting geographic data, or creating visual representations of information, depending on the specific job.
To be a cartographer, you will need an education in cartography or a similar field. An online GIS master's degree, however, could boost your earning potential and make you a more attractive job candidate. With little to no experience, you could work in this career, which brings salaries above $103,000 for the top 10%.
Civil Engineer
Salary: $87,060
Education: Bachelor's
Experience: None
Growth: 2%
Designing the growth of a city, planning a highway, or creating the layout of an airport. These are all massively complex jobs, and they require the experience and expertise of a qualified civil engineer. Civil engineers design and supervise large infrastructure projects, and while construction management is essential, an online masters in geographic systems could help take your career to new heights.
The pay for this career is excellent, and the top 10% can expect salaries over $144,560 a year. However, growth for this job will be stagnant. Growing at only 2% from 2019 to 2029 (below the national average of 4%) job candidates may experience trouble finding the top jobs, which is why an online GIS master's could be so important.
Additional Requirements, Including Licensing & Exams
While many careers in the tech sector do not require licensing or certifications, you may come across this requirement with geographic information systems. For example, this career can lead you into employment as a civil engineer, a job that may require licensing and previous experience. If you work as a cartographer, you may be required to get licensing as well, but once again this will depend on the state.
The technology sector is constantly changing, so regular education through classes, informal courses, seminars, trade publications, and more may be required. This may not be needed for many jobs, but it will help you stay at the forefront of your career.
You could also continue your education after an online GIS master's to the doctorate level. With a doctorate, you can enjoy a higher earning potential while opening your career to new opportunities, such as teaching at the university level.