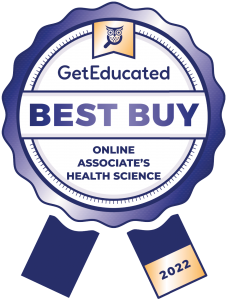 Earning an online associate degree in health science is a perfect first step into the healthcare marketplace. In fact, the health science field is the healthcare industry's core. It encompasses STEM careers ranging from nursing and pharmacy to medical technology, coding, and more. In other words, a specialized online associate degree in health science can put your career on the map.
This list explicitly addresses associate's degrees with transferable credits, benefiting students on their way to a bachelor's degree program. Learn the foundations of the healthcare profession with the flexibility to succeed and advance through an online associate's degree.
GetEducated compared 14 associate programs from 14 of the best online colleges for health science to create this ranking. Below is our editorially independent list of the 7 Best Buys for an affordable online associate degree in health science program. All degrees cost less than the national average.
ARTICLE NAVIGATION: Rankings Table | Career Guide
Average Cost (In-state): ~$22,800
Least Expensive: St. Petersburg College – $7,605.00
Most Expensive: Hawaii Pacific University – $60,040.00
Our data-driven research of public and non-profit colleges creates a genuinely reliable system of scientific rankings. There are no misleading formulas here. We meticulously calculate total full-time tuition—including any fees—for the most accurate total cost. Our rankings cannot be bought, and they factually showcase the cheapest online associate degrees in health science. The online health science degrees listed above the gray dividing line are official 2022 "Best Buys" and cost less than the national average.
Best Affordable Online Associate Degree in Health Science
Rank
School / Degree
State
Price
Note

St. Petersburg College

(FL)

$7,605.00

$24,114.00

In-State

Out-of-State

Casper College

(WY)

$8,700.00

$21,300.00

In-State

Out-of-State

Northern Wyoming Community College District

(WY)

$9,180.00

$21,780.00

In-State

Out-of-State

Niagara County Community College

(NY)

$12,038.00

$21,926.00

In-State

Out-of-State

Finger Lakes Community College

(NY)

$12,498.00

$14,474.00

In-State

Out-of-State

Northwest Technical College

(MN)

$12,954.60

All Students

Northland Community and Technical College

(MN)

$13,362.00

All Students
NOTE: The following schools did not make our Best Buy ranking but are also great online options.
School / Degree
State
Price
Note

Franklin University

(OH)

$23,945.00

$15,065.00

In-State/Out-Of-State

Military

Wilmington University

(DE)

$24,010.00

$15,470.00

In-State/Out-Of-State

Military

Los Angeles Pacific University

(CA)

$27,000.00

All Students

University of the Incarnate Word

(TX)

$32,490.00

$15,090.00

In-State/Out-Of-State

Military

Excelsior College

(NY)

$33,605.00

All Students

Laboure College

(MA)

$41,150.00

All Students

Hawaii Pacific University

(HI)

$60,040.00

$16,000.00

In-State/Out-Of-State

Military
Accreditation & Program Notes
To qualify for a ranking, a program must be regionally accredited. Additional programmatic accreditation is noted in the rank table.
14  Program is no longer accepting new students.
Rankings Note
These online college rankings are based on a GetEducated Summer 2022 review of regionally accredited online associate degrees in health science. Total cost includes full-time tuition and fees and was valid at the time of collection and specific to the online learning program. School profiles for the online associate degree programs in our directory may reflect a slightly different cost based on different editorial update schedules.
The published cost is an estimated sticker price for the entire online degree including fees. Actual costs may vary by student. Factors such as transfer credits, prerequisite courses, professional licensing and financial aid availability will affect final cost.
Editorial Note
Online schools do NOT pay to be included in any GetEducated online degree ranking. These rankings are editorially independent, open to any non-profit, regionally accredited or candidate college that offers an associate's degree that is available at least 80 percent through online learning and that is open to enrollment by the public. If your online college is regionally accredited and not currently reviewed by GetEducated, please contact us for inclusion.
These rankings of the cheapest schools for an online associate degrees in health science may NOT be re-posted online or reprinted in any format without a license from GetEducated ®. Consumer finance bloggers and writers can contact our editors for a free custom article on the best online associate degrees in health science for use on your website. Our mission: Help consumers GetEducated ® about the best online colleges for cost and credibility.
Career Guide: Online Associate Degree in Health Science
"Health science" is a broad-level term that describes the study of well-being, medical care, and overall health. It can include a variety of medical specialties, and can lead to a new career or add to a current professional's ongoing skills. Essentially, it can be used to launch or accelerate a medical career.
Online Associate in Health Science: An Overview
These are two-year programs that allow students to develop their skills quickly, creating a rapid transition into the workforce or an advanced degree, such as a bachelor's. They are generally preferred by students who want a fast track to a medical career. Associate's degrees, assuming you take a complete workload, usually require two years (four semesters) of study. However, it's possible to take a larger workload or to enroll in summer and winter-break classes, which helps accelerate your education.
An online associate degree in health science is a fast, convenient way to complete your degree. It can also be more affordable. In our research, the average cost of a health science associate's degree online was $22,800. But this is only average, and the cost can be even cheaper, as the lowest-priced degree was only $7,605. If you want to advance your career without a massive tuition bill, an online associate degree in health science could be perfect.
The classes in this degree field will vary by institution. You can likely expect a combination of health-related classes that include hard science, ethics, and industry practices. Classes may include healthcare ethics, medical terminology, holistic health, and human growth. All of these classes help develop your talents as a medical professional.
Health science is a broad degree that doesn't dive deeply into a specific career field. (Although there are concentrations offered by various schools.) It offers a wide-ranging education, allowing you to explore various fields and disciplines within the medical industry. It's a great option for students who want to serve in healthcare, but aren't sure which path is right for their specific needs.
These degrees are made to transfer into larger bachelor's degrees and beyond. They are structured so that, when complete, you can seamlessly transition into a bachelor's degree in a specific medical field, such as nursing, dental hygiene, pharmaceuticals, or even veterinary technology. If you know your education won't stop after two years, an online associate degree in health science may be the right degree for you.
Best Careers with a Health Science Degree
Pharmacy Technician
Salary: $36,740
Education: HS Diploma, some training and education required
Experience: None
As a pharmacy technician, you would be responsible for helping dispense prescription medication to customers. Working in hospitals and retail pharmacies, this is an excellent position for people starting their medical career. It allows you to work with a variety of medical departments and gives you a ground-level understanding for the details of the industry.
Although the pay is relatively low compared to many other medical professions, if you have an associate's degree you'll likely qualify for many of the top-paying pharmacy tech jobs.
Health Services Manager
Salary: $101,340
Education: Bachelor's Degree
Experience: 5 years or more
These are the leaders who plan, direct, and coordinate medical services and business activities. They are not medical professionals like doctors or surgeons; rather, they are business and organizational leaders who are usually educated in management. Responsibilities may include developing goals for a facility or team, recruiting talent, creating work schedules, and preparing budgets.
The pay for this career is high, but you'll need experience. Managers often need at least five years in the medical industry, usually serving as administrative assistants and other supportive roles. Some, however, may come from medical positions like nursing. An online associate degree in health science is a good first step on the long journey towards a management career.
Additional Requirements for a Health Science Career
If you are going to work in the medical industry in a position where you are directly administering care or medication, you can expect a licensing or certification requirement. Nurses, for example, need certification through the state.
Because a health science degree is so broad, and can lead to so many careers, it's hard to say what certifications you'll need. If you go into pediatrics, for example, you'll need licensing in that area, licensing that is specific to your exact position.
Pharmacy technicians, as examples, may or may not need certifications. Most states regulate the career in some fashion and may require certification, while others only require completion of one-time formal training.
A medical services manager, while needing experience, likely won't be required to hold licensing or certifications. They are not involved in the direct administration of care, so they won't be required to hold licenses. Professional certifications through organizations like the American Health Information Management Association, on the other hand, could bolster your career.
If you feel the calling for a rewarding medical career, but don't know which field is right for you, enroll in an online associate degree in health science today!