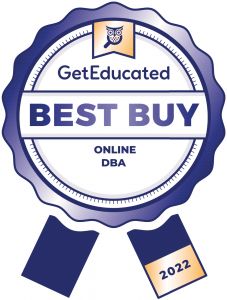 The best jobs in industry are held by graduates of DBA online programs. A doctorate in business administration enhances your problem-solving skills, resources in research, and awards you the highest standards of knowledge in business today. Highlights of DBA online degrees don't just stop at their flexibility to accommodate working professionals. These graduate programs take you beyond the management careers awarded to MBA degrees. An online doctorate can lead to the top careers in executive leadership, particularly in human resources which is a high demand and well salaried field.
Graduates of a DBA online program that go on to become business executives earn impressive incomes; Payscale reports an average salary of $128,693 per year! Even with such a handsome salary, there is an almost $70,000 difference in cost between the most expensive and least expensive programs. With this information in mind, clearly it pays to get educated before you enroll.
GetEducated compared 78 business administration doctorate degrees from 30 regionally accredited online schools to create this 'Best Buy' list. With this tool you can find the best online doctorate degree for your professional goals and current budget. Our rankings reveal the most affordable options in the United States—16 DBA online programs for under $47,400.
ARTICLE NAVIGATION: Rankings Table | Career Guide
Average Cost (In-state): ~$47,400
Least Expensive: University of the Cumberlands ~$33,550
Most Expensive: Northwood University ~$67,600
Our data-driven research creates a truly reliable system of scientific rankings. There's no fancy formulas here. We meticulously calculate total full-time tuition—including any fees—for the most accurate total cost. Our rankings cannot be bought, and therefore factually showcase the cheapest accredited online schools. The online business administration degrees listed above the gray dividing line are official 2022 "Best Buys" and cost less than the national average.
Most Affordable DBA Online
Rank
School / Degree
State
Price
Note

University of the Cumberlands

(KY)

$33,550.00

All Students

Lincoln Memorial University

(TN)

$33,960.00

All Students

Indiana Wesleyan University

(IN)

$35,700.00

All Students

Southern Wesleyan University

(SC)

$36,100.00

All Students

Wilmington University

(DE)

$36,172.00

All Students

Liberty University

(VA)

$37,543.00

All Students

University of West Alabama

(AL)

$38,295.00

All Students

Marymount University

(VA)

$41,040.00

All Students

Cambridge College

(MA)

$41,400.00

$32,419.80

In-State/Out-Of-State

Military

University of Mary

(ND)

$41,842.00

All Students

Franklin University

(OH)

$43,534.00

All Students

Thomas Edison State University

(NJ)

$43,738.00

All Students

Westcliff University

(CA)

$43,750.00

All Students

Concordia University - Chicago

(IL)

$45,000.00

All Students

Bellevue University

(NE)

$45,250.00

All Students

Grand Canyon University

(AZ)

$47,270.00

$42,200.00

In-State/Out-Of-State

Military
NOTE: The following schools did not make our Best Buy ranking but are also great online options.
School / Degree
State
Price
Note

California Baptist University

(CA)

$47,460.00

All Students

Capella University

(MN)

$47,625.00

$43,125.00

In-State/Out-Of-State

Military

University of the Incarnate Word

(TX)

$47,790.00

All Students

Johnson & Wales University

(RI)

$52,056.00

All Students

Saint Leo University

(FL)

$52,590.00

All Students

Walden University

(MN)

$52,930.00

$45,653.50

In-State/Out-Of-State

Military

University of the Potomac

(DC)

$53,300.00

All Students

George Fox University

(OR)

$54,149.00

All Students

Baker College

(MI)

$56,100.00

All Students

Marshall University

(WV)

$56,100.00

All Students

Northcentral University

(CA)

$56,747.00

All Students

West Virginia University

(WV)

$63,600.00

All Students

City University of Seattle

(WA)

$67,522.00

All Students

Northwood University

(MI)

$67,600.00

All Students
Accreditation & Program Notes
To qualify for a ranking, a program must be regionally accredited. Additional programmatic accreditation is noted in the rank table.
14  Program is no longer accepting new students.
15  AACSB International (AACSB)
16  International Assembly for Collegiate Business Education (IACBE)
17  Accreditation Council for Business Schools and Programs (ACBSP)
Rankings Note
These online college rankings are based on a GetEducated Winter 2021 review of regionally accredited DBA online programs. Total cost includes full-time tuition and fees and was valid at the time of collection and specific to the online learning program. School profiles for the online doctorate degree programs in our directory may reflect a slightly different cost based on different editorial update schedules.
The published cost is an estimated sticker price for the entire online degree including fees. Actual costs may vary by student. Factors such as transfer credits, prerequisite courses, professional licensing and financial aid availability will affect final cost.
Editorial Note
Online schools do NOT pay to be included in any GetEducated online degree ranking. These rankings are editorially independent, open to any regionally accredited or candidate college that offers a doctorate degree that is available at least 80 percent through online learning and that is open to enrollment by the public. If your online college is regionally accredited and not currently reviewed by GetEducated, please contact us for inclusion.
These rankings of the cheapest online schools for sports management may NOT be re-posted online or reprinted in any format without a license from GetEducated ®. Consumer finance bloggers and writers can contact our editors for a free custom article on the best DBA online for use on your website. Our mission: Help consumers GetEducated ® about the best online colleges for cost and credibility.
Career Guide: DBA Online
If you want to become a leader in business administration and organization, these programs are an outstanding choice. Whether you are leading a company or guiding the future generation of corporate leaders, a doctor of business administration, or "DBA," will take your career to soaring heights.
What to Expect from a Business Administration Doctorate Degree
This is the highest level achievable for business degrees. As such, it's one of the most challenging, complex, and demanding degrees, yet also one of the most rewarding, both financially and professionally.
When complete, you'll be able to call yourself a "doctor." You'll be one of the most respected and sought-after professionals in business administration, and you'll have the well-earned personal pride that comes from being a leader in your field.
Why bother with a doctorate? These programs often take an additional three years of rigorous education, on top of an already-formidable master's and bachelor's degree. Altogether, you're looking at roughly nine years of college education. But once complete, you'll be in command of some of the largest salaries available. According to a 2020 report from the Bureau of Labor Statistics, the median salary for a graduate of a master's program is $1,545, which translates, assuming a 52-week annual salary, into $80,808 a year.
A doctorate program, on the other hand, brings a median weekly income of $1,885, good for $98,020 a year. That's a difference of over $17,000 a year. Over a ten-year period, the difference in median earnings is over $172,000.
Everyone's career will be different, but generally speaking it pays to complete a doctorate degree.
A DBA online will come with extremely high enrollment standards. You'll need to have completed a bachelor's degree and a master's degree, although you may be able to find fast-track programs that skip the master's or , at the very least, accelerate the process. In addition to previous degrees, you'll need a strong GPA (usually 3.0 or higher), as well as a resume, statement of goals, and letters of recommendation.
Once you gain entry, you'll have access to a variety of top-quality courses that shape you into an expert in business, leadership, and organization. Classes can fall under many titles, but they may include business intelligence, leadership issues, executive decision making, and global management. Some of the courses could be more scientific or research-driven, such as quantitive research, survey design, econometrics, and data analysis.
There are specializations within some of the top DBA online programs. You may find online DBA programs that specialize in accounting, human resources, nonprofit management, international business, and much more. From the tourism industry to healthcare management, you can find a DBA online that fits your specific interests and career goals.
Potential Careers with a DBA Online
Business Professor
Salary: $80,560 (All postsecondary teachers)
Education: Doctoral degree
Experience: Work experience required
After a doctorate in business administration, you'll be prepared for one of the most important jobs in this sector: teaching the next generation of business leaders. Using your deep knowledge of organization and management, you'll be able to create instructional plans, develop lessons, and teach courses in business. You might also build and execute business-related research projects.
A doctorate degree is usually required for the top positions, but you'll also need first-hand experience in management and leadership to be the most effective teacher. This career is expected to grow by 12% between 2020 and 2030, making it a fast-growing profession for anyone interest in teaching and instruction.
Corporate Executive
Salary: $107,680
Education: Bachelor's degree
Experience: Five years or more
With the highest level of education, you'll be ready for the pinnacle of business leadership. These are the top executives of a company, holding titles like "CEO," "COO," and "company president." They make top-level decisions on the direction, goals, and structure of a business or organization.
While they carry the most responsibility, they are also well paid for their efforts, as the top 10% earn over $208,000 a year.
Requirements for Working After Your DBA Online
The exact requirements will depend on which career you choose. The requirements for being a business professor, for example, are much different than being a CEO.
Regardless of the position, most business professionals will benefit from certification in their specific niche. Managers in human resources might enhance their career with HR certifications. For professors, it helps to maintain certification or licensing in your specific area of expertise; if you are going to teach future accounting professionals, for example, it helps to have a CPA license.