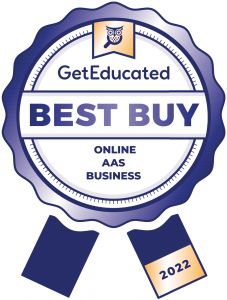 With an AAS business management online degree, you will enter the workforce with the knowledge and skills to set you apart. Improve your industry skills and salary at the same time with an online associate of applied science degree in general business, office administration, or management. Even if you already have a degree, an AAS business administration degree is beneficial. It's an affordable option and focuses on management studies, so professionals such as entrepreneurs can expand their industry and leadership know-how.
Research the best AAS business management online program by determining your academic goals. If you want to go straight to work and keep the possibility of transferring credits to a four-year school open, make sure you check the school's transfer policies before enrolling. A good indicator that a program may have transferable credits is if it offers general education courses and its focused business fundamental curriculum. There is typically a significant cost difference for in-state and out-of-state community colleges. It's best to shop and compare costs as they apply to your location. As it stands, the current difference between the most affordable and most expensive AAS business administration online degrees is a staggering $55,061!
GetEducated has surveyed 233 AAS business management online programs from 192 regionally accredited colleges and schools to bring you this 'Best Buy' list. Our rankings reveal the best online degree options at the most economical price—134 AAS business administration online degrees for under $12,300.
ARTICLE NAVIGATION: Rankings Table | Career Guide
Average Cost (In-state): ~$12,300
Least Expensive: Luna Community College ~$2,239.00
Most Expensive: Rochester Institute of Technology ~$57,300.00
Our data-driven research creates a truly reliable system of scientific rankings. There are no fancy formulas here. We meticulously calculate total full-time tuition—including any fees—for the most accurate total cost. Our rankings cannot be bought, and therefore factually showcase the cheapest AAS business management online degrees. The online career-oriented business administration, general business, office administration, and management degrees listed above the gray dividing line are official 2022 "Best Buys" and cost less than the national average.
Most Affordable AAS Business Management Online
Accreditation & Program Notes
To qualify for a ranking, a program must be regionally accredited. Additional programmatic accreditation is noted in the rank table.
14  Program is no longer accepting new students.
15  AACSB International (AACSB)
16  International Assembly for Collegiate Business Education (IACBE)
17  Accreditation Council for Business Schools and Programs (ACBSP)
Rankings Note
These online college rankings are based on a GetEducated Winter 2021 review of AAS business management online offered at two year institutions. Total cost includes full-time tuition and fees and was valid at the time of collection and specific to the online learning program. School profiles for the online associate degrees in our directory may reflect a slightly different cost based on different editorial update schedules.
The published cost is an estimated sticker price for the entire online degree including fees. Actual costs may vary by student. Factors such as transfer credits, prerequisite courses, professional licensing and financial aid availability will affect final cost.
Editorial Note
Online schools do NOT pay to be included in any GetEducated online degree ranking. These rankings are editorially independent, open to any regionally accredited or candidate college that offers an associate degree that is available at least 80 percent through online learning and that is open to enrollment by the public. If your online college is regionally accredited and not currently reviewed by GetEducated, please contact us for inclusion.
These rankings of the cheapest online schools for an AAS business management or administration may NOT be re-posted online or reprinted in any format without a license from GetEducated ®. Consumer finance bloggers and writers can contact our editors for a free custom article on the best AAS business management online for use on your website. Our mission: Help consumers GetEducated ® about the best online colleges for cost and credibility.
Career Guide: AAS Business Management Online
If want a career in business and administration, you don't have to complete a master's or even a bachelor's degree. In fact, you can start your first college class and in just two years (or less) you could be working in some of the top business occupations in the marketplace.
With an AAS business management online program, which takes roughly two years to complete, you can find work in high-paying, rewarding, and engaging careers. Best of all, you can get a high-quality education from a leading institution at a price that fits your budget!
What to Expect from an AAS Business Management Online Program
The degrees listed above are stand-alone educations that allow you to go directly from the classroom to the workforce. They are career-oriented degrees, and while they can transfer to larger educations, such as a bachelor's degree or, eventually, an MBA, they are intended for people who want an associate's degree that leads directly to a well-paying job.
These degrees provide job-ready skills that can apply to numerous industries, which is one of the top benefits for studying business, administration, leadership, and management. Whether you are interested in the music industry or heavy construction, science or sports, there is a need for someone who understands the fundamentals of business.
Because these are business degrees, you'll be exposed to a variety of skills that help you thrive in a business setting. Classes may include marketing, accounting, leadership, and economics. Essentially, you'll have everything you need to immediately contribute to almost all types of companies.
These degrees can bring tremendous salaries, and they can deliver the skills you need at a fraction of the price for a complete four-year education. Prices will certainly change, but when this article was written the average cost for these two-year programs was roughly $12,300. Many are far lower; the least expensive degree in our list, at the time of this writing, was less than $2,300! If you want a fast, affordable AAS business management online degree, this is clearly one of the best options possible! (Prices are given for example only. For official tuition, see the schools of your choice.)
Popular Careers After a Two-Year Business Degree
As we've noted, these degrees allow you to go into the workforce with skills that directly apply to any industry. The possibilities are practically unlimited, and you could work in careers that include…
Purchasing Agents
Salary: $66,690
Education: Some education required
Experience: None
These are the professionals who buy products and materials for their company, usually so the organization can either use or resell the products. They evaluate suppliers, collect pricing data, negotiate with vendors, and review the quality of products to ensure the finest results.
The educational requirements for this career will vary by employer. While some may require a bachelor's degree, others may only need a candidate with an associate's degree. This makes an AAS business administration online degree a great option, as it delivers the skills you need and helps you transition directly into this career.
As you build experience as a purchasing agent, you can expect your salary to increase. In fact, the top 10% of all purchasing agents earn over $112,000 per year, making this one of the top careers for anyone who wants excellent pay with minimal education requirements.
Manufacturing Sales Representatives
Salary: $86,650
Education: High school diploma, bachelor's typical
Experience: Moderate on the job training
Manufacturing sales representatives sell products and materials to businesses and other organizations. They sell manufacturing products and materials, and their duties may include contacting clients, explaining features, negotiating sales prices, and answering any questions related to the product or a sales contract.
In this career, a high school diploma is often enough for most positions. Some may require as much as a bachelor's degree, but a two-year AAS business management online program would certainly help you land many of the top positions.
Additional Requirements for These Careers
Besides an education, you may need to meet some important requirements to work in these careers. Much will depend on the specific career you select, but you could need, for example, formal training if you are going to work as a manufacturing sales representative. Companies may require that you complete as much as 12 months of in-house training before you work on your own. The same goes for purchasing agents, who may need training to develop their industry knowledge and understanding of the specific business.
If you hope to some day move into management, a common goal for most graduates of business schools, you'll need experience. Most companies require about 5 years of industry experience from their leaders, although candidates with a degree could see this requirement reduced.