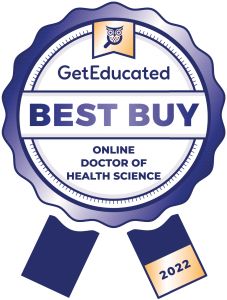 Are you an allied healthcare professional seeking the esteemed knowledge and experience only a doctorate can provide? With a doctor of health science online degree, you can tackle issues in policy, community health, and leadership in healthcare. Whether you're looking for practical experience, evidence-based standards, or applied research opportunities, these accredited programs are for you. To illustrate, popular career fields for this credential include nursing, biotechnology research, health education, informatics, etc. The beauty of health science is that it is an all-encompassing umbrella for most healthcare professionals.
But what are the best online health science programs for you? Where can you find the cheapest online health science degree if you're sticking to a strict budget? GetEducated has surveyed 17 doctor of health science online degrees from 14 regionally accredited schools to create our "Best Buy" list. Our editorially independent ranking reveals the top-rated health science doctor's degrees at the most economical cost. With this information, you can make the most informed decision for your professional development.
ARTICLE NAVIGATION: Rankings Table | Career Guide
Average Cost (In-state): ~$41,800
Least Expensive: University of South Dakota ~$18,347
Most Expensive: MCPHS University ~$55,900
Our data-driven research of public and non-profit colleges creates a genuinely reliable system of scientific rankings. There are no misleading formulas here. We meticulously calculate total full-time tuition—including any fees—for the most accurate total cost. Our rankings cannot be bought, and they factually showcase the cheapest doctor of health science online programs. The online health science degrees listed above the gray dividing line are official 2022 "Best Buys" and cost less than the national average.
Most Affordable Doctor of Health Science Online
Rank
School / Degree
State
Price
Note

University of South Dakota

(SD)

$18,347.55

All Students

Touro University Worldwide

(CA)

$33,600.00

All Students

Radford University

(VA)

$34,482.00

$35,280.00

In-State

Out-of-State

California University of Pennsylvania

(PA)

$36,326.20

$54,306.45

$27,369.20

In-State

Out-of-State

Military

Liberty University

(VA)

$37,543.00

$18,100.00

In-State/Out-Of-State

Military

Nova Southeastern University

(FL)

$38,210.00

All Students

Eastern Virginia Medical School

(VA)

$41,459.00

All Students
NOTE: The following schools did not make our Best Buy ranking but are also great online options.
| | | | | |
| --- | --- | --- | --- | --- |
| | A T Still University of Health Sciences | (MO) | $42,140.00 | All Students |
| | University of New Haven | (CT) | $47,520.00 | All Students |
| | Nova Southeastern University | (FL) | $47,550.00 | All Students |
| | Bay Path University | (MA) | $47,760.00 | All Students |
| | University of Bridgeport | (CT) | $49,400.00 | All Students |
| | Campbell University | (NC) | $49,620.00 | All Students |
| | Rush University | (IL) | $51,246.00 | All Students |
| | MCPHS University | (MA) | $55,900.00 | All Students |
Accreditation & Program Notes
To qualify for a ranking, a program must be regionally accredited. Additional programmatic accreditation is noted in the rank table.
14  Program is no longer accepting new students.
Rankings Note
These online college rankings are based on a GetEducated Summer 2022 review of regionally accredited doctor of health science online degrees. Total cost includes full-time tuition and fees and was valid at the time of collection and specific to the online learning program. School profiles for the online doctorate degree programs in our directory may reflect a slightly different cost based on different editorial update schedules.
The published cost is an estimated sticker price for the entire online degree including fees. Actual costs may vary by student. Factors such as transfer credits, prerequisite courses, professional licensing and financial aid availability will affect final cost.
Editorial Note
Online schools do NOT pay to be included in any GetEducated online degree ranking. These rankings are editorially independent, open to any non-profit regionally accredited or candidate college that offers a doctorate degree that is available at least 80 percent through online learning and that is open to enrollment by the public. If your online college is regionally accredited and not currently reviewed by GetEducated, please contact us for inclusion.
These rankings of the cheapest online schools for health science may NOT be re-posted online or reprinted in any format without a license from GetEducated ®. Consumer finance bloggers and writers can contact our editors for a free custom article on the best doctor of health science online for use on your website. Our mission: Help consumers GetEducated ® about the best online colleges for cost and credibility.
Career Guide: Doctor of Health Science Online
If you have been working in the healthcare or science industries, and you're now ready for bigger responsibilities, more earnings, and greater challenges, a doctorate in health science could propel your career to new heights.
Why a Doctorate in Health Science?
These degrees will make you an expert in human health, biology, illness prevention, and the causes of sickness. But they require rigorous and challenging studies and years of dedication. They cost time and money, so why is a doctorate so important?
To be fair, you can secure a wonderful career with a master's or even a bachelor's in health science. But a doctorate will result in more career opportunities, including higher earnings.
The Bureau of Labor Statistics collected salary information and categorized the data by education level. They found that the median weekly earnings in 2021 for someone with a doctoral degree was $1,909. Assuming they are paid 52 weeks of the year, this translates to $99,268. The median for a master's was $1,574, a strong salary for certain, one that translates to $81,848. That's a difference of $17,420.
A bachelor's degree brings a median salary of $69,368. ($1,334 weekly.) This means a doctorate holder can expect a salary almost $30,000 higher than someone with a bachelor's degree. While these numbers are for all careers (not just health science), they show the clear benefits of having an advanced education.
Will I be a Medical Doctor?
We should clarify that after completing these degrees, you will not be a medical doctor. You will not have the "M.D." designation, but will instead have a Ph.D., the doctorate-level designation for academic achievement.
Doctor of Health Science Online: What to Expect
Frankly, enrollment in these advanced degrees is difficult. Not only will you need a bachelor's or master's in health science or a related field, you'll need a strong GPA from previous studies. Usually a 3.0 or better is required. Many programs only take applicants with industry experience; you'll likely need experience in the health, science, and medical fields to be considered.
These degrees can be expensive if you don't do your research and investigate tuitions. When looking at 17 different health science degrees, we found that the average cost was roughly $41,000, while the most expensive was almost $56,000. However, the lowest-priced doctor of health science online was less than $19,000. So with diligence and patience, you can find a degree that fits your budget.
During these programs, you'll study a variety of subjects, diving deep into the topic of medicine and the sciences that further our understanding of human health. Many of the doctor of health science online programs will center on the healthcare industry and may include topics such as change management in healthcare, making quality improvements in hospitals, or using evidence-based leadership in a scientific environment.
Doctor of health science online programs are often geared more towards creating scientists than teaching medical professionals. By that, we mean that the studies won't look at advanced medical diagnosis or treatment, but will instead focus on the scientific research that makes modern medicine possible. You'll learn about innovations in healthcare, advanced experimental practices, and risk management for medical research.
When complete, you'll be able to assess, plan, and implement research efforts. You'll understand the advanced frameworks of healthcare systems and have the ability to apply leadership techniques to a professional research setting.
Top Careers After Completing a Doctorate in Health Science
Medical Scientist
Salary: $95,310
Education: Doctoral
Experience: None
As a medical scientist, you'll work to develop the next advancement in healthcare. You'll conduct research and investigate ideas that could improve overall human health. This might include designing studies, preparing medical samples, testing medical devices, or writing research grants.
This career requires advanced training and education, but you'll be well rewarded while working in a stable, growing profession. Between 2020 and 2030, the Bureau of Labor Statistics says that the medical scientist profession will grow by 17%, resulting in more than 156,000 jobs by the end of the decade.
Biochemist or Biophysicist
Salary: $102,270
Education: Doctoral
Experience: None
Biochemists study molecular and chemical processes found in living things, including humans. They study cell development, growth, disease, and other issues that are important to our health, but always keep a focus on the chemical processes that make life possible. Biophysicists tend to focus on the physical actions found in lifeforms, such as the way cells communicate or how proteins operate.
The pay for this career is outstanding; half of all biochemists and biophysicists earn over $102,270, while the top 10% earn over $167,000. The expected growth for this career is below average (only 5% between 2020 and 2030), but there will be roughly 3,200 job openings per year.