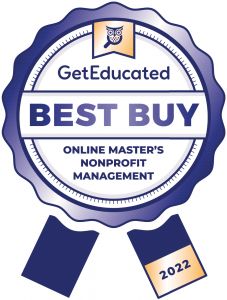 A master's in nonprofit management online makes moving ahead in the public sector easier than ever before! Management careers in general are some of the highest paying careers across the board, and nonprofits are no exception. The best paying job in this industry, public relations and fundraising management, sees a median annual salary of $118,430 according to the Bureau of Labor Statistics. And with an above average rate of growth projected through 2030 for PR (13%) and community or social service managers (15%) there are plenty of opportunities in this profession. The best part of an online nonprofit management degree? These master-level programs are designed for working students, with benefits ranging from flexible scheduling and self-paced learning to hands-on projects and the chance to network on a global scale!
Looking for truly affordable master's in nonprofit management online? You're in the right place! With over a $70,000 difference in tuition between the most affordable and most expensive schools, it pays to get educated before you enroll!
GetEducated compared 31 master's programs in nonprofit management from 25 regionally accredited online schools to create this ranking. Below is our editorially independent list of the 17 Best Buys for an affordable master's in nonprofit management online. All degrees cost less than the national tuition average for an online degree in this major.
ARTICLE NAVIGATION: Rankings Table | Career Guide
Average Cost (In-state): ~$27,100
Least Expensive: University of Central Florida ~$11,783.52
Most Expensive: Cairn University ~$86,633
Our data-driven research creates a truly reliable system of scientific rankings. There's no fancy formulas here. We meticulously calculate total full-time tuition—including any fees—for the most accurate total cost. Our rankings cannot be bought, and therefore factually showcase the cheapest master's in nonprofit management online. The online nonprofit management degrees listed above the gray dividing line are official 2022 "Best Buys" and cost less than the national average.
Most Affordable Master's in Nonprofit Management Online
Rank
School / Degree
State
Price
Note

University of Central Florida

(FL)

$11,783.52

$41,461.92

In-State

Out-of-State

Louisiana State University-Shreveport

(LA)

$12,323.52

All Students

University of Houston-Downtown

(TX)

$16,558.00

$29,482.00

In-State

Out-of-State

University of Lynchburg

(VA)

$16,803.00

All Students

Grace College and Theological Seminary

(IN)

$16,812.00

All Students

Indiana University Online

(IN)

$17,063.56

$41,273.56

In-State

Out-of-State

University of Wisconsin-Stevens Point

(WI)

$17,700.00

All Students

Our Lady of the Lake University

(TX)

$18,524.00

$16,857.20

In-State/Out-Of-State

Military

Antioch University Online

(OH)

$19,176.00

All Students

Metropolitan State University

(MN)

$20,495.20

All Students

Lindenwood University

(MO)

$20,660.00

All Students

Multnomah University

(OR)

$20,905.00

All Students

Thomas Edison State University

(NJ)

$24,346.00

All Students

Johnson & Wales University

(RI)

$24,510.00

All Students

Walden University

(MN)

$24,560.00

$20,996.00

In-State/Out-Of-State

Military

Bay Path University

(MA)

$25,920.00

All Students

Gratz College

(PA)

$26,433.00

All Students
NOTE: The following schools did not make our Best Buy ranking but are also great online options.
School / Degree
State
Price
Note

Regis University

(CO)

$27,218.00

All Students

Cairn University

(PA)

$30,186.00

All Students

Northeastern University

(MA)

$35,325.00

All Students

University of Denver

(CO)

$35,904.00

All Students

Johns Hopkins University

(MD)

$43,610.00

All Students

North Park University

(IL)

$43,890.00

All Students

Drexel University

(PA)

$45,765.00

$41,085.00

In-State/Out-Of-State

Military

Columbia University in the City of New York

(NY)

$86,633.00

All Students
Accreditation & Program Notes
To qualify for a ranking, a program must be regionally accredited. Additional programmatic accreditation is noted in the rank table.
14  Program is no longer accepting new students.
16  International Assembly for Collegiate Business Education (IACBE)
17  Accreditation Council for Business Schools and Programs (ACBSP)
Rankings Note
These online college rankings are based on a GetEducated Winter 2021 review of regionally accredited master's in nonprofit management online. Total cost includes full-time tuition and fees and was valid at the time of collection and specific to the online learning program. School profiles for the online master degree programs in our directory may reflect a slightly different cost based on different editorial update schedules.
The published cost is an estimated sticker price for the entire online degree including fees. Actual costs may vary by student. Factors such as transfer credits, prerequisite courses, professional licensing and financial aid availability will affect final cost.
Editorial Note
Online schools do NOT pay to be included in any GetEducated online degree ranking. These rankings are editorially independent, open to any regionally accredited or candidate college that offers a master's degree that is available at least 80 percent through online learning and that is open to enrollment by the public. If your online college is regionally accredited and not currently reviewed by GetEducated, please contact us for inclusion.
These rankings of the cheapest online schools for nonprofit management may NOT be re-posted online or reprinted in any format without a license from GetEducated ®. Consumer finance bloggers and writers can contact our editors for a free custom article on the best master's in nonprofit management online for use on your website. Our mission: Help consumers GetEducated ® about the best online colleges for cost and credibility.
Career Guide: Master's in Nonprofit Management Online
If you are working for a nonprofit organization and want to take your career to a higher level, a master's in nonprofit management online may be the best choice. With an online format, you'll gain the skills you need in a schedule that fits your lifestyle. Best of all, you'll become one of the most important leaders in the nonprofit sector, helping these essential groups perform their critical work!
What to Expect from a Master's Degree in Nonprofit Management
In these degrees, you'll gain a variety of skills that allow you to lead nonprofit organizations. Skills learned in these programs include how to articulate a clear and enticing vision for a nonprofit, how to identify potential donors, and how to engage staff so they are consistently working towards the best results.
The admission requirements in these degrees can be high. You'll need a previous bachelor's degree, and master's programs usually have GPA requirements; you'll likely need a GPA of 3.0 or better from previous studies.
Classes in these programs can take many different forms. You may study writing for businesses and nonprofits, grant writing, and fundraising. You'll learn important skills that help keep a nonprofit moving in a consistent direction, so strategic planning and performance measurement classes could be part of the program.
Classes could also include the importance of philanthropy, founding a nonprofit organization, as well as the basics of nonprofit bookkeeping. These classes will be critical for creating and shaping your future success in a nonprofit organization.
Potential Nonprofit & Management Careers
When you complete a master's in nonprofit management online, you'll be qualified for a variety of rewarding and inspiring careers. You'll be equipped with skills in management, organization, and communication, all of which can apply to careers in or out of nonprofit groups.
Here are just two of the potential options…
Top Executive
Salary: $107,680
Education: Bachelor's degree
Experience: At least five years
These are the leaders who set the goals, values, and directions for an organization. Specific titles might include CEO, COO, or company president, and while these professionals are often associated with business, the same leadership qualities are needed in nonprofit organizations. Top executives establish the organizational goals, find ways to meet the goals, and manage the activities for a variety of departments, including lower-level management, human resources, and finance.
To become a top executive, you need experience; roughly five years is often the minimum requirement for these positions. A master's in nonprofit will prepare you for leadership in nonprofit organizations, as well as for-profit companies who, it should be remembered, do a lot of excellent charity work.
Public Relations Manager
Salary: $118,430
Education: Bachelor's
Experience: At least five years
If there is one thing you'll likely learn in a master's in nonprofit management online, it's how to positively mold a group's public perception. This is crucial, as nonprofits rely on generous donations from the public, as well as grants and other sources of funding. A public relations manager can work for nonprofit groups or companies, helping to create a positive image while maintaining a strong financial foundation.
PR managers need education and experience, but once you land the position you'll be in line to earn an excellent salary. The median pay is above $118,000, but the top 10% in these management roles can expect salaries over $208,000. With an expected job growth of 13% between 2020 and 2030, this career should be both profitable and stable.
Licensing, Certification & Other Requirements
When you work in management for a nonprofit organization, you likely will not need licensing. Unlike, say, driving a commercial truck or providing medical services, the government does not require that you go through testing and licensing for this profession. In addition to the high pay, this is one of the top benefits for working in management and business careers.
Certifications, however, can greatly improve your career. Certifications through various groups that specialize in management or nonprofits could help you land top jobs and make you more effective in those careers. If you are working in a certain type of management, however, you may need certification or licensing. For example, managers in accounting and finance may need CPA licensing.
Experience is the one requirement that is virtually guaranteed for any position in management, including the management and leadership of nonprofit organizations. In most jobs, you'll need about five years of experience before groups will place you in management roles.