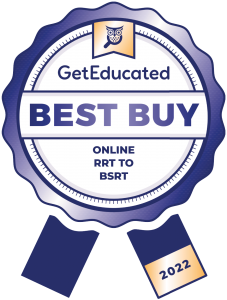 Earning an RRT to BSRT online is the biggest favor you can do for your respiratory therapy career! Particularly if you've already earned an associate's degree, a diploma, certificate, or even just some college credit. Bachelor completion programs put students through school quicker, with the added benefit of an accredited degree. Plus, online degrees are gaining popularity for their flexibility and quality.
Imagine being able to fast-track your bachelor's in respiratory therapy online while maintaining, even advancing, your career! But what are the best online colleges for respiratory therapy? Of course, you should look for accreditation status from CoARC, and, naturally, you want a schedule that matches your lifestyle. But one significant factor is the make or break between programs: cost!
GetEducated surveyed 26 of the best RRT to BSRT online degrees from 26 colleges to create our "Best Buy" list. This ranking reveals the highest quality degrees at the most economical price. Keep in mind a few factors while diving in; these programs require students to possess RRT occupational credentials. Also, unlike other total-cost ranks, these degrees feature a per weighted semester-based credit cost. Finally, there are no quarter credit schools featured in this list.
ARTICLE NAVIGATION: Rankings Table | Career Guide
Average Cost (In-state): ~$414
Least Expensive: Middle Georgia State University – $137.08
Most Expensive: MCPHS University – $798.67
Our data-driven research of public and non-profit colleges creates a genuinely reliable system of scientific rankings. There are no misleading formulas here. We meticulously calculate total full-time tuition—including any fees—for the most accurate total cost. Our rankings cannot be bought, and they factually showcase the cheapest online RRT to BSRT online programs. The bachelor's programs listed above the gray dividing line are official 2022 "Best Buys" and cost less than the national average.
Most Affordable RRT to BSRT Online
Rank
School / Degree
State
Price
Note

Middle Georgia State University

(GA)

$137.08

All Students

Georgia Southern University

(GA)

$199.63

All Students

Youngstown State University

(OH)

$238.80

All Students

University of Arkansas for Medical Sciences

(AR)

$291.67

All Students

Oregon Institute of Technology

(OR)

$296.00

All Students

Boise State University

(ID)

$300.33

All Students

Missouri Southern State University

(MO)

$310.71

All Students

Augusta University

(GA)

$334.47

All Students

University of Southern Indiana

(IN)

$356.88

$799.81

In-State

Out-of-State

University of Mary

(ND)

$384.56

All Students

Liberty University

(VA)

$408.27

$251.67

In-State/Out-Of-State

Military

Midwestern State University

(TX)

$408.45

$523.45

In-State

Out-of-State

East Tennessee State University

(TN)

$412.07

$516.93

In-State

Out-of-State

Cardinal Stritch University

(WI)

$413.33

All Students
NOTE: The following schools did not make our Best Buy ranking but are also great online options.
School / Degree
State
Price
Note

The University of Texas Health Science Center at San Antonio

(TX)

$436.41

$844.41

In-State

Out-of-State

University of Missouri-Columbia

(MO)

$436.52

$529.82

$415.73

In-State

Out-of-State

Military

Northern Kentucky University

(KY)

$468.00

All Students

Northern Arizona University

(AZ)

$468.80

All Students

Marian University

(WI)

$480.00

All Students

Nova Southeastern University

(FL)

$497.33

All Students

Ferris State University

(MI)

$499.00

All Students

University of Kansas

(KS)

$505.71

All Students

University of Michigan-Flint

(MI)

$514.03

$565.03

In-State

Out-of-State

University of Cincinnati

(OH)

$532.00

$547.00

In-State

Out-of-State

Carlow University

(PA)

$632.00

All Students

MCPHS University

(MA)

$798.67

All Students
Accreditation & Program Notes
To qualify for a ranking, a program must be regionally accredited. Additional programmatic accreditation is noted in the rank table.
14  Program is no longer accepting new students.
30  Commission on Accreditation for Respiratory Care (CoARC)
Rankings Note
These online college rankings are based on a GetEducated Summer 2022 review of regionally accredited RRT to BSRT online programs. Total cost includes full-time tuition and fees and was valid at the time of collection and specific to the online learning program. School profiles for the online bachelor degree programs in our directory may reflect a slightly different cost based on different editorial update schedules.
Bachelor completion rankings, like this one, feature a per weighted semester-based credit cost. Some programs require a minimum of an associate's while others simply require a diploma, certification or some college. Actual costs may vary by student. Factors such as transfer credits, prerequisite courses, professional licensing and financial aid availability will affect final cost.
Editorial Note
Online schools do NOT pay to be included in any GetEducated online degree ranking. These rankings are editorially independent, open to any regionally accredited or candidate college that offers a bachelor's degree that is available at least 80 percent through online learning and that is open to enrollment by the public. If your online college is regionally accredited and not currently reviewed by GetEducated, please contact us for inclusion.
These rankings of the cheapest online schools for respiratory therapy may NOT be re-posted online or reprinted in any format without a license from GetEducated ®. Consumer finance bloggers and writers can contact our editors for a free custom article on the best RRT to BSRT online for use on your website. Our mission: Help consumers GetEducated ® about the best online colleges for cost and credibility.
Career Guide: RRT to BSRT Online
A respiratory therapist has one of the most important jobs in the entire medical industry: helping people breathe. It's a fulfilling, rewarding career, but it requires the right degree. For many, this means an RRT to BSRT online degree.
Respiratory Therapy: RRT to BSRT online Degree Overview
"Respiratory" means breathing. Respiratory therapists are trained in helping people breathe better. They understand the lungs, airways, and breathing functions, and work with doctors and nurses to improve health through better breathing.
These professionals work with people who either struggle to breathe or cannot breathe without the assistance of a specific machine or medication. For example, a respiratory therapist might work with a premature newborn who does not yet have full lung function. They could also work with adults who suffer from chronic diseases like asthma or COPD.
This form of therapy can take many different forms. The therapy may involve breathing assessments, recommendations for exercise, and monitoring the progress of a patient.
These degrees can be very affordable, making them a great option for students on a tight budget. In our research, we found the average cost for a bachelor's degree in respiratory therapy was about $414 per credit hour. While the most expensive was almost $800 per credit hour, the lowest-cost program only charged $137.08 for every credit hour, making this one of the best options when you need a degree that doesn't create a massive bill.
These programs will combine a variety of general-education classes (if you haven't already filled these requirements) as well as medical courses. Courses may include math, science, history, literature, and other subjects that create a well-rounded college graduate.
Many of the courses will apply to all medical degrees, but a good portion will be specific to respiratory therapy. Classes in these programs might include medical ethics, research practices, patient safety, and healthcare leadership. Respiratory-specific classes might include respiratory care practices, theories of respiratory care, respiratory technologies, and a study of the most common lung and breathing conditions.
What is an RRT to BSRT Online Degree?
RRT stands for Registered Respiratory Therapist. Most RRTs hold an associate's degree, which, while useful, can limit their career earnings and job opportunities. A BSRT (Bachelor's of Science in Respiratory Therapy) can expand your knowledge and open new opportunities for your career.
To advance their careers, many professionals in the industry enroll in RRT to BSRT online degrees. These degrees are ideal for people already working in respiratory therapy or another medical profession but want to take their careers to a higher level.
Best Careers in Respiratory Therapy
Respiratory Therapist
Salary: $61,830
Education: Associate's
Experience: None
As a respiratory therapist, you'll help people breathe better. Usually working with patients who have asthma, COPD, or another type of lung disorder, these professionals examine patients, consult physicians, perform tests, and treat patients with a variety of methods including removal of materials from the lungs or administration of medicine to clear airways.
The expected growth for respiratory therapists is 23% between 2020 and 2030. This means anyone with an RRT to BSRT online degree should have no problem finding a position.
Occupational Therapist
Salary: $85,570
Education: Master's
Experience: None
An occupational therapist could be the next career for anyone experienced in respiratory therapy. In this occupation, you would work with patients to treat injuries and overcome diseases. Ultimately, their work attempts to help people develop, improve, and maintain the skills needed for daily living.
One of the most attractive aspects of this career (outside of the large salary) is the expected growth. The Bureau of Labor Statistics predicts that between 2020 and 2030, the growth for occupational therapists will be 17%, adding roughly 23,000 jobs in ten years. With a bachelor's in respiratory therapy online, you'll be prepared to join in this growth, although additional, specific training may be required.
Working in Respiratory Therapy: Additional Requirements
To work as a respiratory therapist, you will need certification or licensing. The specific legal requirements vary by state, but you can expect some form of testing and certification. According to the Bureau of Labor Statistics, Alaska is the only state where certification is not required. However, national certification is highly recommended.
The National Board for Respiratory Care (NBRC) is the primary organization for certification. They have two types of certification levels. The first is a Certified Respiratory Therapist (CRT), while the second is a Registered Respiratory Therapist (RRT). Both require specific testing.
With the right education, you can complete the certification requirements and become a respiratory therapist. Start with this list of the best affordable options for RRT to BSRT online degrees.