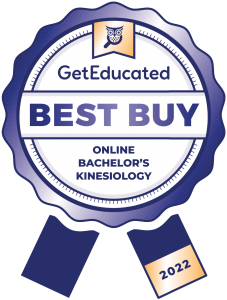 A kinesiology bachelor's degree online provides the flexible, career-ready studies professionals need for job advancement. Specifically those in exercise science, kinesiology, and fitness and human performance. What's more, the best online colleges for kinesiology offer accredited degrees at an affordable price! Currently, the difference between the most expensive and cheapest online kinesiology degree is over $51,000. Kinesiologists can work in an array of careers: exercise physiology, physical therapy, athletic training, etc. Even with the prospect of a $95,000 physical therapy salary, a too-expensive degree can offset your professional goals.
That's where GetEducated comes in! We have diligently surveyed 16 kinesiology bachelor's degrees from 16 regionally accredited colleges to generate the following ranking. Below is our editorially independent list of the 9 "Best Buys" for an affordable kinesiology bachelor's degree online. Don't hesitate. It's time to launch your professional healthcare career today!
ARTICLE NAVIGATION: Rankings Table | Career Guide
Average Cost (In-state): ~$49,400
Least Expensive: Fort Hays State University – $27,255.60
Most Expensive: California Baptist University – $79,107.00
Our data-driven research of public and non-profit colleges creates a genuinely reliable system of scientific rankings. There are no misleading formulas here. We meticulously calculate total full-time tuition—including any fees—for the most accurate total cost. Our rankings cannot be bought, and they factually showcase the cheapest kinesiology bachelor's degrees online. The online kinesiology programs listed above the gray dividing line are official 2022 "Best Buys" and cost less than the national average.
Best Affordable Kinesiology Bachelor's Degree Online
Rank
School / Degree
State
Price
Note

Fort Hays State University

(KS)

$27,225.60

All Students

East Central University

(OK)

$32,827.00

$67,167.56

In-State

Out-of-State

Tarleton State University

(TX)

$34,774.80

$83,734.80

In-State

Out-of-State

Texas Woman's University

(TX)

$44,598.04

$95,190.04

In-State

Out-of-State

California University of Pennsylvania

(PA)

$45,144.00

$47,064.00

$36,504.00

In-State

Out-of-State

Military

University of Louisiana at Lafayette

(LA)

$45,600.00

All Students

Franklin University

(OH)

$47,825.00

$30,065.00

In-State/Out-Of-State

Military

Eastern Oregon University

(OR)

$48,100.00

$55,300.00

In-State

Out-of-State

University of Missouri-Columbia

(MO)

$48,681.60

$59,877.60

$46,186.80

In-State

Out-of-State

Military
NOTE: The following schools did not make our Best Buy ranking but are also great online options.
School / Degree
State
Price
Note

Abilene Christian University

(TX)

$49,800.00

All Students

Concordia University-Saint Paul

(MN)

$50,400.00

$30,000.00

In-State/Out-Of-State

Military

University of North Dakota

(ND)

$52,981.20

$38,571.60

In-State/Out-Of-State

Military

Concordia University - Chicago

(IL)

$55,040.00

All Students

Oregon State University

(OR)

$59,930.00

All Students

Maryville University

(MO)

$67,200.00

All Students

California Baptist University

(CA)

$79,107.00

All Students
Accreditation & Program Notes
To qualify for a ranking, a program must be regionally accredited. Additional programmatic accreditation is noted in the rank table.
14  Program is no longer accepting new students.
36  Council for the Accreditation of Educator Preparation (CAEP)
Rankings Note
These online college rankings are based on a GetEducated Summer 2022 review of regionally accredited kinesiology bachelor's degrees online programs. Total cost includes full-time tuition and fees and was valid at the time of collection and specific to the online learning program. School profiles for the online bachelor degree programs in our directory may reflect a slightly different cost based on different editorial update schedules.
The published cost is an estimated sticker price for the entire online degree including fees. Actual costs may vary by student. Factors such as transfer credits, prerequisite courses, professional licensing and financial aid availability will affect final cost.
Editorial Note
Online schools do NOT pay to be included in any GetEducated online degree ranking. These rankings are editorially independent, open to any non-profit, regionally accredited or candidate college that offers a bachelor's degree that is available at least 80 percent through online learning and that is open to enrollment by the public. If your online college is regionally accredited and not currently reviewed by GetEducated, please contact us for inclusion.
These rankings of the cheapest online schools for kinesiology may NOT be re-posted online or reprinted in any format without a license from GetEducated ®. Consumer finance bloggers and writers can contact our editors for a free custom article on the best kinesiology bachelor's degrees online for use on your website. Our mission: Help consumers GetEducated ® about the best online colleges for cost and credibility.
Career Guide: Kinesiology Bachelor's Degree Online
For some, physical movement comes easy. For others, physical movement, which is critical to overall health and wellbeing, is a major challenge. With a degree in kinesiology, you can help people move better. This means better, more effective exercises, avoiding longterm injury, and improving basic lifestyles.
From elite athletes who want better performances to people suffering from chronic injury and pain, a graduate of kinesiology can make a profound difference for how someone moves. In turn, this could mean a significant improvement in someone's overall quality of life.
What is "Kinesiology?"
Kinesiology is the study of physical movement. It's the study of the mechanics and processes that make movement possible, as well as the health and wellness impacts of different types of movements.
Kinesiology can take many forms, but it generally includes the study of anatomy and biomechanics. It will, for example, look at how people walk, jog, and run, and how the process of this movement hurts or helps physical health. People educated in kinesiology can make recommendations for how someone walks or runs, possibly providing guidance on changing a stride or using devices that make movement more comfortable.
Kinesiology Bachelor's Degree Online: An Overview
When you study kinesiology, you'll be exposed to an array of information on the human body, including muscles, tendons, bones, and joints. However, because these are bachelor-level degrees, you'll have to first complete a variety of general-education classes. These might include anything from history to art, mathematics to philosophy. The overall goal, however, is to create a well-rounded graduate, one of the classic tenets of a college education.
When you move into kinesiology courses, you can expect a variety of topics on the human body. In many ways, it will teach you to look at the human body as a machine. You'll learn how one muscle impacts another, how the movement of bones and joints can affect the health of tendons; how every part comes together to create movement. You'll learn which movements are natural and healthy, and which movements should be avoided.
Many of the programs take a holistic approach to kinesiology. They don't just look at the human body as a part-by-part machine (although this is a part of the education), they also look at the social and psychological impacts of movement.
Courses will change depending on the institution, but you can expect classes such as "principles of biology," "anatomy and physiology," and "biobehavioral bases of physical activity." In addition to classes that help you understand the human body, you'll study behavioral science as it relates to exercise, as well as human development, muscle building, and common movement-related injuries.
Best Careers after a Kinesiology Degree
With these degrees, you can find employment in academics, business, healthcare, and the fitness industry. Some of the top positions include…
Exercise Physiologist
Salary: $47,940
Education: Bachelor's
Experience: None
Working with patients suffering from chronic diseases or injury, these professionals develop fitness and exercise programs that enhance wellness, comfort, strength, and flexibility. They often start by reviewing a patient's medical information, assessing risk factors, performing tests, and using this information to develop a specific, tailored exercise program.
While the pay is not outstanding, this career is expected to see strong growth. Between 2020 and 2030, this career is expected to grow by 13%. With about 1,500 job openings per year, there should be plenty of opportunities for people educated in kinesiology.
Occupational Therapist
Salary: $85,570
Education: Master's
Experience: None
Some people struggle to perform the daily activities we take for granted. Tasks that many of us find easy, such as putting on socks or walking to the park, can be a real challenge for others. Occupational therapists help people improve their movements, reduce pain, and recover from injuries. The ultimate goal is simple: help people perform the tasks that make daily living possible.
An occupational therapist has a higher requirement for education (a master's degree, usually in occupational therapy, physiology, or biology) but with this requirement also comes more pay. The median salary is over $85,000, and the top 10% can expect annual earnings above $123,000.
Additional Requirements for Kinesiologist Careers
Certification may be required for these positions. While only a handful of states have certification requirements for exercise physiologists, employers typically prefer candidates who have voluntary certification through groups like the American Society of Exercise Physiologists (ASEP).
An occupational therapist, on the other hand, is required by all states to hold licensing. After completing a master's degree, you'll have to pass a test from the National Board for Certification in Occupational Therapy (NBCOT). Continued education and recertification will also be required.