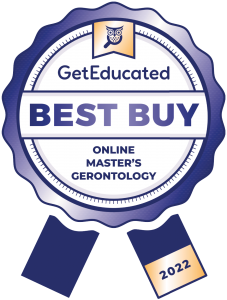 An online gerontology master's degree is a great way to stay ahead of the curve in advanced medical care. The interdisciplinary aspects of these programs lend to nearly every avenue of the healthcare industry. Perhaps you're gearing up for a high-ranking administrative job or project manager. As a professional gerontologist, you may be most interested in social and human services fields and medical science.
However, due to gerontologists' wide range of career options, their salaries vary widely. A medical service manager might make over $100,000 annually, but a social worker only makes around half that amount! Which makes the $81,000 difference between the most economical and most expensive master of gerontology online degrees that much more challenging!
Thankfully, GetEducated is here to help. After surveying 25 online gerontology master's degree programs from 20 accredited universities, we've come up with our "Best Buy" list. This ranking reveals the best online gerontology programs at the most affordable prices. With this information, finding the degree that fits your budget as well as your professional goals is easier than ever!
ARTICLE NAVIGATION: Rankings Table | Career Guide
Average Cost (In-state): ~$27,400
Least Expensive: Fort Hays State University ~$8,596
Most Expensive: University of Southern California ~$89,540
Our data-driven research of public and non-profit colleges creates a genuinely reliable system of scientific rankings. There are no misleading formulas here. We meticulously calculate total full-time tuition—including any fees—for the most accurate total cost. Our rankings cannot be bought, and they factually showcase the cheapest online gerontology degree programs. The online gerontology master's degrees listed above the gray dividing line are official 2022 "Best Buys" and cost less than the national average.
Most Affordable Online Gerontology Master's Degree
Rank
School / Degree
State
Price
Note

Fort Hays State University

(KS)

$8,956.50

All Students

Fort Hays State University

(KS)

$9,255.05

All Students

University of North Carolina at Greensboro

(NC)

$10,172.20

$18,870.40

In-State

Out-of-State

Wichita State University

(KS)

$11,834.28

All Students

Eastern Illinois University

(IL)

$13,426.38

All Students

University of South Florida

(FL)

$13,842.90

$27,215.10

In-State

Out-of-State

University of Nebraska at Omaha

(NE)

$15,938.80

$24,650.80

In-State

Out-of-State

Concordia University - Chicago

(IL)

$17,556.00

All Students

University of Louisiana at Monroe

(LA)

$18,000.00

All Students

McDaniel College

(MD)

$19,336.00

All Students

University of Massachusetts-Boston

(MA)

$21,000.00

All Students

Iowa State University

(IA)

$21,240.00

All Students

Texas Tech University

(TX)

$21,240.00

All Students

University of Arkansas

(AR)

$21,240.00

All Students

Oklahoma State University

(OK)

$21,240.00

All Students

North Dakota State University

(ND)

$21,240.00

All Students

Brenau University

(GA)

$23,490.00

All Students

University of Florida

(FL)

$24,015.75

All Students

Webster University

(MO)

$25,300.00

$13,780.00

In-State/Out-Of-State

Military

University of Maryland-Baltimore

(MD)

$27,364.00

$36,004.00

In-State

Out-of-State
NOTE: The following schools did not make our Best Buy ranking but are also great online options.
| | | | | |
| --- | --- | --- | --- | --- |
| | University of Southern California | (CA) | $56,980.00 | All Students |
| | University of Southern California | (CA) | $65,120.00 | All Students |
| | University of Southern California | (CA) | $67,155.00 | All Students |
| | University of Southern California | (CA) | $89,540.00 | All Students |
Accreditation & Program Notes
To qualify for a ranking, a program must be regionally accredited. Additional programmatic accreditation is noted in the rank table.
14  Program is no longer accepting new students.
26  National Association of Long-Term Care Administrators Board (NAB)
Rankings Note
These online college rankings are based on a GetEducated Summer 2022 review of regionally accredited online gerontology master's degree programs. Total cost includes full-time tuition and fees and was valid at the time of collection and specific to the online learning degree. School profiles for the online master degree programs in our directory may reflect a slightly different cost based on different editorial update schedules.
The published cost is an estimated sticker price for the entire online degree including fees. Actual costs may vary by student. Factors such as transfer credits, prerequisite courses, professional licensing and financial aid availability will affect final cost.
Editorial Note
Online schools do NOT pay to be included in any GetEducated online degree ranking. These rankings are editorially independent, open to any non-profit, regionally accredited or candidate college that offers a master's degree that is available at least 80 percent through online learning and that is open to enrollment by the public. If your online college is regionally accredited and not currently reviewed by GetEducated, please contact us for inclusion.
These rankings of the cheapest online schools for gerontology may NOT be re-posted online or reprinted in any format without a license from GetEducated ®. Consumer finance bloggers and writers can contact our editors for a free custom article on the best online gerontology master's degree for use on your website. Our mission: Help consumers GetEducated ® about the best online colleges for cost and credibility.
Career Guide: Online Gerontology Master's Degree
Across the nation, there is a growing need for health care professionals who specialize in the aging process. Called "gerontology," the art and science of caring for people throughout life's stages involves a wide range of skills. You need a deep understanding of the aging process, as well as an empathetic, caring attitude.
Of course, you also need the right education. Because of the fast pace and busy schedules of modern life, this often means a master of gerontology online.
Gerontology vs Geriatrics
Gerontology should not be confused with geriatrics. While these two healthcare terms are similar, they have important differences.
Gerontology is the study of the aging process that includes physical, mental, and social aspects of aging. It takes a more holistic approach to aging. Geriatrics, however, is specifically focused on the physical health of aging and caring for the elderly. Think of geriatrics as a subcategory of the larger gerontology discipline.
Who Should Consider an Online Gerontology Master's Degree?
In most cases, these degrees are for people who are already working in healthcare, especially ones who have some experience working with the elderly. Previous experience as a registered nurse or medical assistant is preferred; for many programs it's actually required for entry.
If you have been working in the healthcare sector and want to earn more money while entering a discipline that is rewarding and stable, an online gerontology master's degree may be the right choice.
What to Expect from a Gerontology Degree
These degrees come in a variety of categories, listings, and formats. However, there are two main categories: 1) a master's of art or 2) a master's of science.
A master's of art is a useful degree that gives you a high-level education in the care and support of elderly patients. It's more of a hands-off, broad degree that prepares you for management and other careers in elderly care. Classes in a master's of arts program may include the economics of aging, assisted living management, mental disorders, and case management. Once complete, you'll be prepared for careers in facility management and other leadership roles. Depending on the school, you'll also have an education that can transition into doctoral programs.
A master's of science is more hands-on, preparing you for positions that involve the direct care of elderly patients. (Think nurse practitioner or primary care provider.) Courses will be more direct and focused on healthcare, teaching students to diagnose patients, assess health conditions, and provide medical support. Specific classes may include advanced pharmacology, health management, and diagnostic reasoning.
You need to verify you have the right background, experience, and education for these programs. These are master-level degrees, which means they are extremely selective for entry requirements. A master of gerontology online will require strong performance in a previous education that might include healthcare, science, or a related field.
Top Careers After a Master of Gerontology Online
Nurse Practitioner
Salary: $120,680
Education: Master's
Experience: None
Although they are not doctors, nurse practitioners perform many of the same duties. They perform exams, create patient plans, complete tests, operate medical equipment, diagnose health conditions, and evaluate patient progress. Many specialize in certain areas, such as gerontology.
The pay for this career is outstanding, but the job growth is perhaps the most impressive. Between 2020 and 2030, this career is expected to grow by 52%, adding over 114,000 jobs in ten short years. People with an online gerontology master's degree, especially a master's of science in nursing, will be positioned for an excellent career!
Occupational Therapist
Salary: $85,570
Education: Master's
Experience: None
As we age, simple tasks become harder and harder. Routine tasks like putting on socks, washing dishes, or folding laundry become a troublesome chore as we lose muscle strength and flexibility. An occupational therapist is trained in helping people maintain their daily lives, and while they work with people of all ages, many specialize in elderly support.
Tasks might include reviewing medical history, evaluating a patient's abilities, and developing treatment plans. An occupational therapist could also demonstrate exercises, rearrange a home for safer living, or recommend special equipment, all to help people live independent lives.
Additional Requirements for Gerontology Careers
Almost all careers in gerontology require some form of licensing or certification. A nurse practitioner, for example, needs certification through one of the main organizations, which include the American Academy of Nurse Practitioners Certification Board (AANPCB) and the American Nurses Credentialing Center (ANCC).
There is rarely an experience requirement unless you are going into leadership and management. To work as a health services manager, for example, you need at least five years in the industry, usually working as an administrative assistant or in a nursing role of some type.