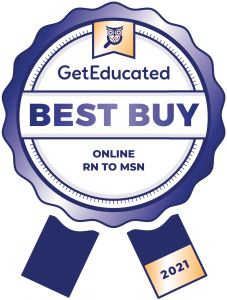 As a licensed registered nurse seeking the next phase of your career, you have decided to answer the dramatic demand for nurse practitioners throughout the nation. This decision can garner a better paycheck, more autonomy in the workplace, and overall professional fulfillment in a challenging marketplace. RN to MSN online programs are an ideal way to bypass the BSN and advance your career to the nurse practitioner level while still maintaining your current job.
An RN to MSN online is designed to save you time and money as you work to become a fully licensed nurse practitioner. In fact, the job outlook for NP's is projected to grow by 45% from now until 2029—a wild increase in jobs according to the BLS. Another bonus, is the relative affordability of RN to MSN online programs. Schools generally allow students to apply selected course credits towards both bachelor's and master's degree requirements, reducing the number of total credits required. Each school sets unique criteria, often based on school academic regulations and state compliance.
GetEducated has compared 111 RN to MSN online programs from 54 regionally accredited schools to create the following "Best Buy" list. Our rankings reveal the cheapest RN to MSN online programs in the United States. The most affordable program (regardless of state residency) is offered by Lamar University for $303 per credit, although residents of Texas can save even more.
ARTICLE NAVIGATION: Rankings Table | Career Guide
Average Cost (In-state): ~$590 per credit
Least Expensive: Texas Tech University Health Sciences Center ~$285.15 per credit
Most Expensive: University of Pittsburgh ~$1,059.02 per credit
Our data-driven research creates a truly reliable system of scientific rankings. There's no fancy formulas here. We meticulously gather tuition rates to help consumers make an empowered decision. Because these are completion programs, tuition costs are unique to each applicant. Total costs will depend on remaining credits needed to complete your degree. We provide weighted costs per credit, based on a semester credit calendar, for a better comparison. Our rankings cannot be bought, and therefore factually showcase the cheapest RN to MSN online programs. The online degrees listed above the gray dividing line are official 2021 "Best Buys" and cost less than the national average.
Cheapest RN to MSN Online Programs
Accreditation & Program Notes
To qualify for a ranking, a program must be regionally accredited. Additional programmatic accreditation is noted in the rank table.
 8 Accreditation Commission for Education in Nursing (ACEN)
10 Commission on Collegiate Nursing Education (CCNE)
13 Quarter Credit Note: Semester based courses are typically set at a 3 credit per course basis, while quarter-based courses are set at 4.5 credits. Tuition rates for schools operating on a per quarter calendar system were calculated to reflect a per semester rate. The following schools use a per quarter calendar for tuition. Actual tuition and fees are:
Capella University: $450.11 (In State/Out of State); $406.65 (Military) per quarter credit
Purdue University Global: $364.44 (In State): $378.44 (Out of State); $236.67 (Military) per quarter credit
Walden University: $448.10 for Nurse Executive, Nursing Informatics, Education & Public Health Nursing (all) per quarter credit
Walden University: $450.11 for Nurse Executive with Health Policy & Nurse Executive with Risk Management, (all) per quarter credit
Walden University: $646.24 for Psychiatric-Mental Health NP & Pediatric NP Primary Care (all) per quarter credit
Walden University: $642.14 for Adult-Gerontology Acute Care NP & Family NP (all) per quarter credit
14 Program is no longer accepting new students.
46 Multiple tuition options include a traditional format and a flat-rate basis.
Rankings Note
These online college rankings are based on a GetEducated Spring 2021 review of regionally accredited online RN to MSN programs. Total cost includes full-time tuition and fees and was valid at the time of collection and specific to the online learning program. School profiles for the online master degree programs in our directory may reflect a slightly different cost based on different editorial update schedules.
The published cost is an estimated sticker price for the entire online degree including fees. Actual costs may vary by student. Factors such as transfer credits, prerequisite courses, professional licensing and financial aid availability will affect final cost
Editorial Note
Online schools do NOT pay to be included in any GetEducated online degree ranking. These rankings are editorially independent, open to any regionally accredited or candidate college that offers a master's degree that is available at least 80 percent through online learning and that is open to enrollment by the public. If your online college is regionally accredited and not currently reviewed by GetEducated, please contact us for inclusion.
These rankings of the cheapest online schools for an RN to MSN may NOT be re-posted online or reprinted in any format without a license from GetEducated ®. Consumer finance bloggers and writers can contact our editors for a free custom article on the best RN to MSN online for use on your website. Our mission: Help consumers GetEducated ® about the best online colleges for cost and credibility.
RN to MSN Career Guide
If you are a registered nurse with an associate's degree or even a certificate, entering an RN to MSN online degree may be the perfect choice for your career.
In these programs, you'll be fast-tracked for the completion not only of your bachelor's degree, but also your master's degree, helping you complete the education quickly so you can start contributing to the exciting healthcare industry, an industry that needs talented, motivated professionals!
Get Your RN to MSN Online
Nurses are, arguably, the most important people in the healthcare industry. They often have the most one-on-one contact with patients, and usually create the connections between patients and their healthcare.
There are many educational tracks to becoming a nurse, just as there are many types of nurses. Generally, an RN (for "Registered Nurse") is the profession we imagine when we hear the word "nurse." To work as an RN, you generally need at least an associate's degree, although more RNs are getting bachelor's degrees. It's also possible to advance your career into other nursing professions through a master's of science in nursing, or MSN, which prepares you for many high-pay, high-demand jobs.
There are many reasons to complete an RN to MSN online program. Besides the convenience of studying online, you have the chance to earn more money while taking on more responsibilities in the healthcare profession. You may even increase your chances of landing a job, as many master's-level nursing professions are expected to have rapid growth in the coming years. (Nurse practitioners, for example, could grow by 52%.)
Besides the obvious financial gains, you'll also gain more skills and knowledge in the healthcare industry, allowing you to enjoy a rewarding, fulfilling profession. You can also choose a concentration that you find interesting, such as pediatrics, anesthetics, or healthcare leadership.
The specific classes will depend on the program, but you can expect many science-focused courses, as well as classes related to the healthcare profession. The curriculum may include classes with titles like "foundations in nursing," "leadership in healthcare," and "economics of healthcare." But there will also be classes that address pathology, pharmacology, health assessments, and other science-based topics.
By the time you reach the master's portion of your RN to MSN online degree, you'll likely need to choose a specialty. Again, the options will vary by institution, but you may find concentrations that include infection control, pediatrics, nursing management, or even nursing education, which would prepare you to educate the next generation of healthcare professionals.
Nurse Practitioner
Median Salary: $109,820
Job Growth: 52%
Education: Master's
Training/Work Experience: None
The career of nurse practitioner is not only one of the fastest-growing careers in the entire industry, but also the job market in general. Serving as primary care providers in many cases, these professionals deliver nursing services and have a higher role in healthcare decisions. They often serve a specific group, such as elderly, youth, or mental-health patients. With expected growth of 52% between 2019 and 2029, and a median salary over $109,000, this is an excellent healthcare job.
Nurse Anesthetist
Median Salary: $174,790
Job Growth: 14%
Education: Master's
Training/Work Experience: None
nurse anesthetists
, who generally have a master's degree, often earn more than physicians, who have doctorate-level degrees. These highly-trained professionals are responsible for administering pain-management medication, especially anesthesia, which needs to be delivered with precise care. Anesthetists earn tremendous salaries, with median salaries over $174,000.
Licensing, Certification & Experience Requirements
Virtually all healthcare professions require licensing and certification of some kind. Nurses with master's degrees, of course, are no different. A nurse practitioner, for example, needs to be licensed or certified through one of the many institutions that oversee the profession. These include the American Academy of Nurse Practitioners Certification Board (AANPCB), the American Nurses Credentialing Center (ANCC), and the Pediatric Nursing Certification Board (PNCB).
Nurse anesthetists need to be certified through the National Board of Certification and Recertification for Nurse Anesthetists (NBCRNA), and they have to maintain their certifications by working with the Continued Professional Certification (CPC) Program.
While most of these master's-level nursing careers do not require prior experience, it's common for people enrolled in RN to MSN online degrees to have experience as an RN. Again, it's not always required, but it does help you better understand the profession and can guide you towards the right master's concentration.
An RN to MSN online can put you on the fast track to a high-paying master's-level nursing profession. It will help you earn a larger salary, and could increase your chances of landing your dream healthcare job.