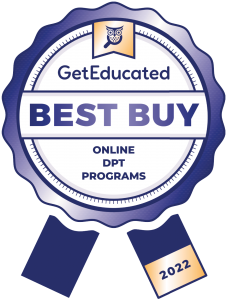 Online DPT programs are the top choice for pre-PTs seeking their doctor of physical therapy credential. A doctorate in occupational or physical therapy is a particularly good choice for those further specializing in their PT profession. For example, geriatrics and women's health to pathophysiology and pharmacology. These highly technical programs, offered chiefly online, are led by experienced, dedicated faculty. The best online colleges for occupational therapy/physical therapy also offer accredited, personalized curriculum aligned with industry standards. While you may have considered all of this, there remains one significant factor to your decision: cost!
Currently, the difference between the cheapest online DPT program and the most expensive hovers around $68,000. With a number that high, it pays to find degrees matching your budget and aspirations.
Thankfully, GetEducated has done this part for you. We've surveyed 35 online DPT programs from 33 regionally accredited universities to create the following ranking. Our "Best Buys" feature the top US programs at the most economical prices that don't sacrifice quality for cost. With this information, the most informed decision for your professional development is right at your fingertips.
ARTICLE NAVIGATION: Rankings Table | Career Guide
Average Cost (In-state): ~$27,900
Least Expensive: Winston-Salem State University ~$7,024
Most Expensive: New York University ~$75,270
Our data-driven research of public and non-profit colleges creates a genuinely reliable system of scientific rankings. There are no misleading formulas here. We meticulously calculate total full-time tuition—including any fees—for the most accurate total cost. Our rankings cannot be bought, and they factually showcase the cheapest online occupational therapy or physical therapy degree programs. The online DPT programs listed above the gray dividing line are official 2022 "Best Buys" and cost less than the national average.
Most Affordable Online DPT Programs
Rank
School / Degree
State
Price
Note

Winston-Salem State University

(NC)

$7,024.40

$17,950.16

In-State

Out-of-State

University of North Carolina at Chapel Hill

(NC)

$11,694.50

$31,845.50

In-State

Out-of-State

The College of Saint Scholastica

(MN)

$12,400.00

All Students

Utica University

(NY)

$15,130.00

All Students

Elizabethtown College

(PA)

$16,800.00

All Students

Shawnee State University

(OH)

$18,600.00

$20,925.00

In-State

Out-of-State

Northeastern University

(MA)

$18,840.00

All Students

University of Michigan-Flint

(MI)

$18,969.00

$28,005.00

In-State

Out-of-State

Shenandoah University

(VA)

$18,990.00

All Students

Temple University

(PA)

$22,030.00

All Students

Medical University of South Carolina

(SC)

$22,250.00

$23,750.00

In-State

Out-of-State

Shenandoah University

(VA)

$22,350.00

All Students

University of Kansas

(KS)

$23,137.20

All Students

Valparaiso University

(IN)

$23,140.00

All Students

Barry University

(FL)

$24,466.00

All Students

Gannon University

(PA)

$26,180.00

All Students

Andrews University

(MI)

$26,520.00

All Students

St. Catherine University

(MN)

$26,695.00

All Students

University of Missouri-Columbia

(MO)

$27,000.00

$24,354.00

In-State/Out-Of-State

Military

Eastern Kentucky University

(KY)

$27,000.00

All Students
NOTE: The following schools did not make our Best Buy ranking but are also great online options.
| | | | | |
| --- | --- | --- | --- | --- |
| | Creighton University | (NE) | $29,449.00 | All Students |
| | D'Youville College | (NY) | $29,600.00 | All Students |
| | Boston University | (MA) | $29,775.00 | All Students |
| | Nova Southeastern University | (FL) | $30,902.00 | All Students |
| | Fairleigh Dickinson University | (NJ) | $33,163.00 | All Students |
| | Chatham University | (PA) | $33,390.00 | All Students |
| | University of Wisconsin-Madison | (WI) | $34,000.00 | All Students |
| | Quinnipiac University | (CT) | $34,770.00 | All Students |
| | The George Washington University | (DC) | $35,528.00 | All Students |
| | Salus University | (PA) | $35,760.00 | All Students |
| | Loma Linda University | (CA) | $37,100.00 | All Students |
| | Bay Path University | (MA) | $37,440.00 | All Students |
| | Thomas Jefferson University | (PA) | $39,131.00 | All Students |
| | Nova Southeastern University | (FL) | $49,768.00 | All Students |
| | New York University | (NY) | $75,270.00 | All Students |
Accreditation & Program Notes
To qualify for a ranking, a program must be regionally accredited. Additional programmatic accreditation is noted in the rank table.
14  Program is no longer accepting new students.
Rankings Note
These online college rankings are based on a GetEducated Summer 2022 review of regionally accredited online DPT programs. Total cost includes full-time tuition and fees and was valid at the time of collection and specific to the online learning program. School profiles for the online doctorate degree programs in our directory may reflect a slightly different cost based on different editorial update schedules.
The published cost is an estimated sticker price for the entire online degree including fees. Actual costs may vary by student. Factors such as transfer credits, prerequisite courses, professional licensing and financial aid availability will affect final cost.
Editorial Note
Online schools do NOT pay to be included in any GetEducated online degree ranking. These rankings are editorially independent, open to any non-profit, regionally accredited or candidate college that offers a doctorate degree that is available at least 80 percent through online learning and that is open to enrollment by the public. If your online college is regionally accredited and not currently reviewed by GetEducated, please contact us for inclusion.
These rankings of the cheapest online schools for physical therapy may NOT be re-posted online or reprinted in any format without a license from GetEducated ®. Consumer finance bloggers and writers can contact our editors for a free custom article on the best online DPT programs for use on your website. Our mission: Help consumers GetEducated ® about the best online colleges for cost and credibility.
Career Guide: Online DPT Programs
If you have been working in therapy or healthcare of any kind, and want to take your career to a higher level, one of the top online DPT programs or an education in occupational therapy may be a great choice.
Occupational Therapy vs. Physical Therapy
To understand these degrees, it helps to know the differences between occupational therapy and physical therapy.
Occupational therapists help people with fine motor skills. Small, nimble movements, such as brushing your teeth, combing your hair, and washing the dishes are all part of an occupational therapist's responsibilities.
Physical therapy, which is taught in online DPT programs, helps people with gross motor skills. These are large movements, which usually involve moving the body from one place to another. Walking, jogging, and running are part of a physical therapist's work.
While the difference is not exclusive, one way to think about the differences is that a physical therapist generally deals with the whole body, often focusing on the waist down. (Teaching someone to walk after an accident, for example.) But an occupational therapist usually deals with the shoulders, arms, elbow, wrists, and hands. (Teaching someone to write after a stroke, for example.)
There is, of course, plenty of overlap, but these are the main differences between occupational therapy and physical therapy.
What to Expect from Online DPT Programs
The length of time to complete these degrees will vary, mostly depending on your current level of education. Usually, they require three to five years of study, but it may take more time if you do not already have a master's degree. If you are in a bachelor's-to-doctorate program, it could take longer to complete.
You might assume that all doctorate programs are expensive. While they can come with a large price tag, many of the programs are quite affordable. When researching these programs, we looked at tuition for 35 doctorates in occupational and physical therapy. The average cost was less than $28,000, but the highest-priced program was over $75,000. However, the lowest-priced program was just over $7,000. Considering the outstanding salaries you might earn (see below), this seems like a bargain!
The classes in these programs will vary widely. Of course, physical therapy and occupational therapy programs will have different classes, but both will develop your understanding of biology, anatomy, physical movement, and other important subjects.
During an occupational therapy degree, you'll take classes like occupational science, advanced practice concepts, and evaluation methods. The courses will teach you to evaluate patients, make practical changes that improve functional movement, and diagnose medical problems that could reduce flexibility and strength.
Online DPT programs ("DPT" stands for doctor of physical therapy) will teach similar concepts. In these courses, you may study kinesiology (the study of human movement), the skeletal system, and muscle-building techniques. All of the classes will teach you to create stronger, healthier patients.
Top Careers in Occupational & Physical Therapy
Occupational Therapist
Salary: $85,570
Education: Master's
Experience: None
As an occupational therapist, you'll help people live with greater independence. You'll achieve these goals by working with patients who struggle to perform everyday tasks, such as getting dressed, brushing their teeth, and washing dishes.
Of all the benefits to this career, the growth is most noteworthy. The BLS predicts that this profession will grow by 17% between 2020 and 2030, resulting in over 154,000 total jobs by the end of the decade. Anyone who has completed a doctorate in occupational therapy has a strong chance of finding a high-paying position.
Physical Therapist
Salary: $95,570
Education: Doctorate
Experience: None
Physical therapists work with all types of people. This may include elite athletes, accident victims, and elderly individuals who are struggling with mobility. They serve an important role in helping people recover their mobility, and they often help people increase flexibility and strength, especially in the legs and core.
This career is also expected to see outstanding growth. The BLS says that the ten-year growth for this career will be 21%; by 2030 there will be over 288,000 physical therapists in the United States.
Licensing Requirements for Physical or Occupational Therapists
In addition to an advanced degree, certification is also required for these careers.
To work in occupational therapy, you'll need to pass an examination from the National Board for Certification in Occupational Therapy. A degree from an accredited institution is required before you can even sit for the exam.
Physical therapy is similar. In this case, you need to pass the National Physical Therapy Examination, which is overseen by the Federation of State Boards of Physical Therapy.
If you want a rewarding career helping people achieve greater independence, these degrees will be perfect to advance to your next step.