The relationship between higher education and job placement is no secret. Two-thirds of all new jobs created within the next few years will require a post-secondary educational award. Academic awards dictate a student's skill set and experience. Employers use them to determine entry-level and on-the-job training requirements. Delivering the skills employers want, degrees are a time-tested way of narrowing down the competition.
The Skills Employers Want
The ideal worker is equipped with a combination of different skill sets. Employers agree that the most necessary of them is the interpersonal skill set. A skill set that allows a person to function within a bigger picture. These people are responsible and accountable. They will be driven and self-sufficient, leading to better teamwork and productivity.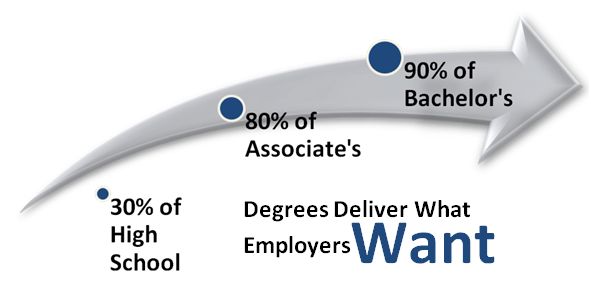 Interpersonal Skills
Interpersonal skills are often categorized as soft skills and evaluated based on how well a person can relate to another. In the professional world these softer skills are becoming increasing important because of their influence and connection to other skill sets, including production and communication.
Interpersonal skilled employee is aware of themselves, their actions, motivations and influences. They have developed excellent communication skills which can adapt and be used in any environment or situation. Self-awareness and communication skills come at a price. To be a good communicator, one has to be a good listener and have a good understanding of a person's underlying motivations behind the things they say. Interpersonal employees are characterized as effective listeners with enough empathy to accurately judge shared information and the feelings motivating them.
The ability to know one's self and listen effectively is driven by an individual's capacity for reflection, the act of looking back and analyzing past events to evaluate their function and purpose. The act of reflection helps them better understand the consequences of past actions and predict future outcomes. In doing so, they also become more aware of themselves and their surroundings, making them better communicators and workers.
Critical Thinking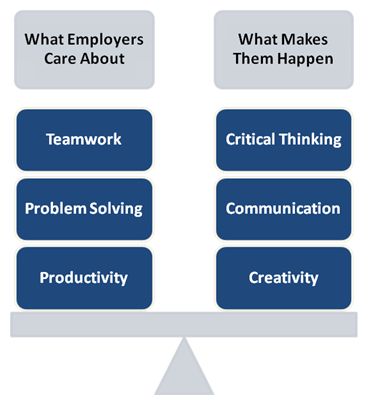 Reflection is a key player of critical thinking, the number one skill employers hire for. This skill isn't cultivated from memorization. It's based on a student's ability to effectively evaluate information, interpreting and using it accordingly.
Communication
Communication, the ability to effectively interact with others, is the second most important occupational skill and the second thing expected of all college students. It determines how well an employee can adept to teamwork, which is necessary for ideal productivity.
Creativity
Creativity is valued for its impact on problem solving. It is also directly connected to an individual's motivation and productivity. Everyone has access to the same knowledge. It's about the ability to connect new information with old ideas in innovative and unique ways.
Online vs. Traditional Degrees
Both online and traditional educations effectively equip students with interpersonal skills. However, they may go about it differently. Online education is infamous for its interpersonal requirements, such as self-discipline and inward motivation, whereas, a traditional education is thought to create personable and effective communicators.
Common knowledge says that an online education starves students of the communication skills they need to effectively function in the workplace. Traditional education does not escape common knowledge stereotyping. Students with a degree earned in a traditional setting are viewed as being motivated by external factors of reward such as grades or a professor's approval.

Common knowledge is full of surprises and employers tend to disagree with it. They have found no difference in the performance of entry level employees based on the setting in which their degree was received. The communication capabilities of online students are equal to if not above those of students attending a physical classroom. There is also no distinct difference between the driving motivators influencing them.

Degrees Deliver
There may be no difference between an online or traditional degree's effects on interpersonal skills. However, there is a strong difference between educational degree levels and their impact on developing these soft skills. For example, 70 percent of employees with only a high school diploma or equivalent were viewed as being deficient in these skills, whereas, only 10 percent of employees with a bachelor's degree were found to be deficient. Interpersonal skills were also found to be most important at the bachelor's and higher educational degree levels of entry.