Teaching is a full-time, demanding, yet rewarding job. Learn how to become a teacher and the steps you must take to secure licensure and begin your new career.
On an average day, teachers are responsible for:
Developing lesson plans and instructional materials
Instructing students how to become good citizens and learners
Evaluating students' social and academic growth
There are three major steps to becoming a teacher:
Choose a specialty;
Fulfill your state's education requirements (at least a bachelor's degree);
Fulfill your state's licensing requirements.
---
Do You Have What It Takes to Be a Teacher?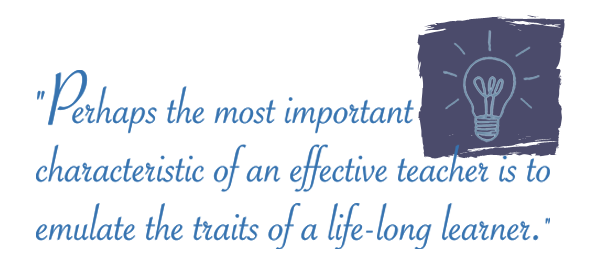 Teaching as a profession can be intensely difficult yet intensely rewarding. Teachers shape learning and development playing a major part in what a student becomes in the future.
As such, there are a few qualities that make the most effective teacher. Caring for students and respecting them and their parents is a good way to gain credibility as a teacher. It is important to remember that you are not just teaching them knowledge; you are building students' self-esteem and developing their moral growth.
You must also consider certain traits important in a student's learning when becoming a teacher. Effective teachers encourage students to think by ask probing questions, using positive words, and building rapport with students.
Perhaps the most important characteristic of an effective teacher is to emulate the traits of a life-long learner. Teachers who demonstrate a love for learning often pass this passion to their students in the classroom.
---
Step One: Choose a Specialty
First, ask yourself: What KIND of teacher do I want to be?
Do I like little kids or teenagers?
Do I prefer teaching biology or do I want to teach all subjects?
Do I want to spend my teaching days working with Special Education students or gifted students?
There are many teaching careers and specialties within the K-12 education system:
Early Childhood teachers work mainly with grades prior to third grade.
Elementary teachers teach kindergarten through sixth (and sometimes even seventh and eighth grades). These teachers are prepared to teach curriculum in all subjects as well as some special education.
Secondary teachers teach a more specific subject, like science or math at the middle and high school levels.
Specialty teachers focus on a particular non-academic area, like physical education, art, or music.
Administration teachers can also become principals or superintendents—though it requires a graduate degree.
---
Step Two: Online Teaching Degrees
The education needed to be a teacher differs from state-to-state however all states require at least a bachelor's degree. Most often, you will need to enroll in an accredited teacher preparation, or Pre-Education degree program. In this program, you will select a major closely related to the subject you wish to teach (i.e. physical education, art, English, etc.).
Those that need additional flexibility can become a teacher online with an online teaching degree that does not require in-person student teaching. You will still need to fulfill your state's licensing requirements to teach.

Many state teaching requirements include the completion of a master's degree, often in Curriculum and Instruction or in an area of specialization. If time is a concern, look for a teaching preparation program that allows you to apply some credits towards a master's degree.

---
Step Three: Get Licensed
The requirements to become a teacher does not end with education. Each state mandates one or more exams teachers must pass in order to become licensed. The Praxis—a national exam series— is the most common and is used by many states as a method for teacher certification.
In some instances, additional exams are required. In North Carolina, for example, one must take the Praxis II and the Pearson Test for North Carolina: Foundations of Reading and General Curriculum to earn an initial teaching license. Many states will grant an initial teaching license to those that hold a teaching license from another state.
Once you are licensed you will need to maintain licensure through continuing education credits and license-renewal exams. Requirements vary by state.
---
Changing Careers to Become a Teacher
Though most who become a teacher take the traditional route, there are always people that have a desire to change careers after they've worked in a different career. Many school systems allow teachers to get certification through alternative methods.
Direct employment:
If you are considered highly qualified in a certain area, a school system may choose to hire you without an initial teaching license. As you teach under the guidance of a mentor you are granted a provisional license with the understanding that you must complete the required courses and take the license assessments within a certain time period.
Alternative Teacher Certification programs:
Many colleges now offer "career-switcher" programs to those who did not earn a bachelor's in education. Colleges like Old Dominion University, Virginia Commonwealth University, and Shenandoah University offer state-accredited programs to becoming a teacher.
An online option for a career switcher teaching program includes Regent University.
Online Bachelor's in Education:
Many online universities, such as Western Governors University assist people in gaining their bachelor's in education and certification in teaching. Make sure your chosen program fulfills your state's education requirements before enrolling.
---
Continuing Education Opportunities
There are many opportunities for growth within an education career. Many teachers choose to go back to school to earn a master's in school administration. This degree, coupled with at least five years of experience, qualifies a teacher for school administration jobs such as a school principal.
With a doctorate in education administration, a teacher can also become a public school district superintendent—an administrator responsible for most aspects of a school's operation.
There are several programs within the teaching profession that can boost your career. Certification in areas such as gifted education, special education, and English as a Second language, can make your resume look more desirable.

---
What to Expect From A Teaching Career
Work Environment
Though the environment varies depending on the type of teacher you become, some things are very common. Teachers working in a traditional school year will work a 10-month period with a 2-month break during the summer. Teachers working at a year-round school usually work 8 weeks in a row with 1-week breaks in between and a 5-week mid-winter break.
Teachers can work in public or private schools and generally work during school hours and will sometimes meet with parents, students, or other teachers before or after school. Teachers often spend evenings grading papers or preparing lessons. It is common for teachers to devote well beyond forty hours per week to their job during the school term.
Benefits & Hazards
As with any job, most schools offer its full-time employees some basic benefits.
Salary: Though teaching is not a high-paying job, your salary will depend on your level of experience.
Vacation: Schools have built-in vacation days centered on holidays, so you will not have to worry about taking time off during holidays. However, since most teachers are off for two months during the year, they do not get many sick/personal days during the school year (usually 1 day per month).
Healthcare: Family healthcare benefits are standard in most schools.
Retirement: Most schools offer a retirement plan.
Teaching can be a very rewarding profession when students are learning and growing.  However, many factors can make the students' and teacher's life more stressful. For instance, many schools have large classrooms and lack important learning tools like computers and updated textbooks.
The most challenging aspect of a teacher's life could be that they are held accountable for students' performance on standardized tests. High school teachers frequently struggle with students who are unmotivated and disrespectful.
Added hazards include:
Maintaining a professional relationship with students inside and outside of the classroom. Teachers must remember that eyes are on them at all times—especially on websites like Instagram and Facebook.
Health. Any teacher will tell you that schools are a breeding ground for every kind of virus—stomach bugs, colds, the flu, etc.
Burnout. Teachers often run themselves down, especially in highly demanding positions such as special education.
Teacher Salary
A career as a public school teacher will not give you the lifestyle of Oprah Winfrey; however, most teaching careers come with a stable income, health insurance, and retirement. Compensation for teaching positions is usually based on years of experience and education level.
According to the Bureau of Labor Statistics (BLS), elementary teachers made a median of $53,760 in 2014, with ranges from $36,040 to $83,910. The highest paid elementary teachers were in states along the East extending from Virginia to Massachusetts, and in California, Washington, Minnesota, Michigan, and Alaska.
High school teachers tend to make a little more than elementary teachers, perhaps because high school teachers can differentiate into different subjects. BLS.gov says that the median salary for a high school teacher in 2014 was $56,310. This career's salary ranges from $37,540 to $88,910.
Teachers who go on to become elementary, middle, or high school principals can expect higher salaries. The median income for principals in 2014 was $89,540. The BLS reports principal salaries range from an estimated $59,250 to $129,300. Principals, unlike teachers, usually work year-round and do not have summers off.
Teaching Career Outlook
According to BLS, the employment of kindergarten, elementary, and special education teachers is projected to rise 12% by 2022. This rise is due in part to increased student enrollment—mainly in the south and west parts of the country. On the other hand, the employment of high school teachers is expected to rise only six percent by 2022.
Overall, schools have trouble filling positions in certain areas, especially STEM subjects like math, science (especially chemistry and physics), English as a second language, and special education. As a result, teachers with education or certifications to teach these specialties should have a better chance of finding a job.
Related Careers
For teachers that want to branch out, or for professionals that want a career closely related to the field of teaching, BLS cites a number of possible options, including:
Teacher's assistant: Finding a position as a teacher's assistant can get you in the classroom without a fancy degree. Most teacher's assistants do not need anything higher than a high school diploma to apply.
Career and Technical Education teachers: This job requires a bachelor's degree and focuses on technical and vocational subjects.
Librarians: Librarians are needed in schools as well as in the public sector.
Social Worker: Though this career requires a different educational path, often requiring a master's in social work, social workers often work in school systems.
Special Education teachers: These teachers work with students that have some level of learning, mental, emotional, or physical disabilities. Special Education teachers also only require a bachelor's degree, though a master's in Special Education can gain you a higher starting salary.
Preschool teachers: This profession educates children between 3 to 5 years old. Preschool teachers are concerned with jumpstarting creativity in young minds. An associate's degree is all you need to find a position as a preschool teacher.
School and Career Counselors: This profession requires a master's degree in school counseling. School counselors help students to develop the social skills they need to succeed. Career Counselors also help students in making career and educational decisions.
The most important lesson for someone wanting to become a teacher is to be you. Teachers who demonstrate themselves to be life-long learners will inspire their students to thirst for knowledge well beyond their school years. After all, Jim Henson once said, "Kids don't remember what you try to teach them. They remember what you are."
View Online Teaching Degrees