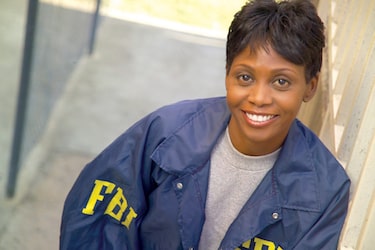 FBI agents are responsible for the safety of America and her citizens. On a daily basis, they fight against life-threatening challenges like terrorism, drug trafficking, and organized crime. Using both computer and financial know-how to protect against cyber theft, fraud, and white-collar crimes, FBI agents combat criminals who steal through advanced techniques.
The FBI was formed in 1908 and has been involved in famous cases involving Al Capone, Bonnie and Clyde, the KKK, and John Gotti. The history of the FBI is rich with success stories about protecting the country from a huge array of threats. It started as a team of special agents during the presidency of Theodore Roosevelt and has become one of the most important branches of the government. Although the Federal Bureau of Investigations, often called "the Bureau" originally investigated fraud, banking, and antitrust issues, it is now involved in combating terrorism, hate crimes, human trafficking, human right violations and nearly every type of national threat imaginable.
An FBI agent career carries a wide variety of responsibilities to meet these threats. Some specialize in tracking down cyber criminals, while others work to combat organized crime and terrorism. Some use advanced science degrees to solve murders, while another FBI agent will use a deep knowledge of accounting to locate fraud in the finance sector.
It is one of the most challenging law enforcement positions available, requiring a combination of physical fitness and mental acuity that challenges the most advanced police officers and military specialists. Many will attempt to become FBI agents, but few will actually have the opportunity to start New Agent Training. If you are interested in becoming an FBI agent, be warned: it will not be easy. But with the right training, the right mentality, and the right education, you just might have what it takes.
---
How to Become an FBI Agent
Earn a degree in criminal justice, finance, science, computer technology, or foreign language;
Get three years of experience in a job related to your major;
Verify that you meet age (23-37) and citizenship (United States) requirements;
Pass the physical fitness test, background checks, multiple drug and polygraph tests;
Complete the rigorous New Agent Training.

---
FBI Agent Requirements
Before you can even begin to think about becoming an FBI agent, you have to meet certain requirements. These requirements not only include your age and citizenship, they also cover you overall background.
First and foremost, you must be a U.S. citizen to apply for a position. If you're not a citizen, you won't even be considered. You have to be within the age range of 23 to 37 years old to earn a position as an FBI agent. While certain waivers are available, only people who meet this age category will be considered for the position. This is to ensure not only mental maturity and experience (hence the 23 year old minimum), but also physical strength and endurance (hence the 37 year old maximum).
The application process will also include a meticulous background check and security clearance. This is more than the standard records inquiry that you might have with other positions, as the FBI will also look into employment, medical history, military records, law enforcement, credit, and more. You'll also have to go through written tests, a detailed criminal background check, numerous drug tests, and even a polygraph test, also called a lie detector test.
If that wasn't enough, FBI agent qualifications include a rigorous physical fitness test. Prior to approval, you'll have to pass the FBI's Personal Fitness Test. As the FBI's official website puts it "you must already be in excellent physical condition prior to applying." Visit the FBI's website for more information on application requirements.

---
FBI Employment Disqualifiers
Like all employers, the FBI understands that people make mistakes, especially when young. However, due to the highly-secure and nationally-important nature of the position, FBI agents will be held to a much higher standards when it comes to criminal history. While small offenses (traffic tickets, for example) will not eliminate you from contention, a misdemeanor will lower your chances, especially if it occurred when you were an adult. A felony will essentially eliminate you from the position. Even seemingly minor and non-criminal issues, like defaulting on your student loans, can result in a elimination from the job. If you make it through the ground-level requirements to even be considered for a position, you now have to think about education…

---
FBI Education Requirements
Common Degrees & FBI Majors
The Federal Bureau of Investigations is an elite organization that needs a fast array of skills and abilities. It not only needs people that can break down doors, make arrests, and perform with precision in dangerous situations, it also needs experts in computer technology, finances, and foreign languages.

The minimum FBI education requirements is a bachelor's degree, although many have master's degrees or higher, especially those working in leadership and technical positions. While some employers may skim over your GPA, the FBI requires a 3.0 or better.
So what are the best majors for an aspiring FBI agent? You may be surprised to learn just how many degrees will qualify you to work for the FBI.
Science
While many FBI agents have degrees in numerous fields, the Bureau is usually looking for people with a background in hard sciences. This education gives people the ability to analyze information and investigate complex situations. Science majors accepted by the FBI include biology, chemistry, and physics.
Computer Technology
Because of cyber security concerns, the FBI also needs people with computer and information technology. These individuals are needed to deal with threats from both outside the U.S. and internally. Computer-related expertise is already a major part of the FBI, and will likely be the largest area of growth over the coming years. Popular computer-related FBI majors include information technology, computer engineering, and cyber security. Since FBI jobs are very competitive, consider programs that hold both regional and programmatic accreditation like the ABET-accredited Information Assurance and Cybersecurity bachelor's degree from
Law Enforcement
Of course, the FBI is a law enforcement agency, so they need a pool of skilled individuals who understand the law, dealing with criminals, making arrests, and the appropriate use of deadly force. These individuals often have backgrounds in local law enforcement and military service. Top law enforcement-related FBI majors include criminology, forensics, and criminal justice.
Finance
It might surprise some people to learn that the FBI also needs people with a deep understanding of finances. Fraud and financial theft is one of the top issues the the FBI deals with, and they need people who can read financial documents and uncover any unethical behavior. Common money-related FBI majors include accounting, finance, and business, in general.
Other Useful Degrees
There are many other degrees that are attractive to the FBI. These cover everything from the way a person thinks to the relationship between nations. With the right application, almost any serious degree can be useful to an FBI agent. Psychology, sociology, foreign language, or law majors are all useful to the FBI.
Minors for Prospective FBI Agents
All of the majors listed above would make an excellent minor of study for anyone interested in becoming an FBI agent. For example, majoring in criminal justice with a minor in finance would be an excellent combination, and would likely set you up for a career working in the FBI's white-collar crime division. A major in computer science with a minor in international studies would help the FBI investigate cyber security threats from outside individuals.

---
Foreign Language Proficiency: A Top Skill for Being an FBI Agent
We hinted at it earlier, but one of the most desirable skills for an FBI agent is a proficiency with a foreign language. As you might guess, there are specific languages that the FBI is looking for, so while your degree in German is great, the FBI wants people with a strong understanding of Arabic (including all dialects), Chinese, Russian, Korean, Swahili, Albanian, Indonesian, Punjabi, and Vietnamese. They also have put a special emphasis on Spanish. In order to qualify, you must show an advanced proficiency in the language.

---
The Final Requirement: Three Years of Experience
Even after all the previous requirements; the age restrictions, the fitness mandates, and the educational demands, you will still need at least three years of relatable experience. (If you have a graduate degree, the requirement is dropped to two years.)
This experience will have to apply to your desired area. If you want to work in cyber security, you will need three years of experience managing information technologies or building computer databases. Many FBI agents will have well over three years of law enforcement experience, especially in the area of investigations. For anyone working in the financial area, experience could include working in a public accounting firm or managing the finances of a large company.

---
What to Expect Working for the FBI
FBI Agent Training at Quantico
If you pass the rigorous requirements to become an FBI agent and get hired to work for the Bureau, your education and training is just getting started. Before you begin field work, you have to pass through New Agent Training at the FBI Academy. This 20-week course is one of the most difficult training programs law enforcement officials will ever go through, and it will test both your physical and mental limits.
Over 800 hours of training, you'll be subject to four major concentrations: academics, case exercises, firearms training, and operational skills. Finally, you'll have to pass through arduous physical fitness tests that include sit-ups, sprints, push-ups, and 1.5-mile runs.

Continuing Education & Training
Assuming you pass the arduous New Agent Training program, you'll now be ready to contribute to the Federal Bureau of Investigations, but your education and development is far from over. Even the most experienced FBI agents will go through training programs that keep them at the forefront of law enforcement techniques. The FBI's training programs include tactical training, leadership development, driving skills, and basic field training courses.

The Job Environment for an FBI Agent
What does the world look like after you become an FBI agent? On a daily basis, where do you work, who do you interact with, and what tools do you need to do your job? It turns out, the work environment for FBI agents is just as diverse as their educational backgrounds.
FBI agents are placed in cities all over the country, so travel is often a mandatory part of the job. Depending on the specific position, an FBI agent may spend an entire day in an office, sorting through documents or working on a computer, or on location at a crime scene, logging evidence and building an investigation. They may also spend a day or more in a courtroom, providing expert witness information during criminal cases. Of course, an FBI's work can be dangerous, as they are often responsible for catching violent criminals and making arrests.

---
Becoming an FBI Agent: Pros & Cons
Like all jobs, becoming an FBI agent has its advantages and disadvantages. There are highly-rewarding aspect of the career, as well as reasons why many people don't make it as an agent.
When you work as an FBI agent, you have the pride that comes with serving your country for the greater good. You're taking dangerous criminals off the streets and helping to preserve the rights of citizens. Depending on your area of work, you may protect the country from terrorism, cyber hackers, organized crime, and domestic threats. You'll also have the satisfaction of working for a highly-elite organization that only takes the best candidates in the nation.
However, there are certainly drawbacks to a career as an FBI agent. The job is highly stressful, and you'll likely be subject to dangerous situations where your life and the life of others are at risk. You may have to work long, seemingly endless hours, and be ready for duty at a moment's notice. Although you may not be working all the time, FBI agents are on duty 24 hours a day. Not only that, you'll have to deal with traumatic situations and violent, often ghastly crime scenes; scenes that can rattle even the steadiest of people.

---
Guide to FBI Agent Jobs
FBI Agent Salary
There is a wide variety of differing pay grades for law enforcement officials, but most will earn a very good salary. Considering that the FBI is one of the nation's most elite and important law enforcement organizations, agents and leaders of the Bureau can expect to earn some of the best salaries in law enforcement.
While the Bureau of Labor Statistics, one of the best organizations for salary information, does not compile data on "FBI agents" specifically, they do have a list of information on "Police and Detectives," a category that would apply to most FBI agents. According to the BLS, these people make an average of $58,630 a year. Detectives and criminal investigators made an average of $79,870 a year.
Even newly-minted FBI agents make a very comfortable salary, earning over $50,000 when you take into account pay for the 20-week training course and the beginning salary.

Closely Related Careers
There are hundreds of different career options that are closely related to working as an FBI agent. These include different law enforcement organizations, both at a local and national level, and security and investigation jobs. Jobs closely linked to FBI agents include police officers, private investigators, game wardens, and correctional officers. Of course, there is also the options of moving up into the FBI, into positions that include intelligence analysts and leadership roles.

---
FBI Agent: A Rewarding Career if You Earn the Honor
If you have what it takes, the career of an FBI agent is waiting for you. Just to be considered for the job, you have to meet some of the most stringent requirements in the country. If you make it through the rigorous process, you'll have a career that allows you to serve your country and your fellow citizens every single day. From the office to the field, the life an FBI agent is exciting, challenging, and rewarding.
Related Resources
Highest Paying Criminal Justice Careers by Required Education
How to Become a Federal Air Marshal