Online Classrooms are the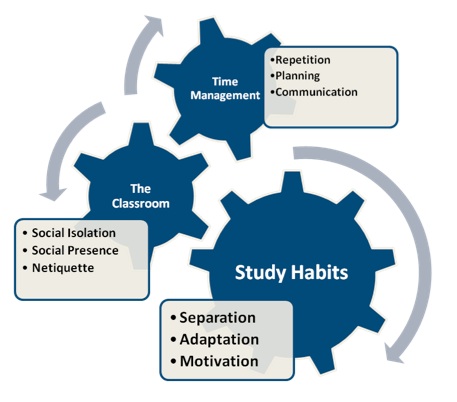 chance for an accredited education at its most convenient with a flexible schedule. However, everything comes at a price. Convenience costs self-discipline, isolation and inward motivation. The most successful online students operate on intrinsic motivation. A motivation focused on an overall goal, instead of an immediate reward. Coincidentally, the most successful online students also absorb information quickly and independently and are able to connect it to overarching principles.
Unfamiliar with using the internet as a communication and information source, students can set themselves up to fail from the very beginning. Online classroom expectations can easily double as technological obstacles. Just as time management can easily double as a juggling act, a daily performance necessary to keep the different pieces of one's life moving in harmony with each other.
In their absence, virtual classrooms are a threat all to themselves, breeding social alienation from physical isolation. However, with a different perspective, the technology of an online education can easily be transformed from an isolating medium into a beneficial tool. Students must adapt to the technological demands of the online classroom in order to develop the communication skills necessary for success.
Expectations (Technological Obstacles)
Students pursuing online education are expected to have pre-existing knowledge of the technological skills involved. Online instructors very rarely include tutorials on how to operate chat rooms and use real player in their lecture time. For many students these expectations become technological obstacles that hinder their performance and success in the class. Playing a pivotal role in effective communication and participation, adequate knowledge of them can decide a student's fate from the very beginning.
Communication
In online education, communication is completely virtual. However, it is still the most important factor within the classroom and there is still a proper way it should be done. Instructors expect students to have full understanding of technological communication methods. Students should know how to use their email accounts to their full potential, knowing how to attach documents, chat and download attachments.
Accessing Information
Ironically, online education does not teach students how to surf the internet. They are expected to have previous experience with web browsers and using them to locate quality information. Students are also expected to be able to easily locate information from their access site. When it comes to posting and sharing information, being familiar with the courseware can be a student's best asset. A minimum understanding of Word processors, office programs and real player is also expected and will prove very beneficial.
Terminology
Online education comes with its own dictionary of terms and meanings that are commonly used in a virtual classroom and that a student needs to know before entering it.