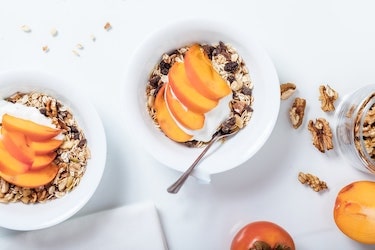 In order to keep your body healthy and happy, you must eat well. A good diet along with exercise is a key part of overall health and wellness. For this reason, nutrition and health education have become a part of a large movement to encourage healthy eating habits. On the forefront of this movement are doctors, nurses, educators, dietitians, and nutritionists.

Nutritionists fill a wide variety of positions in a range of environments. From hospitals to schools, and the office into the field, nutritionists provide their clients and patients with practical knowledge and advice for eating well. No matter where you find yourself working, a nutritionist or dietitian can be highly specialized, working with a certain group or set of patients. For example, one might choose to work exclusively with dialysis patients. But a nutritionist can also have a more broad career, working within a hospital setting to plan meals or working within schools to teach children the importance of healthy habits.

This career path is one in which you will be directly responsible for improving the health and wellness of your patients. You'll become familiar with your clients, their needs, and how you can best assist them in their journey to become healthier and happier people.

In this career, you'll be responsible for a variety of tasks, including:
Evaluating patients/clients diet and dietary needs
Monitoring your clients
Remaining current on dietary science and research
Case management
Writing evaluations and reports

---
How to Become a Licensed Nutritionist
The path to becoming a nutritionist varies depending on which type of career path you'd like to follow. However, the following steps remain more or less the same.

Earn an accredited bachelor's in dietetics or master's degree in clinical nutrition;
Gain experience through internships and supervised work (at least 900 hours, depending on desired credential);
Pass RDN (Registered Dietitian) or CNS (Certified Nutrition Specialist) certification exams;
Find a job in a hospital, school, restaurant, or private practice;
Stay competitive and maintain certification by earning continuing education credits.

---
Types of Nutritionists
This career is full of opportunity. But before you begin your journey to becoming a nutritionist, you must first decide what type of nutritionist you would like to become.

Nutritionist: The term 'nutritionist' is probably the most broad as it encompasses a wide variety of career choices and certifications. It is an unregulated term and you will find it's usage by those with wide variations in experience, education, and credentials which can be particularly confusing for prospective clients. Simply put, a nutritionist is a dietary expert who evaluates and advises clients on how to meet specific dietary needs. A nutritionist, in its broadest terms, does not necessary need to be certified with the Board for Certification of Nutrition Specialists (BCNS) or The Accreditation Council for Education in Nutrition and Dietetics Education (ACEND).

Holistic nutritionist: A holistic nutritionist is similar to a nutritionist, but with a fine-tuned focus on how to use food and diet to both heal and maintain a healthy body. As you work with your patients, you will consider the person as a whole when evaluating their dietary needs. And when creating a dietary plan, you would use this knowledge to build appropriate goals and expectations. It should also be noted that finding an accredited holistic nutritionist program is challenging. This terminology is not regulated by the government and therefore not eligible for taking insurance.

Certified Nutrition Specialist (CNS): A certified nutritionist is a nutritionist that is certified with the Board for Certification of Nutrition Specialists. Depending on the state, the Certified Nutrition Specialist credential offers an alterative route to licensure than the RD. In some states, nutritionists with the CNS credential can accept insurance and work in a hospital setting.

Registered Dietitian (RD): A registered dietitian, like a certified nutrition specialist, is a dietary specialist who is certified with The Accreditation Council for Education in Nutrition and Dietetics Education. Again, being certified and licensed provides higher paying positions and greater opportunity for advancement and upward mobility.
NOTE: Beginning in 2020, all prospective RD's will also be required to hold a master's degree to sit for licensure.

No matter which type of nutritionist you want to become, each offers unique and satisfying career options. It should be noted that becoming a registered dietitian or a certified nutritionist requires more effort, but offers higher earning potential and advancement opportunities in the long run. Any nutrition credential that is not recognized by the state government in which you reside is risky as eventually it may become illegal for you to practice without proper accredited education and licensure.

---
What Steps are Required to Become a Nutritionist?
Education
To become a registered dietitian, you must complete a minimum of a bachelor's degree from an accredited program. The CNS credential requires a minimum of a master's degree. The following majors are widely accepted for careers in nutrition:
Nutrition
Dietetics
Food Science
Biochemistry
Physiology
Microbiology
Chemistry
Sociology

Degrees or majors with an emphasis on the natural sciences, research, and critical thinking are strongly encouraged.

Work Experience
Certification with either BCNS or ACEND provides increased earning and advancement opportunity. Becoming certified requires completing a supervised internship or work experience. To be certified with BCNS, applicants must complete 1000 hours of supervised work experience. And in order to be certified with ACEND, applicants must complete an ACEND-approved internship with a length between 6 and 12 months, between 900 and 1200 hours, depending on the state.

Certification
To become an RDN, you must pass an exam administered by The Accreditation Council for Education in Nutrition and Dietetics Education (ACEND). In order to become a CNS, you must pass an exam, the Certification Examination of Nutrition Specialists, administered by the Board for Certification of Nutrition Specialists (BCNS). Both are multiple choiced, timed exams with a pass/fail scoring system.

Job Search
From 2014 to 2024, the number of jobs available for dietitians and nutritionists are expected to grow by 16% or around 11,000 positions (Bureau of Labor Statistics). This growth is faster than average, which is likely the result of an aging population and an increasing obesity epidemic in America. With a renewed emphasis on healthy habits, this career is growing fast. After all, healthy eating is important for everyone. Jobs for nutritionists exist everywhere you look: in hospitals, schools, restaurants, wellness programs, public outreach programs, and research labs, just to name a few. Both public and private sector jobs exist.

Continuing Education
For registered dietitians and certified nutritionists, continuing education credits are required as part of their certification. The number of hours necessary for RDNs differ depending on the state in which they practice. For most states you'll complete around 75 continuing education credits every 5 years. However, each state differs in renewal cycle and hours required within that renewal cycle.

As a certified nutrition specialist, you must complete continuing education credits at the rate of 75 credits per 5-year period in order to maintain your certification.

---
Nutrition School Accreditation Requirements for Licensing
To become a registered dietitian, programs must be programmatically accredited by The Accreditation Council for Education in Nutrition and Dietetics Education (ACEND). To find ACEND-accredited institutions, visit EatRightAcend.org.
In order to become a certified nutritionist, you must graduate from a regionally accredited undergraduate and graduate programs (the gold standard of accreditation).

There are online options for completing undergraduate and graduate degrees in nutrition and health sciences. However, when seeking a degree in biochemistry, biology, or other related fields, you will have to be on campus for labs and interactive learning. And because certification with ACEND require completion of certain science courses, it is not possible to complete a degree exclusively online. It is possible, however to earn a master's degree in clinical nutrition completely online that will qualify you to sit for the Certified Nurition Specialist exam.
---
Internship & Practicum Requirements
To become a licensed and registered dietitian, you must complete a 6-12 month internship. This internship must be approved by ACEND and spans 900-1200 hours.

To become a certified nutritionist with BCNS, you must complete 1000 hours of supervised clinical work that must be approved by the board.

---
Licensing & Certification
Licensing is not necessarily required to work as a nutritionist. However, whether you have to be licensed or not depends largely on what state you will be working in and what type of practice you'll be working in. To have the most opportunity in earning power, upward mobility, and advancement, licensing and certification is strongly encouraged.

Licensing and continued education for certified nutritionist specialists is regulated by BCNS. Certification requires a master's or doctoral degree in nutrition or related field. For more information, read this requirements overview.

Licensing with ACEND requires a bachelor's degree. To maintain your certification with ACEND, you must earn continuing education credits which is regulated state-by-state. Take the following states for example:
In Maryland you can expect to complete 30 continuing education credits biennially, or every two years.
In Arkansas you can expect to complete 12 continuing education credits annually, or every year.
In Puerto Rico you can expect to complete 42 continuing education credits every three years.

For more information, visit ACEND or contact your state regulatory board.

---
Starting Your Career as a Nutritionist
Nutritionists have a wide variety of career opportunities. No matter which aspects of health and wellness interest you, there's a specialization ready and waiting. The following specializations are high in patient interaction and require certification with ACEND:
Pediatric
Gerontological
Renal
Sport
Oncological

For specializations with less patient interaction, you might consider:
Research
Education
Food Service
Business
Community Health

When you become licensed and certified as a nutritionist or dietitian, you'll gain first hand experience through supervised work requirements and internships. If possible, gain experience in the specialization to the one you'd like to pursue.

---
What to Expect in the Job Environment
Due to the wide range of career paths available to nutritionists and dietitians, your opportunities are limitless. It's likely that you will work in an office setting, unless you're a traveling consultant. There isn't much opportunity to work from home or work remotely. However, that's not to say those opportunities can't be found or created.

Overall, nutritionists enjoy a low stress office atmosphere. Dietitians and nutritionists are not typically on call and are not expected to respond to patient emergencies. This career is also very flexible, making it's possible to find your ideal work-life balance.

Continued education is required to be licensed as a certified nutritionist or as a registered dietitian. If you're not licensed or certified, it's still a good idea to gather continued education credits. Nutrition is an ever-changing field; new dietary research is released every day. For this reason it's a good idea to make a habit of reading respected dietary magazines and newsletters in addition to attending seminars, continued education classes, and conferences.

As of May 2014, the median salary for a nutritionist was $56,950 (BLS). Outpatient care centers paid a median salary of $61,210. Health diagnosing and treating practitioners had median annual salary of $75,430.

The lowest 10% earned less than $35,040 and the highest 10% earned above $79,840.

The need for dietitians and nutritionists is expected to grow by 16% from 2014 to 2024 (faster than average), adding a total of 11,000 jobs to the market. Due to an aging population and skyrocketing obesity rates, nutritionists and dietitians are in increasing demand. This also means that the unemployment rate is 2.9%, which is well below average.

You'll find the highest paying states for this career are California, Maryland, Nevada, Connecticut, and New Jersey. And the states with highest employment rates are California, New York, Texas, Pennsylvania, and Florida.

---
Is This Career Path Right for Me?
To succeed as a nutritionist, the following traits and skills are important:
Reading comprehension – Between reading new research and patient charts, you'll need to be able to quickly understand and synthesize new information.
Active listening – When meeting with your patients, the ability to listen, ask questions, and work together is a must.
Critical thinking – Though the same basic dietary requirements need to be met by most people, you will need to think critically about your patients to find solutions that best fit their dietary needs and their lifestyles.
Monitoring – As you work with your patients, a large part of what you will be doing is monitoring their progress and their diet.
Speaking – Unless you work in a restaurant or similar setting, you'll most likely need to interface with several patients a day or a week. You'll often need to work closely with doctors and nurses, so being able to spend a lot of time speaking with people is helpful.

Being a dietitian or a nutritionist comes with its ups and downs.
Pros:
Flexible – This career is more flexible than average, meaning there's ample opportunity to work as much or as little as you'd like, and makes it easier to build your life around your career.
Low Stress – Even though this is a medical profession, you're not expected to be on call. You typically won't be dealing with emergencies and you will be able to go home at the end of the work day.
Average opportunities for advancement – As you become licensed and gain continued education credits, you will have opportunities for advancement.
Good Work-Life Balance – Due to the flexibility of this career path, it's easier to find the right work-life balance.
Help People – In this career you have the opportunity to truly help others to improve their lives.
Many Career Opportunities – This career is growing faster than the national average. The need for dietitians and nutritionists is growing and evolving. Not only are they in high demand, but they're high demand in many different industries and medical areas.

Like any career, however, there are some cons.
Cons:
Unclear Requirements – In order to be a licensed nutritionist or dietitian, you need to meet certain requirements. But depending on what state you're in and what type of nutritionists you want to be, these requirements can require research.
The Reward-Work Ratio is High – The amount of schooling and money required to become a nutritionists isn't always rewarded with an equitable salary.
Hard work for Little Pay – Along the same lines as a high reward-work ratio is that you'll often have to work hard for low pay. Though you may not always be working with patients, you'll also be expected to complete a lot of paperwork.
Lots of Information – The field of nutrition is always changing. New research is released every day. So in order to stay current, you have to sift through a lot of new research and information, then decide which information is good and which information isn't.

---
Ability to Expand or Change Careers
As a licensed nutritionist or dietitian, you're uniquely qualified for several other positions in the health field. First, you can expand your career by specializing and gaining further certifications. For example, you can become certified to work with pediatric patients. With so many career paths within the field of nutrition, changing the scope of your work is relatively easy.

Changing careers is also a possibility for nutritionists and dietitians. With a background in health sciences, you can look at careers in nursing, education, and consulting.

Here are a few professions closely related to nutrition:
Registered Nurse – A nurse, like a nutritionist, works with their patients to support and encourage health and wellness.
Health Educator – Health educators work in a variety of settings to teach healthy habits, like good diet and exercise, to the public.
Rehabilitation Counselor – Rehabilitation counselors works with individuals to overcome a variety of physical and/or mental obstacles.

---
Your Nutrition Career Begins Today
Once you've got clarify on your state's requirements for licensing, you're ready to begin researching degree programs. The GetEducated database contains only programs that hold proper accreditation.

Related Resources
Top 30 Nutrition Schools Online
The 27 Most Affordable Online Master's in Nutrition