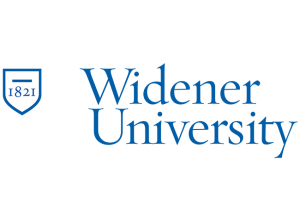 School Details
Widener University proudly cultivates challenging and culturally diverse learning environments where academics, leadership, and service come first. Their curricula are connected to societal issues and challenge students to take social responsibility for their role in today's global society.
Founded in 1821 in Chester, Pennsylvania, Widener is nationally recognized for their commitment to civic engagement, service, and social responsibility. The university has been included on the U.S. President's Higher Education Community Service Honor Roll with distinction every year since its inception in 2006.
It is Widener's goal to develop true leaders who inspire positive change throughout their communities.
When you graduate with an online degree from Widener, you are fully prepared with the professional experience, knowledge, and drive to advance your career and lead in your field.
Widener offers the following online degrees in a flexible, innovative format:
Master of Business Administration (MBA)
Master of Social Work (MSW)
Registered Nurse-Bachelor of Science in Nursing (RN-BSN)
No matter the program or profession, a Widener education emphas hands-on learning in small classes, meaningful service-learning projects, and relevant, on-the-job experience.
Financial Aid at Widener University
Financial aid, including federal loans and grants, is available for Widener University online students to help pay for education expenses. Employer tuition reimbursement arrangements can also be made for qualified students with employer documentation.
You can apply for financial aid with the Free Application for Federal Student Aid (FAFSA). The Widener University code is 003313.
Accreditation & Licensing
Widener University is accredited by:
Middle States Commission on Higher Education (MSCHE)