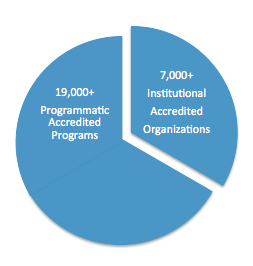 In the United States, there are two forms of accreditation recognized by the United States Department of Education and Council for Higher Education Accreditation. They are institutional and programmatic or specialized, which are distributed by three different types of accrediting agencies. Regional, national and programmatic accrediting agencies may all offer accreditation on the institutional level. However, only programmatic or specialized agencies provide their specific type of accreditation.
Programmatic or Specialized Accreditation
Programmatic accreditation sets standards for and provides accreditation to programs and departments within an institution. These programs may be as small as a disciplined curriculum or as large as a school that exists within a university. Programmatic accreditation does not usually apply to entire universities or institutions. However, some independent schools that specialize in a vocation or profession can receive specialized accreditation. This specialized accreditation allows programmatic accreditors to have institutional accreditation capacity. Specialized accreditation also applies to educational programs that take place in non-educational settings, such as hospital programs.
The Association of Specialized and Professional Accreditors
Just recognized within the past 20 years, programmatic is the newer between the two types of accreditation. In 1993, accrediting agencies came together to create the ASPA. This organization formed to ensure standards were consistent between institutions and programs. Promoting quality and uniformity, programmatic accreditation ensures a program's educational value.
The Programs
Today, there are more than 19,000 accredited programs located throughout the country. Accredited programs must prove to have an educational quality that prepares students for a certain profession or industry, such as engineering, dentistry, nursing or law. These professions require the education of a program with specialized accreditation.