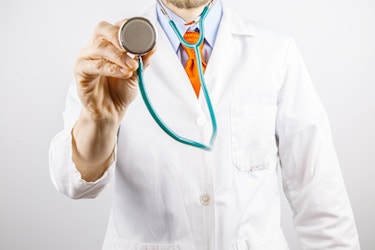 Like many professions, becoming a Physician Assistant today requires more education than it used to. Today, students will usually need to complete a Master's degree and pass the National Certification Exam, while in the past, PAs could have certificates, Associate's degrees, or Bachelor's degrees as training. Colleges for physician assistant training are expanding options, allowing students to take some, or even all, their courses online.
If you are already a practicing PA, you may want to update your skills and degree to equal those who are just entering the profession. Your years of experience in the field are very valuable, but you want to keep your edge by having the higher degree status of new graduates. How can you do this? Well, one way is to choose one of the online PA programs that will lead to a Master's degree. For students with a bachelor's degree in another subject, it can be possible to attend a hybrid online PA program to enter the field.
Some programs to get a Master of Science will require some on-campus learning, but there are some 100% online options for working PAs to upgrade their degrees. Many of these rigorous programs accommodate working students, while others discourage working during the intensive training. Some programs can take students through all the general education that will include finishing a Bachelor's degree on the way to the Master's degree, while others require a BS before you enter. The time-commitment varies from a minimum of 12 months to three years, and many programs will allow you to take up to five years to finish if you wish.
The degrees conferred can vary, with the Master of Physician Assistant Studies (MPAS) being common. Other degrees can be Master of Medical Science (MMSc), Master of Science-PA (MSPA), and others. Along with passing the PANCE exam and gaining licensure in your state, a Master's degrees is considered terminal for a Physician Assistant. Each program has a focus, with many programs focusing on primary care or rural and underserved populations. Programs usually allow you to choose a subject of specialty, and these can include many areas of medicine. All of the programs are part didactic and part clinical practice in varied settings.
---
Why Choose an ARC-PA Accredited Program?
For general educational programs, most colleges and universities are accredited by a regional board that checks quality of education, financial soundness, and other factors in determining which schools qualify. For your bachelor's or associate's degree, your school was most likely accredited by one of these regional authorities recognized by the US Dept of Education. These programs use outside people, usually academics from other schools, to evaluate each university.
However, for special programs for particular professions, there are separate agencies that accredit the program using peer review by experts. It would be silly to have an English professor evaluate the quality of education in a program that leads to a degree for a Physician's Assistant, right? The evaluator should know what type of education, training, and requirements will produce a good physician's assistant. It stands to reason that you want to attend one of the online physician assistant programs that has been vetted by people who know what makes a great program to prepare you for this healthcare career.
ARC-PA accredited programs will meet the highest standards, and therefore, your degree will do more to get you better jobs than any other type of program. People in the field know that graduates of ARC-PA approved programs have the best education, and that is who will be hiring you! So it is worth the trouble to make sure your degree will advance your career, allow you to take the national exam, and be licensed.
Application requirements vary, and many schools accept applications through the CAPSA online system, though some also take applications directly. International students are welcome in some programs, though there are additional requirements, including English proficiency. Most programs don't require the GRE tests, but some do. Many programs weigh candidates applications with both academic performance and demonstrated commitment to the healthcare field balanced.
One thing you will notice about physician assistant education is that each program is different. Though all programs accredited by ARC-PA are up to standards, they can vary in intensity, time required, and type of degree offered. As you look to expand your skills as a PA, look carefully at the options to find a program that will best meet your needs.
Visit our career guide for a step-by-step look at how to become a PA from scratch.
---
ARC-PA Accredited Hybrid Online PA Programs
Hybrid programs have some on-campus classes required, but also offer some of the classes in an online format. Some programs are mostly online with short campus visits, while others are more in-person with just a bit of online learning to add to the flexibility of the program. Most of the hybrid programs will lead to a master's degree, but there is one bachelor's option (Miami Dade College).
Some hybrid programs can work for students who live far away and just travel to campus for short, intensive sessions, but others require you to live in commuting distance from the campus. Most programs are post-professional and require students to have either a bachelor's degree or be a practicing PA, or both. Generally, an undergraduate, residential degree of some type is needed before entering these programs, and all programs have some prerequisite science courses before going towards a PA degree online. Most programs will want you to have hands-on patient experience, and many of them have preferential admission for military service members.
1. Miami Dade College
All Accreditations: ABA, ACEN, ARC-PA, CAAHEP, CAHIIM, CoARC, CODA, FAA, JRCERT, NAACLS, NAEYC, SACSCOC
Applicable degree(s): Bachelor of Applied Science / Physician Assistant Studies
Tuition: $118 to $536 per credit hour
The Miami Dade College PA program is in transition. Starting in 2018, the Associate's Program in Health Sciences will take the place of the Associate's degree in PA, but the AP in Health Sciences will be the prerequisite to their Bachelor of Applied Science with an Option in Physician Assistant Studies. The B.A.S. will only be open to students with an A.S. degree, preferably in PA Studies. Some courses for the A.S. are online, but most courses will be on the Medical Campus in Miami. The B.A.S. requires 130 hours of coursework, some of it in general education, and takes four or more years to complete.
2. University of Washington
All Accreditations: AACSB, ABA, ABET, ACCE, ACEJMC, ACEND, ACOTE, ADA, APA, ARC-PA, CAAHEP, CAHME, CCNE, CEPH, CSWE, LCME, NASM, NASPAA, NCATE, NWCCU
Applicable degree(s): Extended Master of Clinical Health Services
Tuition: $279 per credit hour
The Extended Master of Clinical Health Services degree is offered to PAs with at least two years of practice mostly online, with a two week on-campus residency at the beginning of the program(June). The four areas of concentration offered are: healthcare for rural and underserved populations, public health and preventative medicine, academic medicine and specialty practice, and global health. Application are due by March 15th, and require a 3.0 GPA on the most recent academic work, a bachelor's degree, licensure and certification, and a letter from current employer (if currently employed). The program is 4 quarters long, allowing for completion within one year.
3. University of North Dakota
All Accreditations: ABA, ABET, ACEND, ACOTE, APA, ARC-PA, ATMAE, CAAHEP, CAPTE, CCNE, CEPH, CSWE, HLC, LCME, NAACLS, NASAD, NASM, NASPAA, NAST, NCATE
Applicable degree(s): Master of Physician Assistant Studies
T

uition:
$423 per credit hour
The MPAS program at University of North Dakota is geared towards working PAs and students with an educational background in science or healthcare. The 24-month program has online and clinical portions that can be completed in the student's home area, plus 5 on-campus portions totaling 17 weeks of instruction. The program focuses on primary care in rural or underserved areas, with an overall goal of improving health care access. PAs (and other licensed professionals) from around the country with at least three years of practice experience are welcome to apply for admission, with preference is given to residents of North Dakota and neighboring states and/or rural/underserved communities. For those who have not yet worked as a PA, admission is limited to ND, MN, MT, and SD residents who have 500-1000 hours of hands-on experience in healthcare. Prerequisite coursework from the previous seven years is preferred, and applicants need a 3.0 GPA. No transfer credit from other programs is accepted. Class size is around 35, and the program admits about ¼ of applicants, and those with degrees from outside the US are not accepted. The program was founded in 1970, and has a long history of graduates, with first try pass rates on the national exam for the last five years between 80-96%, higher on second try.
4. University of Wisconsin – Madison
All Accreditations: AACSB, ABA, ABET, ACEND, ACOTE, APA, ARC-PA, CAPTE, CCNE, CEPH, CIDA, CSWE, HLC, JRCERT, LCME, NAACLS, NASAD, NASM, NAST
Applicable degree(s): Master of Physician Assistant Studies
Tuition: $518 to $1056 per credit hour
The hybrid program for PAs is offered online with one summer semester on campus, and two 3-4 day campus visits during the rest of the program. This 3-year program is intense and challenging, but allows students to earn the MPAS degree while working as a PA. Admission preference is given to Wisconsin residents serving rural communities, and out-of-state tuition is double that of in-state rates. Totaling 93 credits, the first two years are didactic education, and the third year is clinical rotations in your community.
5. Sacred Heart University
All Accreditations: AACSB, ACOTE, ARC-PA, CAATE, CAPTE, CCNE, CSWE, NEASC
Applicable degree(s): Master in Physician Assistant Studies
Tuition: $801 per credit hour
Sacred Heart University has a hybrid MPAS program that is a fulltime, 27-month commitment. The first 12 months are classroom and online learning, called the "didactic phase", and then there are 15 months of clinical experience in 5-week rotations: Internal Medicine, General Surgery, Pediatrics, Primary Care/Family Medicine, and others. The classes are in Stamford, CT, 40 miles from New York City, but some of the courses are in a hybrid online format. The program begins in late August, and the application deadline is October 1. With competitive admissions, applications are considered holistically, balancing GPA with non-cognitive skills such as empathy, commitment to service, cultural sensitivity, and more. The minimum GPA to apply is 3.0 and at least 1,000 hours of verifiable, paid patient care experience in the healthcare industry is required. Experience could be as a CNA, LPN, EMT, paramedic, physical therapy aide, military medic, medical scribe, radiology technician, or other job types within healthcare. In addition, there are prerequisites that must be complete before you apply, including microbiology, anatomy, chemistry, statistics, and psychology. Background checks will be required before the clinical portion of the program. This program is rigorous, and holding employment during the course of study is strongly discouraged. Graduates who pass the National Certification Exam will be allowed to work in any of the 50 states.
6. University of Detroit Mercy
All Accreditations: AACSB, ABA, ABET, APA, ARC-PA, CACREP, CCNE, CODA, CSWE, HLC, NAAB, NASP, TEAC
Applicable degree(s): Master of Science in Physician Assistant Studies
Tuition: $1,607 per credit hour
With a flexible Master's Completion program for PAs, Detroit Mercy allows for online, evening, and Saturday classes with accelerated schedules for some courses. Designed for working PAs who want to update their qualifications, there is minimal disruption to one's regular schedule to attend the program, which has a minimum of 30 credits required. Applicants must have a B.A. and completion of an accredited PA program, and a GPA of at least 2.5. Applicants who are eligible to practice without the accredited PA program may also be admitted. Students must be eligible for a PA license in Michigan. Though the program requires 30 credits, only need 18 to be completed at Detroit Mercy—students can apply for advanced standing if they have coursework from elsewhere. While catching up on advances in the healthcare field, students have a very short path to obtaining a Master's degree!
---
ARC-PA Online PA Programs for Degree Completion
To add a master's degree to your credentials as a PA, all while continuing to work and take care of your family, these fully online degree completion programs offer an attractive route. These programs require no visits to campus, and can be completed 100% online and with clinical experiences in your community. Some programs allow you to go slower or faster, as your schedule allows, while others have a particular order of classes that you need to follow. For flexibility, these programs can get you the education you want without disrupting your normal life.
1. University of Nebraska Medical Center
All Accreditations: ACEND, ARC-PA, CAAHEP, CAPTE, CCNE, CEPH, CODA, HLC, JRCERT, JRNMT, LCME, NAACLS
Applicable degree(s): Master of Physician Assistant Studies / Advancement Option
Tuition: $313 – $897 per credit hour
At Nebraska, the MPAS program for working PAs is a degree advancement option, allowing students to complete the program in as little as five semesters with no travel required. Licensed PAs (though military and federal employees are exempt from this requirement) with a Bachelor's degree and a GPA of at least 2.0 may apply. Students should identify their preceptor before applying if they wish to go on the clinical track, and although the education track requires a mentor, you do not need to choose one before you apply. The program consists of 36 credits, and students may choose to slow down their studies to complete within five years. Application is through the UniCAS system and application deadline is Sept 1.
2. University of Texas – Rio Grande Valley
All Accreditations: AACSB, ARC-PA, CCNE, CSWE, LCME, NCATE, SACSCOC
Applicable degree(s): Master of Physician Assistant Studies / Bridge Program
Tuition: $417 – $832 per credit hour
The MPAS Bridge program at UT Rio Grande Valley allows working professionals to complete the degree totally online. Designed to give working PAs excellent grounding in evidence-based medicine, the program can accommodate student interests and even has assistance for students who are not yet proficient with computer technology for distance-learning. Applicants need a bachelor's degree with a 3.0 GPA in addition to licensure, certification, current employment, and a supervising physician. In addition, students need to carry malpractice insurance. The program accepts foreign students, though they are not eligible for visas, and has three start dates per year.
3. A.T. Still University of Health Sciences
All Accreditations: ADA, AOTA, ARC-PA, CAPTE, CEPH, COCA, CODA, HLC
Tuition: $428 per credit hour
The A.T. Still University of Health Sciences offers a post-professional online Advanced Physician Assistant program leading to a Master of Science in Advanced Physician Assistant Studies. The program is open to students who are certified or licensed as PA's, and will accept international students who can prove the equivalency of their studies. The coursework is 100% online, with clinical practice of 400 hours to be performed at the student's place of employment. The program offers two concentrations, Clinical Medicine or Education/Leadership, and expects students to devote 10-15 hours per week to their studies. Designed for working professionals, this degree program does not require a Bachelor's degree for admission—students who are practicing PA's can continue straight through to the MS degree. Courses start every quarter, and admission requires a GPA of 2.5 or above in previous studies. Applicants PA education must be granted by an ARC-PA accredited program, or a program that was grandfathered in when the ARC guidelines went into effect. The non-bachelor's equivalency program may have additional course requirements.
4. Stony Brook University
All Accreditations: ABET, ACEND, ACOTE, ADA, AOTA, ARC-PA, CAAHEP, CAPTE, CCNE, CEPH, CoARC, CSWE, JRCERT, LCME, MSCHE, NAACLS, NCATE
Applicable degree(s): Post-Professional Master of Science in Physician Assistant Studies
Tuition: $613 – $1,225 per credit hour
The post-professional program at Stony Brook can be completed in 15-18 months entirely online, or students can choose some on-campus classes at the Manhattan or Long Island campuses. International students are accepted, and start dates are three times per year. Applicants need to have graduated from and ARC-PA accredited program, have a current license, and have a Bachelor's degree with a 3.0 GPA (preferred). 18 credits of core courses are required, with the remaining 12 credits electives chosen by each student. Up to 6 transfer credits for previous graduate courses may be awarded toward the MSPA degree.
5. Nova Southeastern University
All Accreditations: ABA, ACAE, ACOE, ACPE, ACOTE, APA, ARC-PA, CAAHEP, CAATE, CAPTE, CEPH, CODA, LCME, NASP, NASPAA, NCATE, SACSCOC
Applicable degree(s): Master of Medical Sciences / Physician Assistant
Tuition: $966 per credit hour
The distance learning option at Nova Southeastern for PAs is only open to certified or licensed PAs who want to get the Master of Medical Science. Three of the campuses offer this option: Jacksonville, Fort Myers, and Orlando. The current on-campus programs at Nova Southeastern allow for a dual MMS/MPH degree, and are very competitive. The online program is a separate program that offers a healthcare focus, not specifically PA. But the program is open to certified/licensed healthcare professionals or healthcare administrators who have a Bachelor's Degree. Students come from a variety of backgrounds and this rich diversity of professional experience creates a learning environment with a broad perspective. Designed for working professionals with family lives, the program is completely online for most students, or only requires a couple of short campus visits.
6. Marywood University
All Accreditations: ACBSP, ACEN, ACEND, APA, ARC-PA, CAATE, CACREP, CAEP, CCNE, CSWE, MSCHE, NAAB, NASAD, NASM
Applicable degree(s): Master in Physician Assistant Professional Studies
Tuition: $1,000 per credit hour
Marywood University has an MPAPS degree completion program online to allow practicing PAs to teach at the college level, conduct research, publish and present work, and take on administrative roles. Applicants need to have completed an accredited PA program, a Bachelor's degree, current PA license, NCCPA certification, current employment, and a supervising physician. A 3.0 GPA on previous work is required, and no transfer credits are awarded towards the 30-credit program. GRE scores are not required for the professional program and it is designed for working PAs to continue their employment during the program.
7. Pace University – New York
All Accreditations: AACSB, ABA, ABET, ACS, APA, ARC-PA, CCNE, MSCHE, NCATE
Applicable degree(s): Master of Science in Physician Assistant Studies
Tuition: $1,225 per credit hour
Pace's online MSPA completion program can be finished in as little as 12 months of part-time, online study. The program admits PAs who are NCCPA certified and hold a bachelor's degree, and awards 18 credits for clinical experience, leaving only 12 credits of courses to complete the 30 hour degree. The program starts in January, and applicants need to have taken an ARC-PA accredited PA program and have documentation of at least 3,600 hours of professional experience. The application deadline is in January, with acceptance letters sent out by December 15th, which is close to the January start date.
8. Yale University
All Accreditations: AACSB, ABA, ABET, ACEN, APA, ARC-PA, ATS, CAHME, CCNE, CEPH, LCME, NASM, NEASC
Applicable degree(s): Master of Medical Science
Tuition: $1,313 per credit hour
The Yale School of Medicine online PA program is 28 months full time and designed to be taken in sequence. The first 12 months are didactic, and then students continue through clinical rotations in or near their home communities. Clinical rotations are typically at least 40 hours per week, and Yale will help students line up preceptors and sites. There are three 5-day on-campus immersions in New Haven, CT spread throughout the program. Courses are taught by Yale School of Medicine faculty, and graduates earn a Master of Medical Science degree from Yale that does not indicate that they earned the degree online. Working during the program is discouraged, and applicants must be US citizens or permanent residents. Yale uses its own applications process (not CASPA), and GRE scores are required. Applicants must have an undergraduate science GPA of 3.0, and it is recommended that applicants have at least six months of full time healthcare experience, including 1,000 hours of hands-on patient care. Because Yale is such an esteemed medical school, this program could be especially helpful in securing employment.
---
Do I Really Need ARC-PA Accreditation?
The Accreditation Review Commission on Education for the Physician Assistant, or ARC-PA, does a thorough examination of the programs that it accredits. If you want to be a Physician Assistant, you need to pass the Physician Assistant National Certification Exam (PANCE), and to take the PANCE, you need to graduate from an ARC-PA accredited program. So yes, you do need to find an ARC-PA accredited program if you want to sit for the national exam. Licensure laws vary from state to state, so check with your state before you enroll in an online program—you want to make sure that the program you choose will be recognized when you go to get your state license as a PA.
The standards set by ARC-PA include making sure there is enough funding to adequately operate the program, a separate Program Director and Medical Director, experienced faculty, curriculum that will meet the outcomes for students, and clinical experiences that include training in all necessary skills to be a PA. The program must be constantly reevaluating courses, curriculum, procedures, and implementation to improve and maintain the quality education that is advertised to students. ARC-PA has seven different types of accreditation, including "continued" for programs who continue to meet standards, "provisional" for new programs that plan to meet the standards, and "probation" which means the program has been told to shape up but is still approved. As long as a program is accredited when you enter, your education should be recognized.
Working in healthcare is a great career with many opportunities, and becoming a PA or furthering your education may be the right direction for you. There is estimated to be a 37% increase in the number of PA jobs available between 2016-2026, according to the Bureau of Labor Statistics. If you want flexibility as you increase your credentials, an online or hybrid program may be for you. But do check to make sure the program has ARC-PA accreditation—otherwise, you might find that your options for further study and employment are limited.
Related Resources