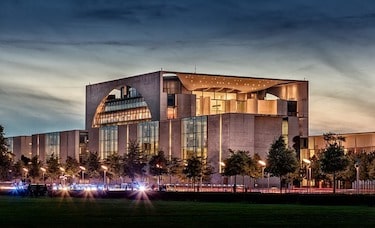 Serving the public good in a government or nonprofit administrative role appeals to many of us. Not only do positions in this field have the benefit of helping organizations run well, but they can be very stable occupations. With experience and training in public service, a wide range of management careers become possible. Not only do the competencies of public management come in handy in many jobs, but these skills can be applied to a special area of expertise like urban planning, public finance, heath administration, or any number of fascinating specialties.
---
Who Should Enroll in an Online MPA Program?
Many people start in public service with just a bachelor's degree or even less education. While there are many positions that give workers on-the-job training that will help them advance and gain new skills, to rise above and continue to advance your career, you often need to add an MPA to your credentials. Not only can an MPA help you climb to the top in the field of management, but it can provide you with new skills and connections that will make your current job or next job easier.
An MPA can also be a degree for someone with no public service experience who wants to begin or switch careers to work in nonprofit or government management. While some programs are specifically designed for those who already work in public administration, many will also allow people new to the field to study, though newbies may be required to complete an internship to gain hands-on experience in the field while they study. Many people return to school to study towards an MPA, making this a great networking opportunity for mid-career administrators. Online classes provide opportunities for students to work together to solve problems, interact in discussions, and learn from each other's experiences.
For those who are already working or have family obligations that make it hard to attend a university program, an online MPA can be earned from wherever you live, often completely on your own schedule. With online classes, many can be accessed when it is convenient for you, or asynchronously. Some courses may require you to attend at specific time for videoconference lectures or discussions, and a few programs will also require one or two brief on-campus residency portions to complete the program. But the online MPAs are designed to allow you to continue in your regular life while earning an advanced degree. Some programs allow you to combine online courses and weekend or evening on-campus classes to suit your preferences.
There are some programs, executive MPA degree programs, that are designed only for very experienced public service or nonprofit administrators. To go through a program with other very advanced manager can be a great experience, as while all your peers will be experienced, they will likely have completely different fields of experience. These programs, like other online MPA programs, are designed with fulltime working professionals in mind, so plenty of flexibility is built in.

---
What to Expect in an Online MPA Program
All MPA programs will have some required core courses in basic management skills including budgeting, finance, human resource management, analysis, information management, public administration, and organizational theory, among other subjects. Many programs will also allow you to have an area of concentration, such as nonprofit management, urban planning, emergency management, health policy, or any number of other special areas. Some programs will allow you to take courses outside the department to customize a degree to your exact interests. With an online degree, if you have a specific job area you want to pursue, like criminal justice administration, you can study one of the programs with that concentration no matter whether it is in your city or across the country.
Students required to perform internships will often do this towards the latter half of their training. Most programs also have a capstone or research project as a culminating experience. These projects are developed in consultation with faculty and sometimes presented in person at an end-of-program residency. A few programs will require a comprehensive exam before graduating.

---
Which MPA Degree Do I Need?
If you are drawn to public service, you can begin your career with just a bachelor's degree, and for many positions, this may be all you need. For higher management positions, and to feel completely competent in a public service or nonprofit administration position, an MPA can really take your career to the next level. While any online MPA program can be perfect for even a very experienced public servant, an executive MPA can be great for networking with other experienced administrators. When you are choosing further education, you may have many different considerations, but among them will be the particular concentrations or focus of a program. Online programs make education more convenient, but you still need to consider the time requirements and options of each program to make sure it will fit well into your family and work situation. Consult our ranking of the most affordable online MPA programs available.
Another consideration as you think about getting another credential to advance your career is the credibility of the degree program. Programs that are accredited by the Network of Schools of Public Policy, Affairs, and Administration (NASPAA) will meet stringent standards. The NASPAA is the nonprofit that oversees the global standards for public service education. An NASPAA accredited program can give you the extra peace of mind in knowing that your program has gone through rigorous examination to become accredited. Plus, the NASPAA accreditation adds prestige to the credential you will receive with your MPA.

---
39 NASPAA Accredited Online MPA Programs
These master of public administration programs are available at least 80% online and hold programmatic accreditation from NASPAA.

1.
California State University-Dominguez Hills

The online Master of Public Administration offered by California State University-Dominguez Hills emphasizes teamwork, integration, communications, and critical thinking. The program is interactive, flexible and asynchronous, and admission requires a bachelor's degree, a 3.0 GPA on the last 60 credits of undergraduate work, and an appropriate math class. Courses are in a 12-week long format for the Public Administration (generalist) concentration, and in an 8-week long format for the three other possible concentrations: Criminal Justice Policy and Administration, Health Care Policy and Administration, and Nonprofit Management. The program typically takes students two years to complete and has either fall or spring semester start dates.

2.
California State University-San Bernardino

A comprehensive exam is required on campus at the end of the online MPA from California State University-San Bernardino. Students don't have to declare a specialty, but the current options for a concentration online are Leadership or Public Financial Management. Admission requires a bachelor's degree with a minimum GPA of 3.0 on the last 60 credits of study. However students with lower GPA's may be admitted with scores from the GRE. All classes are offered online, but not every semester, so online students will need to map their coursework carefully.
3.
Central Michigan University

The Central Michigan University online MPA program is designed for mid-career professionals. With diverse students and faculty, this program creates leaders in the public service field. The program takes about 24 months to complete and concentrations include State and Local Government or Public Management. Admission requires a 2.8 cumulative GPA, 18 undergraduate credits in social science including one course in statistics or research methods, and letters of reference. Students may be able to transfer up to 9 credits from other programs.
4.
DePaul University

The online MPA at DePaul University boasts a strong alumni network and a curriculum focused on innovation. With a grounding in ethical management, finance and budgeting, human resources management and public policy design, this robust program gives students a boost in their leadership skills. Areas of specialization include Public Management, Metropolitan Planning and Urban Affairs, or International Public Management. Admission is on a rolling basis and students can begin in any semester. The program is comprised of 13 courses including 3 electives and requires an internship for those without at least 12 months of professional experience past their undergraduate degree.
5.
Eastern Kentucky University

Active duty military members get almost 50% off on tuition for Eastern Kentucky University's online MPA program, though tuition is quite reasonable for all students. This 36-credit hour program allows you to transfer up to 12 credits from another program and is completely online. Choose either a Community Development concentration or customize your concentration in areas such as Homeland Security, Emergency Management, or Occupational Safety. With flexible schedules, 8-week courses, and waiver of the GRE for applicants with a GPA over 3.0, this is an attractive program to consider.
6.
Florida Gulf Coast University

Florida Gulf Coast University's online MPA program is appropriate for both students with considerable in-service experience and those who are just starting out. The concentration options are Public Leadership and Management or Environmental Policy and Planning. This program can be completed online, but students without prior work experience will be required to attend four on-campus professional networking workshops. GRE or MAT scores are required for applicants who do not possess an earned graduate degree. Florida residents pay a low tuition rate, while out-of-state residents will pay substantially more. However, students may apply for a tuition waiver after they have completed six credits in the program.
7.
Florida International University

The online MPA program at Florida International University admits students to being study only in the fall. The program boasts top-quality faculty and students, as well as networking and career services. Areas of specialization include Nonprofit and Community Development; Human Resource Policy and Management; Homeland Security and Emergency Management; International and Comparative Public Administration; or Public Finance, Procurement, and Contract Management. This 42-credit program requires GRE or GMAT scores for students with below a 3.25 GPA on previous work, though this may be waived. Florida residents pay a substantially lower tuition rate than out-of-state students.
8.
Indiana University

Indiana University's online Master of Public Affairs program is 48-credits of study and takes approximately two years to complete. Organized in three segments–core courses, elective courses, and an experiential professional component—the program offers specializations in Public Management, Nonprofit Management, Policy Analysis, or Public Budgeting and Financial Management. A one-week on-campus course in August is available as one of the elective course options. Professional, military, or volunteer work may be credited toward this degree with a maximum of 12 credits awarded to senior management professionals. Military and veteran students pay the in-state tuition rate.
9.
Kent State University

Students can begin the online MPA at Kent State University in fall, spring, or summer semesters. Admission requires a 3.0 GPA and acceptable GRE scores, though some conditional admissions will be granted. Courses are offered in an asynchronous 7-week format, with completion of the program in two years for students who take two courses per 7-week session. Out-of-state students pay only $10 more per credit than in-state students, making this a bargain for students from all over the world. Internship is required for students with little or no professional experience in public service.
10.
Marist College

Knowledge, skills and values are included in the online MPA program at Marist College. Degree concentrations are offered in Ethical Leadership, Healthcare Administration, Public Management, Nonprofit Management, and Analytics. For applicants, GRE scores are waived for those with a 3.0 GPA, or 2.75 GPA and ten years of professional experience. Tuition for this program is reasonable, and law enforcement or emergency service personnel receive tuition discounts. Students residing near Albany or NYC can opt to take some courses face-to-face rather than completely online. Courses are delivered in an 8-week format.
11.
Old Dominion University

Virginia residents get a slight break on tuition for the online MPA at Old Dominion University, though it is still quite reasonable for all students. Coursework is available completely online, covering organizations design, budgeting, personnel, and policy analysis. Students can opt for the traditional MPA program or choose the concentration in Multi-Sector Public Service. Starting in 2019, the new concentration in Non-Profit Management and Governance will also be an option. Their rolling admission process generally requires a 2.8 GPA and the GRE, but the GRE can be waived for students with extensive experience or a GPA above 3.5. Students can start in fall, spring or summer. Full time students can complete in two years, and part time students can usually complete the program in 3-5 years.
12.
San Diego State University

San Diego State University's online MPA is a 16-month program designed for experienced professionals currently working in government or nonprofit agencies. Admission is competitive, and is primarily based on professional experience, though a 2.85 GPA and GRE scores are also required. There are short on-campus meetings at the beginning and end of the program, and students go through the program together in the cohort model. The program has 8-week courses with breaks between them, and students present their Capstone project to professionals and faculty at the final on-campus meeting. This self-contained graduate program does not accept transfer credits.
13.
Seton Hall University

The online MPA program from Seton Hall University has a concentration in Non-Profit Management and follows curriculum guidelines from the Nonprofit Academic Centers Council. No GRE is required for application, but a GPA of 3.0 and three letters of recommendation are needed. No campus visits are required, and the courses are 100% asynchronous online. The program operates on a cohort model with small groups of students going through courses together. Most students complete the program in three years. The 42-credit program culminates in a Capstone project that can be an internship, a consulting project, or an on-the-job research project.
14.
Southern Utah University

A professional project or thesis is the culminating experience in the online MPA program at Southern Utah University. Students are admitted to the program in fall, spring or summer terms, and applicants should have a 3.0 GPA. Online out-of-state students should have at least one year of professional experience. The 36-credit hour program offers flexibility, as most classes are nonsynchronous online, though some classes may have occasional synchronous meetings. Out-of-state online students pay the same tuition rates as Utah residents. Many electives are available to customize the program, and students can combine on-campus learning with online courses if they wish.
15.
The University of Texas at Arlington

Students in the University of Texas at Arlington online MPA program can complete their degree in as little as 24 months. Applicants are required to submit GRE scores and should have a 3.0 GPA on the past 60 credits of undergraduate coursework. Some GRE waivers are accepted, and students with one year of professional experience may apply to waive the internship requirement within the program. With a focus that includes urban management skills, students have an option to take an elective in Capital Budgeting or Nonprofit Management and Social Entrepreneurship.
16.
University of Baltimore

The fully online MPA at University of Baltimore offers a specialization in Public and Nonprofit Management. This 42-credit program offers the option to combine online courses with weekend on-campus learning, and out-of-state students who study online receive the same tuition rates as in-state students. Course topics include Bureaucracy and the Political Process, Leadership and Organizational Change, Intergovernmental Administration, and many more. The internship requirement may be waived for those with professional experience. Admission requires a 3.0 GPA or an undergraduate degree plus 12 credits of graduate study with a B average. Core courses are offered online only during summer semesters.
17.
University of Central Florida

University of Central Florida's online MPA program offers reasonable tuition to out-of-state students and a very low tuition rate for in-state students. 27 credits of the 42-credit program are core courses, with students selecting four elective courses plus completing a Capstone project. Though not all electives may be available online, the program has areas of concentration including emergency management, urban and regional planning, nonprofit management, research management, and public administration. Students without professional experience are strongly encouraged to complete an internship as one of their elective courses.
18.
University of Colorado – Colorado Springs

The multidisciplinary online MPA program at University of Colorado – Colorado Springs is designed for students who want a career in public, nonprofit, national security and criminal justice systems. The program aims to increase the quality of public leadership, teach diverse students to collaborate, ethically meet society's challenges, and foster strategic leadership skills. Fully online learners will pay almost the same tuition rates as in-state students. More than half of enrolled students were already working in-service, and most students complete the program in approximately three years.
19.
University of Colorado – Denver

The electives offered in University of Colorado Denver's online MPA program include Managing People in Public and Nonprofit Organizations, Policy Formulation and Implementation, Law & Public Policy, Negotiation and Conflict Resolution, and Disaster and Emergency Management Policies. This 36-credit program gives out-of-state students a low tuition rate that is only 120% of the in-state rate, making it much more affordable for distance learners. Those with extensive experience may wish to apply for the Executive MPA program, which exempts them from six credits of the traditional MPA. Most students compete the program in about two and a half years.
20.
University of Delaware

University of Delaware's online MPA program takes an interdisciplinary approach, using faculty from different subject areas in a curriculum that focusses on applied research and contemporary case studies. The 36-credit program can be completed in 30 months, and students can start in fall, spring or summer terms. No on-campus visits are required, but students may elect to attend career fairs and other events. Courses include: Contemporary Issues in Global Society, Information Technology and Management in Public and Nonprofit Sectors, and Values and Ethics for Leadership and Management.
21.
University of Illinois at Springfield

Students in the University of Illinois at Springfield's online MPA program generally follow one of two paths: either concentrating their electives in Public Administration Department courses, or choosing to tailor their degree by pursuing electives in another academic department such as law, information systems, environmental studies, human services, or accountancy. There is also the option of a joint MPA/Master of Public Health dual degree online. Applicants should have a 2.5 GPA or high GRE scores, though GRE's are not required. Prerequisites in economics, government, and statistics can be completed while starting the program with conditional admission.
22.
University of Nebraska at Omaha

The online MPA at University of Nebraska at Omaha offers concentrations in Aviation, Emergency Management, Nonprofit, Public Policy, Public Management, or Local Government. In addition, there is a specialization track for Criminology and Criminal Justice. Low tuition for non-residents, and even lower tuition for in-state students, and flexibility of schedule are some benefits of this program. Courses are completely asynchronous, and the program can be completed in a little over two years. Applicants should have a 3.0 GPA on the last two years of undergraduate work, though some exceptions can be made for those with lower GPAs. GRE score are required.
23.
University of North Carolina at Chapel Hill

University of North Carolina at Chapel Hill's online MPA program boasts a 98% job placement rate and an 88% student satisfaction rate. There are four start-dates per year for the online program. Applicants should have a 3.0 GPA, GRE scores (waived for those with a graduate degree,) and have taken a course in American Government and Policy. Online cohorts are generally 15-20 students. The online program can be taken part time, with students accessing live online classes, completing self-paced coursework, and participating in a hands-on learning component through professional experience.
24.
University of North Dakota

No matter where you live, you pay in-state tuition and interact with faculty and students in the online MPA program at University of North Dakota. Students can choose a general track or specialize in Health Administration or Social Entrepreneurship. The program consists of 34 credits, and every student completes an independent study project that must be approved by their advisor. Applicants should have a 2.75 GPA (or 3.0 GPA in the last two years of undergraduate coursework,) GRE scores, and have completed prerequisites in economics, statistics, accounting and political science.
25.
University of Southern California

Choose from three optional concentration in the University of Southern California's online MPA program: Nonprofit Management, Local Government, or Public Policy. Students usually take about two years to complete the program, but it can also be taken at a slower pace, with completion in 3-5 years. The program is 40-41 units long, and there is no specific score on the GRE or GPA required for admission, though students usually have at least a 3.0 GPA from previous work. Prerequisites in statistics and social science are required. Students in the online program attend one on-campus introductory class and one residency during the capstone course.
26.
Valdosta State University

Valdosta State University's online MPA has two options for concentration: Public Policy or Public Sector Management. The online program is appropriate for students who have work experience, whether in the private sector, military, or government. Scores on a graduate exam and GPA levels will be considered in admissions, along with professional experience and goals. 24 credits of core courses plus 12 credits of concentration courses make up this 36-credit program. Students take an internship and capstone course in the last semester of the program.
27.
Villanova University

An internship is required for the Villanova University online MPA, though it can be waived for people with three or more years of professional experience. At 36-39 credits, fulltime students can finish the degree in two years, while part time students may take 3-4 or up to six years to complete the program. 18 credits of the degree are electives, and students can choose to take up to two courses in other departments to personalize their degree. Faculty have interdisciplinary and applied approaches to public policy and the school has a vibrant alumni network. A comprehensive exam is required to finish the program.
28.
West Chester University of Pennsylvania

Students can choose the Public Management or Nonprofit Administration tracks for the online MPA at West Chester University of Pennsylvania. Full or part time students are welcome, and many students successfully work fulltime during their studies. Up to 12 credits can be transferred in from another program, and students are not required to work or have their undergraduate degree in their area of concentration, but they may. Out-of-state distance education students pay just $10 more per credit than in-state students, making this an affordable degree. In addition to the online courses, the university allows students the option to teleconference into classes live.
29.
Wichita State University

Wichita State University's online MPA is 39 credits long including 15 credits of electives, which can be taken in Nonprofit Management, City and County Management, Economic Development, or Public Finance. These elective clusters can be taken to add a certificate in a subject to the MPA. No GRE is required for admission, but students should have a 3.0 GPA on the last 60 credits of undergraduate work. Tuition is very affordable and fall or spring semester starts are possible. The program boasts that 100% of graduates find a job within one year.

---
Executive Master of Public Administration Programs
1.
University of South Dakota

The University of South Dakota's online Executive MPA program is designed for seasoned public and nonprofit leaders with personal integrity, professional competence, and respect for human dignity. Applicants should have a 3.0 GPA on undergraduate and graduate coursework and a minimum of five years of professional experience, including at least three years at middle-to-upper level management. All students pay a low tuition for this 30-credit program. This advanced program culminates in a Capstone project or professional report. Courses in the program include Advanced Leadership, Budgetary and Fiscal Management, Facilitation and Conflict Management, Administrative Law and Government, and Research Administrative Practice.
2.
Texas A & M University

The online Executive Master of Public Service and Administration at Texas A & M University delivers high-quality, high-impact coursework for those serious about their careers in public service. The 39-credit program can be completed in 2-3 years with two one-week on-campus residency portions. Applications are accepted for fall, spring, or summer terms, and students can choose a Homeland Security Track, a Nonprofit Management Track, or a Public Management Track. Graduates have access to a large worldwide network of Aggie alumni, and there are some scholarships available to online students. No thesis is required in this program, which culminates in a Capstone project.
3.
Texas Southern University

Texas Southern University offers the online Executive MPA degree for mid-career professionals who wish to advance their credentials with a public policy focused program. With an option to study abroad, students can study subjects of concentration such as HR, sustainability, community development and housing, public participation, and community relations, among others. The online program is 36-credits and usually completed in 16 months of fulltime study. This visionary program has optional on-campus meetings for orientation once a semester and includes synchronous online learning.

---
The Next Step is Right in Front of You
Our world needs the most competent managers to run our organizations, and you could be one of the best with a bit of education that you can complete from your kitchen table. There are many good programs that will allow you to get your online MPA from wherever you reside. An MPA can really jump-start your career and allow you to get the job of your dreams. Whether you are already in-service or looking to begin your career in public service, an online MPA makes it possible to get started today.