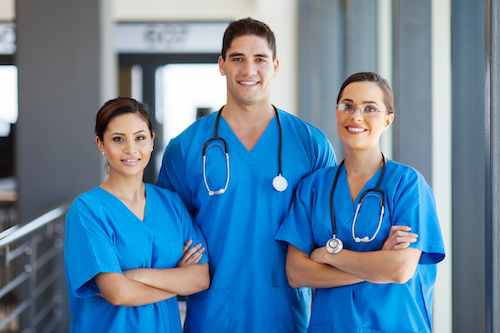 Healthcare is one of the most noble yet challenging careers you can pursue. With medical field jobs ranging from entry-level positions to healthcare careers requiring over a decade of training, healthcare has something for anyone who is motivated, passionate, and resilient.
From associate degrees to medical doctorates, there is an educational path that can deliver a profitable, long-lasting career. If you have what it takes to complete the education, you'll be rewarded with a lifetime of fulfilling, impactful work.
See Online Healthcare Degrees
---
Skills Acquired from Healthcare Majors
There is a vast array of skills and knowledge that are acquired during healthcare education and training, ranging from human anatomy to software engineering. Because healthcare is becoming a broad, high-tech, and specialized industry, the specific knowledge you gain can change depending on your program and focus.
However, you can reasonably expect to learn about basic biology and human anatomy. These subjects form the foundation of medical learning, and nearly all students in all fields will need to become experts in these topics.
Technology is also important. You will learn to use modern technology and software, including information systems, to keep healthcare organized and efficient. If you specialize with a certain technology, such as medical imaging or robotic surgery, you will obviously become a proficient user of these machines.
If you will be working directly with patients, you will also learn about ethics, compassion, medical procedures, and other theoretical areas that affect the interaction between you and your patients.
---
Highest Paying Medical Field Jobs — Associate's Degree
#1   Radiation Therapist
Avg. Salary: $80,220
Radiation is a common treatment for many forms of cancer, and radiation therapists are responsible for administering these treatments. They will be fully knowledgeable in the safe operation and examination of machines, and be able to monitor patients for unusual reactions. They will also explain treatments, follow safety procedures, and x-ray patients when required. Like many top-paying medical jobs, radiation therapists can expect steady job growth, which is expected to be roughly 14%, and with an annual salary of $80,000, this is a very attractive position. Most radiation therapists will need certification or licensing through their state.
#2   Nuclear Medicine Technologist
Avg. Salary: $73,360
The responsibility of a nuclear medicine technologist is to operate advanced equipment that creates detailed images of a patient's body. They are trained in the use and examination of imaging machines and will prepare radioactive drugs which are used to create the medical images. At an average salary of $73,360 a year, this is one of the best medical field jobs for people who want to make a significant income with only an associate degree. However, the expected job growth for this position is expected to be lower. At only 2% expected growth, it falls well behind the national average of 7%. Licensing is required by roughly half of the states in the U.S.A.
#3   Dental Hygienist
Avg. Salary: $72,330
These dental experts are responsible for the general cleaning of teeth and gums. They assist dentists by removing tartar, stains, applying sealant, taking X-rays, and performing many other tasks within a dentist's office. A dental hygienist needs, at minimum, an associate degree, which usually takes two to three years to complete. They must also be licensed, which will be conducted through the specific state where they will be working. Although the position only requires an associate degree, dental hygienists average salary is over $72,000 and job growth is expected to be at 19% between 2014 and 2024.
#TRENDING: Dental hygienist programs from Penn Foster.
---
Highest Paying Healthcare Jobs — Bachelor's Degree
#1   Medical & Health Services Manager
Avg. Salary: $94,500
Although they may have more in common with office managers and corporate executives than doctors and nurses, medical and health service managers are extremely important to the organization and function of healthcare facilities. They will plan, direct, and organize medical services while managing staffs at large or small scales. Duties may include recruitment, scheduling, representing the facility to the public, and communicating with department heads. This medical field career earns an average salary of $94,500, and the top 10% can expect to earn over $165,000. However, job growth is only expected to be 6%. Bachelor's degrees for this position often include health management, public health administration, or business administration. Although licensing is generally not required for managers at hospitals and clinics, it is required by all states for managers at nursing homes.
#TRENDING: BS – Health Care Administration Leadership at Capella University.
#2   Biomedical Engineer
Avg. Salary: $86,220
Biomedical engineers combine human biology with modern technological engineering to create advanced equipment and systems that will be used in healthcare. Although they need to understand the principles of health, they also need engineering, software, and systems expertise. To work in this position, you will need at least a bachelor's degree in biomedical engineering. It's also possible to study a form of engineering with a minor or second major in a biological science. Licensing is not required, as this position does not work directly with individual patients. People working as biomedical engineers can expect to make about $86,000 a year, but the top 10% command an average salary of $139,520.
#TRENDING: Biomedical program at Liberty University.
#3   Registered Nurse
Avg. Salary: $67,490
Registered nurses are some of the most broadly-skilled professionals in all healthcare fields. From day to day, they may coordinate care, provide advice, administer medication, record symptoms, operate medical equipment, and much, much more. They often collaborate with physicians and other people in healthcare occupations to ensure the best possible care. The highest-paid in the field can earn over $101,000 and job growth is expected to be at 16%. During nursing education, students will learn about many topics, including anatomy, physiology, chemistry, and biology. In all states registered nurses must complete licensing.
---
Best Healthcare Careers
Now that we've explored the jobs available for people with associate and bachelor degrees, let's take a look at the top jobs in all of healthcare. It should come as no surprise to learn that these jobs in the medical field usually require advanced masters or doctorate degrees. It should also be unsurprising to discover that many of these top-paying medical jobs usually average well over $100,000 a year, and in many cases these advanced professionals can earn upwards of $150,000 annually.
---
Selling Your Healthcare Education Outside of the Industry
What happens if you decide to not pursue a medical or healthcare career after completing your degree? Is your education useless? Far from it! Healthcare training and education requires organization, compassion, and detail not found in many other areas, which makes you a viable candidate for many other fields.
When selling your healthcare education, it's often best to emphasize two universal skills. The first is communication. Any healthcare education will involve working with teams, and communication is a skill that business owners constantly pursue. The next is organization and attention to detail. Healthcare is complex, and staying organized is essential. Once again, you can enhance your marketability by emphasizing this talent.
---
Continuing Education for Healthcare Students
In many cases, you will need to continually re-certify or renew your license in order to maintain your career in the healthcare field. In general, if your career requires licensing or certification in any form, you will need to renew it on a regular basis. No matter what your specific medical field career, healthcare is a complex and ever-changing industry, so staying up-to-date with industry journals, on top of your regular studies, is a smart decision.
Related Resources
Best Buy Rankings: Online Bachelor's in Healthcare
Which Online LPN to RN Bridge Programs are the Best?