Certificates are the second most common post-secondary academic award issued by educational institutions, indicating the completion of a specialized program with specifically focused courses. Six of the fastest growing occupations require a certificate, five of which are in the healthcare industry. Women make up the majority of certificate holders in this field and account for more than 60 percent of the total certificate holder population.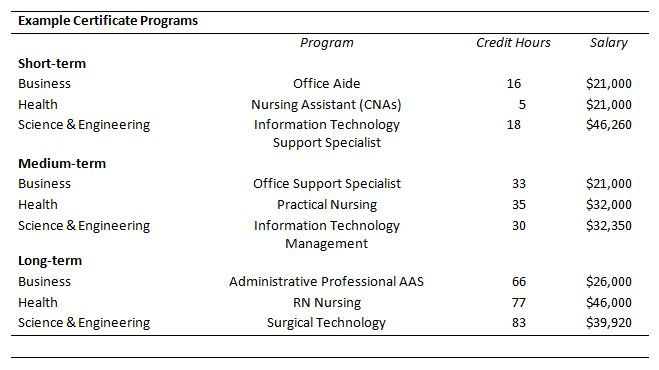 Benefits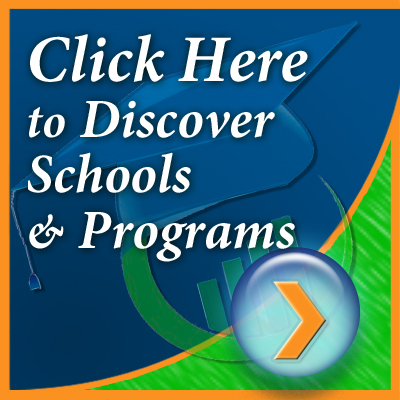 There are pre-baccalaureate certificates and post-baccalaureate certificates, both of which help to further ones education and make them a more desirable employee. Pre-baccalaureate certificates are often used as stepping stones into completing higher education degrees. Approximately one-third of all certificate holders also have a higher academic degree and two-out-of-three of them earned their certificate first.
Post-baccalaureate degrees are awarded for having at least 18 credit hours more than typical bachelor degree requirements. Post-master's certificates are granted for having more than 24 credit hours more than average master's degree duration. They are mostly used as a way to supplement the education of employees who already have a college degree.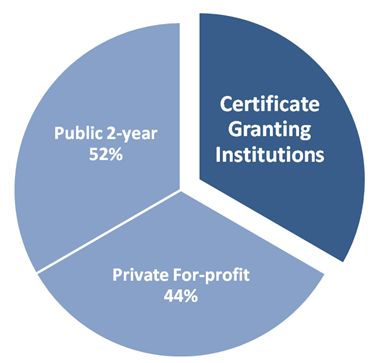 Institutions
Certificates are mostly offered by public two-year and private for-profit institutions. In 2010, 52 percent of all certificates were awarded by public two-year colleges and 44 percent were awarded by private for-profit schools.
Public two-year institutions are community colleges offer majority of all short-term certificates while private for-profit institutions offer the majority of both medium and long term certificates. Community college tuition on average costs just more than 8,000 dollars a year, while attending a private for-profit institution costs close to 33,000 dollars per year.
Types
Distinguished from each other by length of duration, the three types of certificates are short, medium and long term. The average certificate completion time is 1.9 years.
Short-Term
Designed to be completed within less than a year of starting, short term certificates are earned in fewer than 30 credit hours and offer very little economic value. The average short term certificate holder on average makes less than 10 percent more than those with only a high school diploma. Short term certificates are the most popular sub baccalaureate award, accounting for 54 percent of all certificate awards in 2010.
Medium-Term
Medium term certificates are structured to last longer than a year, but come to close before two years. In 2010, these certificates accounted for 41 percent of all certificates awarded. However, medium term programs are designed to exceed 30, but not 60 credit hours and usually offer a salary equivalent to employees with an Associate's degree.
Long-Term
The least popular, these certificates only accounted for 5 percent of all certificates awarded in 2010. Long term certificates have a similar duration period to associate degrees and are at least a two year commitment. These programs are structured to have a duration period that is at least 60, but no more than 120 credit hours.