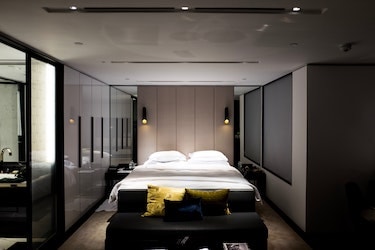 Have you ever wondered why certain rooms are arranged a specific way? Why cabinetry in a kitchen is arranged the way it is, or why some exterior walls have large windows, while others don't?
These are just a few of the questions you get to consider when you work as an interior designer making spaces that are more comfortable, functionals, and visually appealing.
This far-reaching profession is used in many corners of the economy, but it takes dedication, intelligence, creativity, and a dash of personal charm. Think you might have want it takes? Then let's explore the interior designer career path!
What is an Interior Designer?
An interior designer is someone who makes indoor space more functional and visibly pleasing. In many cases, it's also a professional who makes a space safer. To achieve these goals, interior designers use a wide variety of skills and knowledge, selecting the right furniture, color schemes, decorations, and accessories to make a space better.
Interior designers need to understand a huge assortment of ideas, principles, and theories. They must understand how colors interact with each other, how space can be best used for a certain purpose, and how people use their space in a variety of ways. This profession combines art, engineering, geometry, psychology, energy, and many other skills, which means an education is a crucial part of this career.
Duties include determining a client's goals, reviewing the available interior space, considering (and sometime calculating) the options, sketching preliminary ideas, and selecting materials to be used. Sometimes, the profession of an interior designer will require a bit of salesmanship, as you have to convince potential clients why you are the right choice for a specific project.
Interior Designer vs Interior Decorator: Similar, But Not the Same
An interior design is often confused with interior decorator, but while these two careers are similar (and often overlap), there are distinct differences that need to be understood, especially if you are considering a career in this profession.
An interior decorator will need some of the same skills as a designer, but they generally focus more on the furnishings and decorations, attempting to fill a space with fashionable or beautiful items. The biggest difference, it seems, it in the use of space. Designers focus heavily on how a space will be used and create a plan that best fits this use. Decorators, on the other hand, many not concern themselves with use and instead focus on the visual appeal of a space.
Designers are also more focused (and more educated) on the regulations of spacial use. For example, a designer will need to know how many people are legally allows in a restaurant's dining room, and will then design a space that works within this limit. An interior decorator, however, may simply focus on selecting the right paintings and table tops for the restaurant.
Generally, an interior designer will also have more requirements for licensing and certifications, while a the decorator career has less oversight from federal and state governments.
Interior Design Education
While it is possible, in some areas, to work as an interior designer without a specific education, many regions and states require licensing and certification, which you won't even qualify to test for unless you have the education.
While you don't need to attend an interior design school to work in this profession, this is a common step that most people will complete. Quite frankly, if you are serious about the career, you'll want to complete an education in interior design.
During your education, you will learn a collection of skills that will help you create the perfect living space for your clients. Interior design really is a combination of art, science, math, with a smattering of engineering and other subjects. You need to perfect the foundations of art, such as spacing, drawing for interiors, and even color theory, which uses scientific principles to help you understand how color impacts spaces. You may also learn how interior design can impact the environment by taking classes on ecology, energy efficiency, and material selections.
Depending on the program, you will likely learn how to communicate, especially in the verbal and written format. You will not only tell clients what you are doing, but why you are making these selections. Being able to communicate these topics to the people you are working with (including clients, bosses, and employees) will make you more effective in your career.
Interior Design Degrees: Which is Best?
Associate's Degree: Two Years of Education
An associate program is an educational degree that usually take two years to complete, assuming you are attending classes "full time." This can be a good option for people who want a focused education that gives you the basic tools you need to become an interior designer, all with less time and less cost. With an associate's degree, you can become an interior designer faster, but you may not get the depth of knowledge that you would have with a bachelor's degree.
Bachelor's Degree: Four Years
This is the classic post-secondary education. A four-year bachelor's degree is often seen as the standard of education in today's culture, as it gives you a deeper knowledge about a given subject while also developing a broad foundation of education. For interior design, a four-year degree helps you establish the basic skills that are needed for this profession, giving you a deeper understanding of interior principles, design relations, and other theories of the profession. For some licenses, a bachelor's degree is the minimum requirement.
Master's & Beyond
If you are passionate about interior design, you could pursue a master's degree after a bachelor's. With this education, you will have an even deeper understanding of interior design principles, making you a highly desirable candidate for a variety of jobs. Master's degrees are often more focused, so you may enroll in program that focuses on commercial interior design, interior design for energy efficiency, or interior design for special needs.
Completing an Online Interior Design Degree
Like virtually any education, you now have the opportunity to enroll in classes that taught either in part or entirely online. This can be a convenient way to complete a degree in interior design, as you have the ability to study and learn on your own schedule. If you are a working professional or parent (or both), taking classes online is often the best solution to obtaining your degree while maintaining a busy schedule.
When looking at programs, you must verify the program's accreditation. Accreditation is basically a way of reviewing a program for quality, consistency, and educational value. Programs that are accredited have been vetted to provide a reliable education that makes you a more valuable employer while lending authority and respectability to your degree. Accreditation for interior design programs is offered by two institutions: The National Association of Schools of Art and Design and The Council for Interior Design Accrediting. There is also the National Kitchen & Bath Association, which provides accreditation for programs specifically focused on these two rooms of the home. All programs found in GetEducated's database have been verified to hold legitimate accreditation.
Specializations: The Key to Success
There are a lot of interiors that need to be designed. With that in mind, you may want to take a specialization when completing your degree. This industry has a wide range of specializations that make you better equipped to serve a specific client base or industry.
Residential interior design is one of the obvious specializations. If you focus in this area, you will learn the details of how to create a better space for many different people. You'll learn why certain way of organizing a living room or kitchen work best, or how to design a bathroom that provides both utility and beauty.
Opposite of residential is commercial design, which is basically the design and organization of commercial space. But this by itself can be subdivided into offices, public buildings, recreational areas, restaurants, retail, and more.
There are even specializations for things other than buildings; specifically: vehicles. Designers working on boats and yachts is common, employed by the aviation industry and RV manufacturers. In these cases, you need the ability to create comfortable interiors using highly limited spaces, so you'll need to rely on all your education and experience to become a success.
Licensing & Certification May be Required
To work as an interior designer in some areas, you may need proper licensing. License requirements vary by state, but in some areas both licensed and unlicensed designers are able to work in this profession. In these areas, however, only licensed individuals may call themselves "interior designers" in advertising and other communications, so it's likely in your best interest to complete this license.
In California, successful completion of an exam administered by the California Council for Interior Design Certification is required. To be eligible to even take the exam, you must meet specific requirements for education and experience.
Interior Design Career: Benefits, Salary & Outlook
Every career has benefits and disadvantages, which go far beyond salaries. Working as an interior designer is no different, as there are advantages to this profession that are not seen in other careers.
Pros of Working in Interior Design
One of the main advantages of working in this profession is that you get the chance to use your creativity. The creative process is essential to interior design, so when you work in this profession, you'll get to flex your creative muscle and show your unique flair. You also have the chance to advance using your specific skills. During this profession, you also have the chance to interact with your clients on a personal level. This one-on-one interaction with a variety of different people is often a favorite for people working in this profession.
Cons of Working in Interior Design
Like any profession, interior design also has some downsides. The biggest potential downside is having to work with difficult clients. Working with people can be highly enjoyable, but you may find that many of the clients you work with have heavy demands, either for what can get done or how much money it will take to complete a project. You'll need good people skills to navigate any issues that come up with clients, but you may find that some are simply impossible to work with. Making people, even difficult people, happy is one of the largest challenges that comes with this job.
With deadlines, regulations, and picky clients, there can also be a significant amount of stress that comes with the job. Dealing with stress could be one of your most valuable skills.
The other potential downside is overall career growth. The profession is expected to climb by only 4%, which is lower than the national average of 5% growth. Although there will be roughly 78,000 jobs for designers by 2028, this is only an addition of 3,300 from 2018 to 2028.
Interior Designer Salary
As an interior designer, you will have the chance to earn a strong income. According to the Bureau of Labor Statistics (BLS), the median salary for an interior designer in May of 2018 was $53,370. This is roughly $15,000 more than the median salary for all occupations, which sits at $38,640. It is also higher than the median salary for art and design workers overall, which is $46,660.
There is, of course, different salaries for people at different levels of this occupation. The BLS's data shows that the bottom 10% of all interior designers earn less than $30,000. However, knowledgable, passionate, and experienced interior designers can earn incomes over $94,000. This tells us that if you have the right skills (and live in the right location) you can earn a strong income.
The Best Places to Work
Speaking of location, where you live and work can make a big difference in your available opportunities and chance for incomes. The most interior designers, according to the BLS, are found in California, New York, Texas, Florida, and Illinois. However, this doesn't really tell the whole story, as these states are all in the top six of overall population; it only makes sense they would have the most total interior designers.
To see where interior designers are most in demand, it's best to look at the BLS's data on "employment per thousand jobs." In this category, the District of Columbia is #1, with .82 interior designers for every 1,000 jobs. Colorado is next (.74), followed by Rhode Island (.69), North Dakota (.64), and Connecticut (.58) Apparently these areas place a higher priority on interior design and provide more opportunities to people with an interior design degree.
But again, the story is incomplete, as these areas may provide the most opportunities compared to other jobs but may not provide the best pay. In fact, we see that the District of Columbia is at the top for pay, providing a median salary of $79,230 to interior designers. Apparently if you want to work as an interior designer, the District of Columbia is where you want to be. Rhode Island, Alaska, California, and Arkansas are also in the top 5 for median pay to interior designers.
What Does the Future Hold for Interior Designers?
Unfortunately, one of the main downsides for working as an interior designer is the relative stagnation of the career in terms of overall available jobs. This career is expected to only grow by 4%, which is slightly less than the national average for all careers, which sits at 5%. And to be fair, 4% growth is still growth, and it really is in general alignment with the job market as a whole.
There is cause for positivity, however. This profession is tightly connected to the construction industry. If new construction were to rise, there could be a significant climb in available opportunities for these professionals. Interior designers also find work in remodeling, so there is a chance for growth alongside this sector as well.
Start on Your New Career Path Today!
You can find a top-quality opportunity working in this field, but first you need the right education. With the creativity, passion, and attention to detail you can be a world-class designer—get started today!
Related Resources
5 Ways to Get College Credit for Life Experience