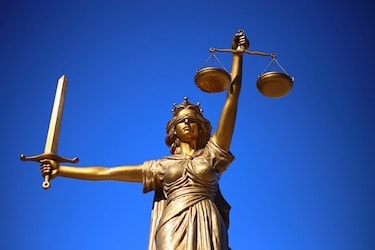 Criminal justice is perhaps one of the most important career fields in our society. We not only need people who can enforce the law, we need people who can work towards maintaining a just and fair legal system and effective criminal-rehabilitation programs. From police officers to psychologists, people who understand criminal justice make our society safer, allowing us to live, work, and enjoy our daily lives.
If you are passionate about improving society and keeping people safe, a careers with a criminal justice degree might be right for you. However, you'll need the right education to get started. You can find criminal justice degrees ranging from associate's to doctorate-level educations, but they all help you become a contributor to the justice system and prepare you for the highest paying criminal justice careers.
Online Criminal Justice Degrees

---
What Skills are Gained When Studying Criminal Justice?
Criminal justice is a form of social science that studies the patterns of criminal behavior and analyzes the best methods for controlling, preventing, and punishing crime. This academic field generally uses a multi-disciplinary approach that includes legal studies, political science, psychology, forensic science, philosophy, and more. During your studies, you will likely take classes that address subjects as far ranging as constitutional law, criminal investigations, criminal rehabilitation, court proceedings, forensics, and sociology.
One of the main subjects that you will address during your studies is the legal and correctional systems in the United States. By understanding how these systems are organized and how they operate, through classes such as "Introduction to Criminal Courts," or "The Juvenile Justice System," you will be prepared to move into these areas and serve at a high level from the first day. While these subjects are fairly objective, other ares are more philosophical and theoretical. You'll learn about the basic philosophies behind the criminal justice system, ethics of working with criminals, and theories about punishment vs. rehabilitation.
With a degree in criminal justice, you'll have a wide range of skills that allow you to fully understand how our justice system operates and how it can be improved. You'll not only have excellent interpersonal skills, you'll understand organization structures, research methods, and have a stronger understanding of the functioning of our culture. These skills, and more, can easily be applied to criminal justice careers, as well as careers outside the criminal justice system.

---
Criminal Justice Careers List: Methodology
To make this list, we looked at careers listed with the Bureau of Labor Statistics (BLS) and factored three specific points of information: the median salary for the entire career field, the general minimum education level required for the career, and the expected growth, which the BLS currently shows for 2016 through 2026. The average growth for all careers in the United States is 7%, so anything below this could, in a way, be considered a decline compared to the average job market.

---
Highest Paying Careers in Criminal Justice with Associate's Degree
With these jobs, you can move into a career with only an associate's degree in criminal justice. Although some training may be required, these jobs usually call for only moderate on-the-job experience.
#1 Police Officer
Avg. Salary: $62,960
Career Growth: 7%
Typical Education Level: Varies
The most obvious career for someone with an education in criminal justice, working as a police office is also a well-paying job that provides fulfilling, albeit endlessly-challenging work. Police officers are arguably the most important members of any community, and while you can enter this career with a high school degree, an associate's in criminal justice gives you an advantage in the career search. The top 10% of all police officers can expect annual salaries over $105,000, making it one of the best paying jobs for people who want to move into a rewarding and important career.
#2 Private Detective
Avg. Salary: $50,700
Career Growth: 11%
Typical Education Level: High school diploma/GED
Private detectives can conduct research in a wide range of areas, but you will often find them employed in research related to legal, financial, or personal matters. In this career, you will verify backgrounds, search for missing people, conduct surveillance, and collect evidence, usually in the employment of security services or as a self-employed contractor. The job outlook for this career is expected to remain strong, with 11% growth from 2016 to 2026, although competition will be high, as this career attracts many qualified people. With the top 10% earning over $86,730 a year and only moderate experience requirements, it's also a fast-paced job and one of the most lucrative criminal justice careers.
#3 Bailiff
Avg. Salary: $43,540
Career Growth: -2%
Typical Education Level: Varies
Courtrooms can be highly stressful areas, and there is a tightened need for security and respect for the proceedings. For this reason, courtrooms employ bailiffs, who are responsible for enforcing courtroom rules while ensuring the safety and security of all people in the area. The top 10% of all bailiffs can expect to earn over $74,060, although job demand will actually decline, as society is expected to move away from long imprisonments and efforts to limit repeat offenses could reduce demand for bailiffs.
---
Highest Paying Criminal Justice Careers with Bachelor's Degree
The follow careers are excellent entry-level options for criminal justice bachelor's degree graduates.
#1 Game Warden
Avg. Salary: $56,410
Career Growth: N/A
Typical Education Level: Bachelor's
Although this career will require specific training, a bachelor's degree in criminal justice gives you a great start. As a game warden, you will be responsible for enforcing hunting, fishing, and conservation laws, and you'll have the same legal authority as a police officer. This career brings a steady pay, and the top 10% can expect to earn over $79,870 a year. If you love the outdoors and want an exciting, interesting, and always-changing career, then a game warden position might be a perfect use of your criminal justice education.
#2 Probation Officer
Avg. Salary: $51,410
Career Growth: 6%
Typical Education Level: Bachelor's
With steady job growth, quality pay, and a career that let's you help people who most need it, a probation officer is one of the best criminal justice careers. This position requires patience and commitment, as you will be responsible for making sure convicts are able to be paroled and meet the mandates of probation. This job, which requires a bachelor's degree but no work experience (and only short on-the-job training), brings pay over $090,000 to the top 10% in the field.
#3 Paralegal
Avg. Salary: $50,410
Career Growth: 15%
Typical Education Level: Bachelor's plus certificate
Paralegals need a strong understanding of the law, and while specific education in the field is required, a bachelor's degree will give you a strong foundation to succeed in this area. As a paralegal, you will investigate facts of a case, research relevant laws, and maintain documentation of paperwork, which will all be enhanced by the organizational skills you gained when studying criminal justice. The top 10% of all paralegals can expect to earn over $81,180, making this a stable and well-paying career field.
---
Highest Paying Careers in Criminal Justice with Master's Degree
#1 Sociologist
Avg. Salary: $79,650
Career Growth: 1%
Typical Education Level: Master's
As a sociologist, you will study social behaviors and examine groups to determine how people interact. This can include original research, data analysis, report preparation, and advising policy makers. While a master's degree in sociology is required, an additional master's or bachelor's in criminal justice will be an added benefit. In this career, the top 10% earn over $141,450, but the growth is only expected to be around 1%, so jobs could be harder to come by.
#2 Clinical Social Worker
Avg. Salary: $47,980
Career Growth: 16%
Typical Education Level: Master's
While a social worker is able to help people and solve problems in everyday lives, clinical social workers are trained to diagnose and treat mental and behavioral issues. They may be employed in health clinics, welfare offices, and community-development centers, and they must be licensed in the state where they practice. A master's in criminal justice will be a wonderful addition to the required training and education for a clinical social worker, and if you work your way into the top 10%, you can expect a salary over $79,740. (Although the figure is likely higher, as this number is for all social workers, not just clinical social workers.)
#3 Mental Health Counselor
Avg. Salary: $43,300
Career Growth: 23%
Typical Education Level: Master's
Mental health counselors help people suffering from substance abuse, behavioral disorders, and mental health issues. They evaluate mental and physical health, develop treatment plans, and work with clients to identify behaviors that may be harming the client's quality of life. With an outstanding expected growth of over 23%, this career will have many available jobs, and the top 10% can expect to earn more than $70,840, making the field one of the most promising criminal justice degree careers.
---
Highest Paying Criminal Justice Careers
Now let's look at the best careers in criminal justice that provide the best salary potential regardless of required education.
---
Selling Your Skills as a Criminal Justice Major
What happens if you decide to find work outside of the criminal justice field? If this happens, for any reason, you'll need to sell your skills as a criminal justice major to employers who have nothing to do with law enforcement, crime prevention, and legal systems. Fortunately, the skills you gained as a student of criminal justice will give you plenty of opportunities to land high-quality jobs, but it all starts by communicating the benefits of your skills.
Research skills, for example, are important to many employers across the country, and your criminal justice degree likely placed a lot of attention on research skills and the ability to find information in hard-to-reach places, as well as the ability to notice important information that would otherwise go unseen. This can be applied to many careers and could help land your next job.
Organizational skills are also crucial in criminal justice and can be applied to virtually any career. In criminal justice, keeping accurate, organized records is an important part of the job, and this can be applied to many office, technology, or service jobs. By having excellent organizational skills, and emphasizing these to employers, you will be an attractive candidate for many positions.
Above all, remember to focus on what you can do for a company or organization. Before interviews, think of real-world examples of how your skills, be it organizational, communication, or research skills, can help make the employer more successful.

---
Criminal Justice Careers are Waiting for You!
Whether you have already completed a degree in criminal justice or you are investigating a new career path, GetEducated's degree database is the online student's most trusted source for unbiased information.
Online Criminal Justice Degrees
Related Resources
Best Entry-Level Law Enforcement Jobs with Criminal Justice Degrees
Online Forensic Science Degrees: How to Choose