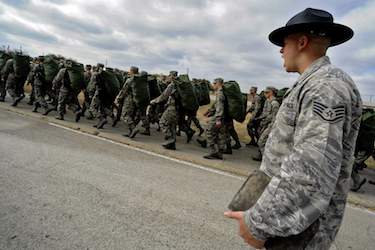 If you have spent time in service to your country, wouldn't it be great if some of that experience could translate into part of a college degree? A degree can help you get a better job in the civilian world, or even advance you if you choose to stay in the military.
Leveraging your military experience to count as credits towards your degree can make it quicker, cheaper, and easier to get that college diploma. You have put in the time, and your competence and training should help you advance your credentials academically too.
---
Transferring Credits
In the military, you received training that can be translated into the equivalent in college coursework. Some schools have already figured out what specific trainings will allow you to get credit for a particular course, but often, you will need to help in the process of translating service training into college equivalents.
Military transcripts are available for every wing of the services, and they include training, special occupational status, and more. The process for requesting transcripts can require different forms and processes, but most schools have dedicated military specialists to help you figure out where, what, how, and help walk you through the process. Once you identify one or more schools that might be good for your education, ask to speak to their military admissions or enrollment team, and you will be able to get lots of help in figuring out how to go about this. Each school is different, so do your homework too. You may be eligible for different financial assistance and transfer credits at different institutions.
Many schools will need you to develop a portfolio of your military experience to help explain how it applies to your college degree. The process of making the portfolio often takes place in a class for this purpose, which usually also counts as credit toward the degree. The course will help you identify the skills and competencies that you learned, practiced, or demonstrated in your time serving in the military. You will need to write statements that will describe the work and investigate which portions of your degree program you may be able to skip. The university will then evaluate your portfolio to decide which credits you will be awarded.
If you acquired a certification for a skill in the military, or perhaps in a civilian job, that may count toward a degree as well. Professional certificates can prove your competence and the success of the training you received to pass a certification exam.
---
Testing To Get Credit
Speaking of exams, there are many exams that you can take that can allow you to "test out" of certain requirements and receive credit. The College-Level Examination Program (CLEP) offers tests for a variety of subjects that are recognized by many schools. CLEP exams cover history, languages, business, English composition, science, mathematics, and social science, and are offered free to military students. The Defense Activity for Non Traditional Education Support (DANTES) funds these tests for military, military spouses, and some civilian employees of the military. DANTES also pays for DSST tests, which assess prior learning as well.  Advanced Placement (AP) exams are also often accepted.
Another route to getting credit is through the American Council on Education (ACE), which evaluates transcripts for nontraditional training to help schools and students figure out equivalency. ACE has a contract with the Department of Defense to conduct academic reviews of military courses and occupations. With a military transcript through ACE, you may be able to more easily apply your military experience toward a degree, but transfer credits are at the discretion of the school you attend.
---
How to Choose the Best College
The best college for you may not be the same one as for the guy or gal sitting next to you in the mess hall. Perhaps you want the quickest route to a degree so you can qualify for a particular job, in which case you should look for programs that give you the maximum transfer credit and where you already know much of the material. On the other hand, you might want to learn a new field in depth, in which case you want the best program for that profession, with a schedule and pace that allows you to get a great education.
Most of the military-friendly schools are very flexible and allow you to change your schedule or take a leave of absence if you are deployed or have other needs. These schools work with veterans, active-duty, reserve, and family members to find the best assistance and the best way through their particular school's programs. Some allow you to accelerate your learning when you have time, and slow it down when you are busy. Because these programs are online, you can often work on courses while deployed overseas if you want. Some schools also let you take some courses face-to-face, with other classes taken online, turning your program into a hybrid learning environment.
---
Financing Your Education
Depending on your exact circumstance, you may qualify for 100% paid undergraduate degrees. There are benefits for veterans, and many benefits can be transferred to spouses or children of the military person. Some schools offer hefty discounts for military students, while others have you pay full freight, knowing that much of your education bill is being picked up by government programs.
Having financial help for education because of your military status means extra paperwork. You will need to make sure to keep your enrollment status active to receive these benefits, and the school will also have extra paperwork to do to make it all happen. But these military-friendly schools are all committed to making education smooth and effective for transitioning military personnel and veterans. Many universities feel that it is part of society's obligation to help those who have served their country to find productive employment in civilian life. These colleges really want to help students with military experience to succeed educationally, and they all have programs and partnerships to help this happen.
---
College Credit for Military Training: 12 Best Online Schools
University of New England
Accreditation: NEASC, CEPH, CSWE
Online Degrees Offered: 10 master degrees, 1 doctorate degree, 1 certificate
Tuition: $560-$920/credit
A Maine-based school with many online programs, University of New England military students receive high dollar amounts of military tuition assistance. The school can help you to apply for veteran education benefits, or other educational awards. Active duty, GI Bill, and other support is awarded to both undergraduate and graduate students for online learning. UNE has online programs in Applied Nutrition, Social Work, Public Health, Health Informatics, and Education. Most programs are at the Master's level, and some provide certificates. UNE participates in the Yellow Ribbon Program and offers many types of Veteran Assistance programs for tuition assistance. Transfer credit for military training, experience, prior coursework, and AP or CLEP exams is granted, though there are limits on certain types of transfer credits.
Southern New Hampshire University
Accreditation: EASC, ACPHA, ACBSP, CAHIIM, CCNE, CAEP
Online Degrees Offered: 8 associate degrees, 39 bachelor degrees, 32 master degrees, 17 certificates
Tuition: Bachelor's—$225/credit; Master's—$470/credit
Southern New Hampshire University has a liberal transfer policy, allowing up to 45 transfer credits for associate's degree, 90 credits towards a bachelor's degree, and students must complete the last 30 credits at SNHU for a bachelor's degree, 15 for an associates. Applicants in the online programs have a dedicated admission advisor and there is a large selection of online degrees to choose from—everything from business or IT to History or Game Programming. Additional online offerings include criminal justice, creative writing, nursing, psychology, operations, or political science, among many others.
Dedicated advisors with military experience are there to help military students. With up to 30% tuition discounts and compliance with ADA to make accommodations for disabled veterans, SNHU is an innovative and invested school for military students. Spouses are also eligible for discounts and assistance. A free credit evaluation is done by admissions, and the university partners with many military-affiliated organizations. All types of Tuition Assistance are available for veterans, active duty, reserve, or family members. A Yellow Ribbon school.
Thomas Edison State University
Accreditation: MSCHE, CCNE, TEAC, ABET, CAAHEP, ACBSP
Online Degrees Offered: 13 associate degrees, 32 bachelor degrees, 13 master degrees, 1 doctorate degree, 29 certificates
Tuition: Bachelor's—$289/credit; Master's—$577-$714/credit
Thomas Edison State University is a longstanding member of the Servicemembers Opportunity Colleges and offers many types of support and advising for military students. They have their own military scholarship program, plus they provide a financial shopping comparison tool to help students figure out which school will be best for their degree program. Classes can be completely online, start every month, and give maximum flexibility. They offer certificate, undergrad and graduate programs in many in-demand subjects, including electronics, engineering, nursing, liberal arts, IT, criminal justice, and business, among many other degree majors. Tuition for active-duty military students is half the price of normal out-of-state tuition.
Very liberal transfer credit policies make this school very attractive, allowing up to 80 credits to transfer from a two-year institution, and up to 117 credits from a four-year institution. For degree completion, military students are only required to take 12 credit hours towards an associate's degree, or 24 hours towards a bachelor's degree at TESU. Thomas Edison will award the maximum credit allowed for your military training, and the school has a dedicated Military Veteran Portal for prospective students to estimate the credits you could receive for your military experience. With a long history of experience educating active-duty military students, veterans, and family members, TESU can help students navigate through the system of getting the best tuition assistance programs and the shortest and least expensive path to a college degree.
Accreditation: HLC
Online Degrees Offered: 5 associate degrees, 9 bachelor degrees, 29 master degrees, 1 doctorate, 12 certificates
Tuition: Bachelor's—$243/credit; Master's—$505/credit
For students who wish to receive credit for experience, Ohio U has a special 3-credit course that must be taken to develop a portfolio to request credit for a specific course—over 90% of credits requested are granted. Transfer credits can be awarded for training, education, and through taking exams like AP, CLEP and DANTES. There is a dedicated veteran and military student services center which can support, advocate for, and guide military students through the process of accessing educational benefits and transitioning back into civilian life.
The online programs have eight start dates per year, and the variety of programs is wide. Bachelor's degrees subjects include psychology, management, communications, RN-BSN, criminal justice, customer service leadership, and technical operations management. Graduate degrees in education have many options, including coaching, reading, instructional design, and early childhood. The business school offers accountancy and MBA programs, as well as two degrees for athletic management. There are also arts & sciences subjects such as finance, teaching English as a foreign language, English, social studies, and there are two master's programs in the college of communication: organizational communications and information/telecommunications systems. Engineering offers master's degrees in civil, electrical, or management for engineering. Nursing, public health, and health administration round out the options for graduate degrees.
Saint Joseph's University
Accreditation: MSCHE, AACSB
Online Degrees Offered: 6 bachelor degrees, 12 master degrees, 9 certificates
Tuition: Bachelor's—$585/credit; Master's—$765-$1,349/credit
St. Joseph's is a Jesuit catholic university with well-respected online education programs including educational leadership and many special education concentrations. They also have numerous business programs online, from associates to MBA's with specialties. There are certificate programs in many subjects related to the degrees, including autism studies. SJU has an office of veteran's services, helping support student veterans with accessing educational benefits, fostering entrepreneurship programs for vets, and developing a network of organizations and businesses that are veteran-friendly. Financial aid and benefits are available to military children as well, and they have a special focus on working with disabled veterans. SJU is a Yellow Ribbon participating school.
Bachelor's programs allow up to 75 transfer credits for adult learners, with transcripts from previous coursework. There is a fee to process experiential transfer credits, but the emphasis is on transferring educational credits. SJU participates in many military tuition assistance programs, including GI Bill, Yellow Ribbon, and vocational rehabilitation through the VA. There is no program for active duty military members to pursue a degree, but family members may be able to get assistance. Veterans are welcome to participate in their co-op program, which allows students in the business school to be employed full time by corporate partners, making for an easier transition from military to corporate life. There is a special entrepreneurship bootcamp for veterans which is free, including lodging and food, for accepted veterans. Other free services for transitioning servicemembers include tailored suits and financial planning services.
University of South Dakota
Accreditation: HLC, CCNE, AACSB
Online Degrees Offered: 1 associate degree, 7 bachelor degree, 12 master degrees, 4 doctorate degrees, 10 certificates
Tuition: Bachelor's—$250/credit; Master's—$451/credit
Online programs at University of South Dakota include business programs, health sciences, general studies, and education. Notable degree options include degrees in addiction studies, dental hygiene, kinesiology and sport management, technology for education, social work, public administration, and others. They offer an MS in Administration with numerous options for specialization. USD has a dedicated veteran's services division within the registrar's office, with assistance for military, veteran, and military family members to receive benefits. Special support for military and veteran students, including online/distance students, offers tutoring, a military transitioning course, veteran's clubs, peer monitoring, and counseling services. Free tuition is offered to SD children of veterans who die in service, and SDU works with all the tuition assistance programs from every branch of the military for families. Tuition discounts for SD National Guard are approximately 1/3 off for both undergraduate and graduate tuition rates. There is a tuition rate for undergraduate qualified veterans that is less than a third of the regular tuition cost. Transfer credits are awarded for equivalent coursework, but they may not exceed half of the credits toward the degree. Experiential credits are not normally awarded.
Accreditation: HLC, CACREP, COAMFTE, CSWE, NCATE, ABET, CCNE, PMI-GAC, ACBSP
Online Degrees Offered: 8 bachelor degrees, 24 master degrees, 22 doctorate degrees, 44 certificates
Tuition: Bachelor's—$286-$349/credit; Master's—$383-$716/credit
Capella's online programs have very flexible, self-paced options, which may be very convenient for service members who need to work around complex deployment schedules. The competency-based education connects the skills learned to professional requirements, focusing on individual career goals. Capella has online degrees in business, education, health and nursing, public service, IT, and psychology. Cyber defense programs are recognized as excellent by the Department of Homeland Security and the National Security Agency. Students can take a trial week of classes to try out a program. Capella is a for-profit school, and they have extensive experience working with distance learners.
Military students get a 15% tuition discount for bachelor's degree programs, and 10% for master's doctoral, or certificate programs. In addition, Capella has a team of admissions counselors who can help connect students to military education benefits. Credits for military training and education is awarded, and students may be able to receive credit by demonstrating knowledge as well. Capella is a Yellow Ribbon Program school.
Western Governors University
Accreditation: NWCCU, NCATE, CCNE, ACBSP, CAHIIM
Online Degrees Offered: 29 bachelor degrees, 38 master degrees; 1 certificate
Tuition: Bachelor's—$266-$396/credit; Master's—$399-469/credit
Western Governors University allows students to move through courses at their own pace, going faster with material they already know from work experience, and taking more time with new material. This ability to prove what you already know by test or writing means that you can go faster or slower within classes, not just the program overall. You save time by filling in the gaps between what you already know. With programs beginning every month, there is a lot of flexibility in the program. An affordable non-profit institution, WGU is dedicated to high-quality adult education that is competency-based. They have a renowned teachers' college, plus colleges of business, IT, and health professions.
WGU offers flat-rate or per-competency unit tuition assistance for military students. All programs are approved by the VA, and all types of military and veteran's assistance are available to students. Once admitted to the program, there is a special Military Support department to assist students. Students may be able to waive required courses based on their military training, experience, or knowledge, or by CLEP or DANTES tests. Because the programs are competency-based, the credit transfer process may be more for competency than direct equivalency of courses, but WGU has trained admissions counselors to help you through the process.
Accreditation: WASC-SCUC, ACBSP, COAMTE, IACSTE
Online Degrees Offered: 3 bachelor degrees, 20 master degrees; 19 doctorate degrees; 8 certificates
Tuition: Bachelor's—$369/credit; Master's—$428-$650/credit
With certificate, bachelor's, master's and doctoral programs, Northcentral University, a for-profit, regionally accredited online university has many options for military students. All faculty have Doctoral degrees, and they offer special assistance for students who have completed coursework for a doctoral degree but need help finishing a dissertation. Their educational programs include business, health sciences, psychology, marriage & family therapy, technology, and education.
Tuition discounts for active-duty military are about 20% off, and some additional fees are waived for military students. Veterans and spouses get about 10% off tuition rates. Assistance is available from the Military Admissions department to access financial aid available, and this is a Yellow Ribbon program school. Military transfer credit is limited to the bachelor's program, and credit can be awarded for training, military occupation specialties (MOS), and experience; all need approval through the dean of the program you enroll in. Undergraduate students can transfer up to 90 credits for previous study, exams, or experience, and must complete at least 30 credits at Northcentral University. Graduate students may transfer up to 12 credits of graduate coursework, subject to further restrictions.
Accreditation: MSCHE, ACEN, ABET, IACBE
Online Degrees Offered: 11 associate degrees, 62 bachelor degrees, 20 master degrees
Tuition: Bachelor's—$250/credit; Master's—$295/credit
Excelsior College is a regionally accredited non-profit online school and offers programs in health sciences, nursing, public service, business, liberal arts, and technology. They offer associate's, bachelor's, and master's degrees in all fields, giving lots of flexibility to those just entering school. Online courses are scheduled in 8 or 15-week blocks, and students can enroll at any time.
There is a Center for Military and Veteran's Education to assist in accessing education benefits and providing community for military/veteran students. Credit can be awarded for prior learning, testing, and military experience towards degrees at Excelsior. There is a very liberal transfer credit policy, allowing you to transfer up to 117 credits towards a bachelor's degree, possibly allowing you to finish your degree with just 2 courses. Experiential credits require students to take a (3-credit) course to create a portfolio, and students may receive further credit through assessment by the school.
Charter Oak State College
Accreditation: NEASC, CAHIIM
Online Degrees Offered: 2 associate degrees, 9 bachelor degrees, 1 master degree, 12 certificates
Tuition: Bachelor's—$250/credit; Master's—$458/credit
Online programs at Charter Oak State College include bachelor's degrees in business, cybersecurity, criminal justice, health care administration or information management, psychology, public safety administration, sociology, and general studies. There are associate's degrees in general studies, and a master's degree offered in organizational leadership & effectiveness. Courses are 5, 8, or 15 weeks long, offering lots of flexibility.
Military students pay in-state tuition rates and have some fees waived. Military spouses also receive in-state tuition rates, no matter where they are located. Transcripts from the military can be evaluated for transfer credits. Transfer credit for coursework, professional or military certifications, tests, and experience can be applied towards undergraduate and graduate programs with completion of a portfolio. There is a liberal transfer credit policy, including 87 course credits towards a bachelor's degree and 12 credits towards a graduate degree, and students must take at least two 3-credit capstone courses through Charter Oak.
University of Maryland – University College
Accreditation: MSCHE, CAHIIM, PMI-GAC, NCATE, IACBE, CCNE
Online Degrees Offered: 32 bachelor degrees, 18 master degrees, 2 doctorate degrees
Tuition: Bachelor's—$250/credit; Master's—$458/credit
U of Maryland offers over 90 specialties and degrees online. They have a special Associate of Arts degree program for military, veteran, national guard, and spouses, with a range of options for concentration, which accepts up to 45 transfer credits for the 60 credit program. There are multiple programs available for bachelor's, master's and doctoral degrees, online or in a hybrid format, including graphics, women's studies, homeland security, management, accounting, and communications, among many others. UMD had over 12 thousand military students in 2016, and this is surely due to their locations and their large selection of programs. They have staff on bases throughout the US, plus 140 worldwide locations, making them a leading provider of education to military and veteran students.
Undergraduate tuition rates for military and family members are lower than the in-state tuitions rate, and half of the out-of-state rate. Graduate tuition for military is the same as in-state rates, which gives a discount of about 30%. UMC has a dedicated team to help transitioning military and veterans access benefits. Transfer credit is available for training, coursework, testing, and military experience, with up to 30 credits awarded for military experience. Military training and education can transfer as credit towards an associate's, bachelor's, or master's degree program. Up to 90 credits can transfer towards a bachelor's degree and 6 towards a master's degree. The transfer policy is flexible and aims to give students the fastest route to a degree.
---
Choosing the Best Online School for You
You have lots of choice when you are looking at completing a degree online, but compare the different options carefully. Some will cost more, some less, some will offer the training you want, and still others will give you a lot of credit for your experience. Think about how much time you have to study, how quickly you want to get a degree, and be realistic about the financial realities of college education. But with the tuition assistance programs available to military and veteran students, you should be able to get a leg up on your education to get a degree that will help you fulfill your dreams!
Related Resources
2018 Exhaustive Guide to Military & Veterans Education Benefits
How to Get Real College Credit for Life Experience