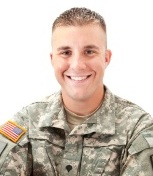 You're serving in the military, and you want to continue your education at an online college.
Problem: As a military student, you're facing an unpredictable schedule, at best.
GetEducated.com surveyed military advisors at online colleges to put together these helpful tips that showcase what to look for in an online college before you enroll.

Tip 1: Look for online colleges for military students that will be flexible if you are called away
If you are in the military, you may be deployed without warning. Your online college needs to be sensitive to this issue. Find out in advance what the school's policy is regarding unpredictable absences and homework delays.
For instance, at Columbia College (based in Missouri), a military student who didn't have advance warning and is deployed while taking online college classes can request an incomplete or an excused withdrawal.
In some cases military students may even be given more time to finish their assignments, says Gary Massey, Associate Dean for Adult Higher Education at Columbia Online.
"We will deal with things that are out of their control," says Massey.
Similarly, military students at Colorado Technical University can expect flexibility from instructors, says Arthur Macias, Senior National Admissions Advisor of the school's military division.
If a military student is called away for a few days and can't get to a computer, "our instructors will let them turn it in later if that's what they need to do," says Macias.
"When dealing with military personnel, you have to realize you're also dealing with the unexpected," says Randi Reich Cosentino, senior vice president of academic administration at Strayer University.
Strayer "freezes" courses if military students are deployed or transferred. The students can then resume the course when they are able to, without having to start the course over again.
"This gives them peace of mind," Cosentino says, "so personnel don't hesitate in signing up for courses."

Tip 2: Make sure your online course doesn't require "real time" participation
Flexible scheduling is key for a military student enrolled in online college classes. Be wary of classes with live lectures and "synchronous" or real-time discussions, especially if you are in another time zone, halfway around the world.
Some schools offer live lectures—but also provide downloadable versions for students who can't make it. This is the case with Colorado Technical.
"We archive lectures for all students," says Macias.

Tip 3: Look for an online military college that offers easy, 24/7 access to information
Depending on where you are stationed, you might not have access to a computer. You also might not be able to phone the United States, especially if a school's customer service lines operate only on a 9 to 5, U.S. schedule.

These days many online education schools offer the ability to use cellphones to download class material, check assignments, message instructors, and receive grades.
For example, says Macias, Colorado Technical offers "CTU Mobile"—a cellphone interface that allows easy access to information about a student's academic work.
Many online colleges staff military bases with representatives so military students can easily access a real live human being if they encounter concerns about program access.
Others, such as Colorado Technical, offer round-the-clock phone support with financial aid and admissions advisors, as well as web chat functionality.
Tip 4: See if your college offers downloadable e-books or CD-ROMs, which will save you from having to tote heavy books from unit to unit
Macias says military students ask: ''We already have 50 pounds of life supplies in the field; if I'm moving from one unit to another, what do I do?'"
CTU ships books through military post five weeks before classes start, says Macias. Undergraduate and associate degree students are provided with e-books, but graduate students are issued copies digitally and in hardcover (when they are able to receive them).
Strayer offers a majority of its books as e-books, says Reich, with chapters available online. Military Students primarily use laptops to access these texts. "We do make some lectures downloadable to the iPhone, but it's not a large contingent," says Cosentino.
Excelsior College, on the other hand, offers CD-ROM-based courses. "They were designed for the military and they work very well for servicemembers who were deployed and don't have Internet connections," says Sue Dewan, executive director of the Center for Military Education at Excelsior.
Some students prefer "real" books, especially older students. American Military University mails textbooks to deployed online students, says Jim Sweizer, vice president of military education.
"For many years, we did provide textbooks to students and still do for the majority of classes. You get a mix of students—the older ones tend to like the textbooks and the younger ones like the books in electronic fashion."
Sweizer worries that students who depend on downloading books electronically might be without texts if they can't get Internet access. On the other hand, he says, ff the school were to provide pre-loaded handheld devices, it couldn't put as much information on as it could provide on a website.
"The amount of coursework that you can insert into these handheld devices is not as tech-savvy as what you can do if it's in an electronic classroom over the Internet," he says. Also, course materials on handhelds aren't interactive, while web courses can offer this functionality—letting online military students feel like they are part of a classroom experience, even when they are in a war zone.
Keep these tips and check out our other articles below to help you chose the best online college as a military student.
Best Online Colleges for Military Students
Our editors have gathered a list of our favorite online schools that cater to military students—in order of affordability.

Florida State University
Accreditations: AACSB, ABA, ABET, ACEND, APA, CCNE, CEPH, CIDA, CSWE, LCME, NASAD, NASD, NASM, NAST, NCATE, SACSCOC
Tuition: $180-$1,076 per credit hour
Programs: Military Tuition Assistance, Montgomery GI Bill, Post-9/11 GI Bill, Selected Guard/Reserves, Survivors and Dependents Assistance Program, Vocational Rehabilitation, Yellow Ribbon Program
Florida State University's accelerated online programs have received high rankings from Military Times and GI Jobs. Their declared mission is to provide a welcoming and empowering education experience for veterans and their dependents, and they offer individualized attention and support to military students.
Fort Hays State University
Accreditations: AACSB, CAATE, CAEP, CCNE, HLC, JRCERT, NAST
Tuition: $213-$400 per credit hour
Programs: Career Advancement Account, Kansas Military Service Scholarship, Montgomery GI Bill, Post-9/11 GI Bill, Reserve Educational Assistance Program, Survivors and Dependents Assistance Program, Veteran's Educational Assistance Program, Vocational Rehabilitation
Recognized as a Military Friendly School for service members and their spouses, Fort Hays State University offers affordable tuition and flexible programs to help veterans and their families further their educations and excel in their civilian careers. Graduates of this university have placement and employment rates of 90% and higher.
Capella University
Accreditations: ABET, ACBSP, CACREP, CCNE, COAMFTE, HLC, NCATE, PMI-GAC
Tuition: $347-$925 per credit hour
Programs: Career Advancement Account, Military Tuition Assistance, Post-9/11 GI Bill, Reserve Educational Assistance Program, Survivors and Dependents Assistance Program, Transfer of Education Benefits, Veteran's Educational Assistance Program, Vocational Rehabilitation and Employment Program, Yellow Ribbon Program
Offering classes exclusively online, Capella University has been providing degree programs for busy adult students since 1993. They are the first and only university to offer Military Leave of Absence for military spouses and provide a wide range of support and special programs for students enlisted in the armed forces. Their top degree programs for military students are Business, IT, and Public Safety.
Frostburg State University
Accreditations: AACSB, CCNE, CSWE, MSCHE, NCATE
Tuition: $413-4712 per credit hour
Programs: Montgomery GI Bill, Vocational Rehabilitation, Post-Vietnam Era VA Benefits, Survivors and Dependents Educational Benefits
Frostburg State University has been recognized as a Military Friendly School for six years in a row. They provide a wide range of benefits and resources for students in the military, with a dedicated Veterans Services Office and support staff. Get Educated has awarded "Best Buy" status to a number of their online degree programs, meaning each program is more affordable than the national average.
Regis University
Accreditations: ABET, CACREP, CAHIIM, CAPTE, CCNE, COAMFTE, HLC
Tuition: $485-$1,102 per credit hour
Programs: Military Tuition Assistance, Troops to Teachers, Yellow Ribbon Program
With preferred tuition rates, various benefit programs, and a wide selection of online classes and degree programs, Regis University strives to support veterans and active service members in furthering their educational achievements. This university was founded on Catholic Jesuit traditions and currently enrolls over 1,200 active, reserve, and veteran military students.