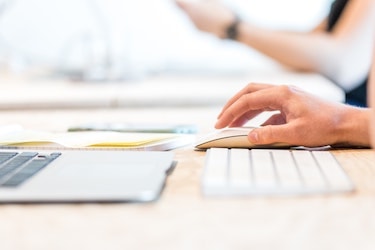 MBA stands for "Master of Business Administration." A highly sought-after postgraduate degree especially for those hoping to move up into management roles, it is designed to develop critical skills in the business world.
From interpreting business statements to cranking out cost-benefit analyses to keep a client in the black, MBA graduates possess a high-demand skill set. Coinciding with the rising obsession with economic efficiency, management, and mass industrial production, the MBA helped steer the world into a new age beginning in the early 20th Century.
Quick Facts About MBA Degrees
Why earn an MBA degree?
Graduates have a myriad of career options, depending on their specialty, and some of the highest salaries in our economy. The MBA is still the gold standard for an advanced business degree that is versatile and valuable—in both dollars and prestige.
How much does it cost? 
Tuition costs for MBA programs range from around $6,000 to more than $220,000. Online programs tend to be less expensive than brick-and-mortar schools.
How are MBA programs ranked?
There are three different accrediting bodies for MBA programs, and the top-ranked schools usually are accredited by the AACSB. The quality, rigor, and reputation of the program also affect the ratings. Ivy league online MBAs also exist.
Is it worth It? 
A 2018 Wall Street Journal poll found that student salaries rose across the board after an MBA, with some students more than doubling their salaries.
What types of MBA degrees are there?
Formats for programs include: online, one year, full time, part time, executive and international MBAs.
What is required for admission?
A specified minimum undergraduate GPA, usually entrance exams (but not always), references, and personal essays.
MBA Salary
The average salary routinely reaches into the six-figure range (depending on location and company, along with bonuses). Payscale.com reports that the average starting salary for MBAs is $86,000. According to a survey by The Financial Times, average salary for MBA graduates three years out of school is $142,000.
Getting an MBA increases your salary by tens of thousands of dollars. A 2018 study by The Wall Street Journal found that the median salary increased after the MBA by 50% for those who work in government, to a whopping 118% for people in the healthcare field. Historically, salaries for those who got an MBA were at least double that of their former salaries, but as pre-MBA salaries rose around 2014, the post-MBA salaries were slightly less than double—however, they are still quite hefty.
But this degree alone does not guarantee lucrative pay packages, however. The most in-demand and talented graduates may get many offers, but the percentage of graduates with no offers has remained constant at about 17%. Not all graduates are satisfied with the offers they do receive, and some find they have to switch cities or take jobs in a different industry than they had intended.
Whatever your personal motivations for this path are, consider both the financial and emotional payoff. Will it ultimately help you find more meaning in your career?

Is an MBA Worth It?
Many people go into these program to change careers or industries. No matter what type of undergraduate major you were in, after taking a few prerequisite courses, you may benefit from an MBA. The management, problem-solving, and strategic skills taught in MBA programs are valuable to industries far and wide, and research hints that almost all . graduates will see a rise in earnings. But for each person, the decision to pursue further education is a choice which requires weighing the cost in money and time against the potential benefits. Depending on your personal goals, the expenditure may be a great way to advance your skills, or it may not lead to much improvement in your work life in your particular career. Look at your industry and goals carefully.
Suppose you already earned an undergraduate degree in business, and have a foundation in accounting, finance, marketing, and other tracks. You've spent a few years figuring out the "real world" while in the workforce, and are ready to develop more heavy-duty business skills.
Is an MBA still worth it?
For many, the answer is often yes. There are two big variables in favor of getting an MBA, after you've already earned your undergraduate business degree:
Average pay increase over a bachelor's degree.
The payoff for undergraduate business majors is hardly shabby to begin with. According to a report from the National Association of Colleges and Employers (NACE), the average salary is $54,000. Pay can easily hit $60,000 with a degree from a top-ranked school. But, according to the Graduate Management Admissions Council, getting an entry-level MBA job is like getting a $45,000 raise from your undergraduate B-school job.
Specialization in business skill sets. 
While most 20-year-old undergraduates may have a vague idea of what they wish to do in the workforce, a student usually has a more definite goal in mind. With real-world experience by their side, they may want to gain more competitive training in concentrations like entrepreneurship, healthcare, technology, and other MBA fields.
What if I Wasn't an Undergraduate Business Student?
As MBA programs increasingly embrace diversity, admissions officers know that students from non-business backgrounds can bring tremendous value and insights to the table.
For example, combining a background in a high-demand field like STEM (Science, Technology, Engineering, Mathematics) with an MBA can make you the equivalent of the golden goose in the modern workforce.
Got a passion for tech? To complement your talents, an MBA with a computer science emphasis may be a good fit for you. This type of combined credential enjoys the second-highest early career salary ($83,000) as well as a median mid-career salary of $128,000.
Which Major is Best?
When searching for the type of MBA you want, remember that salary alone is not the most important thing to consider. Being able to match your career to your personal ideals is also smart in the long run.
One of the universal appeals to the MBA is its applicability to a wide range of career fields. Unlike investing in a highly specialized doctorate (such as developing specific polymers in a lab) in a narrow field, an MBA is like a passport into many disciplines.
Types of MBA majors are growing in number. Here are examples of concentrations and degrees available within MBA programs:
Accounting
Business Management
E-Business/E-Commerce
Economics
Entrepreneurship
Finance
Global Management
Human Resources Management
Information Systems
Marketing
Operations Management
Strategic/Risk Management
Technology Management
Popular Online MBA Programs
There's even an MBA rankings metric called "High Meaning," which accounts for the percentage of alumni "who say their work makes the world a better place." Health Care Administration (81 percent) and Health Care Management (80 percent) come out at the top for this metric.
However, even half of graduates in the major with the lowest High Meaning score (Business Management and Marketing, 51 percent) consider their work meaningful.
Highest Paying Jobs for MBA Graduates
Though the payoff on an MBA is generally lucrative, some industries have even more earning power than others. A sampling of general and operations management jobs revealed a large differential in wages for different fields. According to the Bureau of Labor Statistics, those who work in Computer Systems Design and Related Services had a mean annual wage of $163,860, while those in Restaurants and Other Eating Places had a mean of $77,970.
| | | | |
| --- | --- | --- | --- |
| Field: | General & Strategic Management | Finance & Real Estate |        Strategy |
| Early Career | $84,000 | $78,900 | $93,100 |
| Mid-Career | $144,000 | $143,000 | $148,000 |
The highest paying industries for managers are:
Monetary Authorities-Central Bank $210,640
Securities, Commodity Contracts, and Other Financial Investments $194,990
Scientific Research and Development Services $182,900
Oil and Gas Extraction $178,960
Insurance and Employee Benefit Funds $171,920
Leadership skills continue to be strongly sought after in many industries, with an MBA being a ticket to many jobs that pay six figures. Even if the industry you have a passion for is not one of the very highest paying, your MBA will still net you substantial financial gains over your post-MBA career.
Strategy isn't just for chess whizzes; it's a statistically strong career move for an MBA student with eyes on the pay package. Earning an MBA with a concentration in strategy nets a median mid-career salary of $148,000.
As leadership skills continue to be strongly sought after in many industries, an MBA in entrepreneurship results in a $131,000 median mid-career salary.
How Much Does an MBA Cost?
There are four major factors in the actual cost of MBA tuition. The cheapest online MBAs usually meet two or more of these characteristics:
Accreditation: While AACSB is considered the gold standard, regionally and nationally accredited MBA programs are generally more affordable.
Geographic Region: Schools headquartered on the east coast generally cost more while those located in the southern or western states are the most affordable.
Non-Profit: For-profit schools generally cost more than non-profit counterparts.
Public: Public or state colleges generally cost less than private schools.
On the personal, side, you can break an MBA down into three "cost" elements:
Time: Generally, these programs requires a two-year full-time commitment. But the profile of an average MBA student has changed so much, that there are many flexible MBA program formats to choose from.
Money: The selling point of an MBA can be summed up as "with great risk, comes great reward." Like many other lucrative disciplines (law, medical school), cost ranges widely. GetEducated surveys the most affordable online MBA programs every two years. You can pay as little as $6,389 or as much as $145,050 for a regionally accredited online MBA.This adds up to a $138,661 price difference between the least and most expensive. 

On average, an online 

AACSB-accredited program

 will cost $37,011 but there are many that cost below the national average.
Opportunity cost: If you decide to quit your current job to pursue a program full-time, you forgo salary. Manystudents opt to keep their job to pay tuition (or benefit from their employers' tuition reimbursement benefits), and enroll in a part-time or online MBA program for scheduling flexibility.
Types of MBA Programs
Though two years is the traditional timeframe to complete the program, flexibility is becoming paramount. Today's online MBA programs are designed to realistically accommodate the varying responsibilities a student juggles (such as family and a day job).
Online MBA programs: Arguably the most flexible format of all, online MBA programs can be a good fit for all kinds of professionals; those working full-time, caring for family, or living in areas too rural for consistent access to a campus. Look for five key quality factors when choosing an online MBA.
One year MBA programs: If you already have an undergraduate business degree, or at least working experience in the fundamentals of business (such as accounting and microeconomics), it is possible to halve the usual amount of time spent. Covering more advanced aspects of the MBA from the get-go, a one-year program can also result in substantial tuition savings.
Full–time MBA programs: Programs are typically two years in duration, but you can sometimes opt to condense the curriculum to one and a half years or less; designed to cover both the basics and the more complex business models and practices.
Part–time MBA programs: Ideal for students who are working full-time or cannot forgo two years of salary, these programs generally take three or more years. Equally if not more demanding than full-time programs, going part-time requires sacrificing weekends, weeknights, and even holidays to focus on studies.
Executive MBA programs: Got at least eight years of professional experience, and a "weekend warrior" personality? You may be a qualified applicant for EMBA programs, which mainly meet on weekends. This program attracts executives, managers, and entrepreneurs looking for the next ramp-up in their career.
International MBA programs: This degre is a passport into different industries, and different countries. Attracting students from around the world, an international MBA program is designed for the realistic dynamics of global markets. For example, a program in France may consist of French language/culture lessons along with business-related courses, electives, and projects.
Admissions Process: What to Expect
Without question, commitment to these degree programs requires an iron will and stamina. And that's just the admissions process alone, before you even start your first class.
Ready to bear down and start applying? You can expect to:
Chase down multiple references. This is where your work- and community-related milestones shine. Take current or former bosses and co-workers out to coffee, and request a letter of recommendation relevant to your future goals. Provide plenty of lead time before application deadlines. It helps to provide a short blurb of your accomplishments and skillsets (or a copy of LinkedIn), to jog your references' memories about specific project names and metrics.
Repeatedly fine-tune your essay. Writing about yourself can be a nerve-racking endeavor, but your essay can speak volumes about nuances that your GPA, GRE scores, and resume can't say about you. Essay questions vary dramatically from school to school (such as a person whom you most admire, a non-academic personal failure, or even hypothetical problem-solving questions like how to solve overpopulation). Essays should be written thoughtfully, concisely, and edited ruthlessly.
Study for the GMAT or GRE, to demonstrate academic readiness. Though not all MBA programs require a graduate-level entrance exam score, it helps to err on the side of having test results on hand. This gives you a wider range of schools to choose from. Don't do well on standardized tests? Choose a school from our list of AACSB, regionally, or nationally accredited online MBAs that do NOT require entrance exams.
Go through multiple rounds of interviews. To prepare, practice an elevator pitch so solid that you can recite it in your sleep. Since the MBA is designed to build or improve upon leadership abilities, you may face many questions that begin with "Tell me about a time when…"
Admission Requirements
Admissions requirements vary as widely as does tuition across the nation. That means you'll see a variety of admissions criteria for GPA (usually on a 4.0 scale), for TOEFL (Test of English as a Foreign Language), Test of English for International Communication (TOEIC), and for entrance exams such as SAT, ACT, GRE, or GMAT.
In most MBA programs, you need a minimum of a bachelor's degree to qualify for admissions. A handful of universities, such as Chicago Booth and Northwestern Kellogg (Executive MBA), do not require an accredited undergraduate degree for their MBA program.
GPA: At the LeTourneau University, for example, the minimum required GPA is 2.8. However, students not meeting that limit can enroll on academic probation if their GPA for their last 60 credit-hours is at least 2.80. By comparison, the minimum GPA for a Master of Business Administration in Project Management at Amberton University is 3.00.
Entrance exams: Western Governors University, on the other hand, does not require entrance exams. Incoming undergraduate students who do not have college experience may be required to successfully pass the WGU Collegiate Readiness Assessment.
Prerequisite courses: In many MBA programs, students coming from a non-business school undergraduate background may need to take prerequisite courses. For example, American Pacific University's MBA program requires you to take three initial courses (including that of quantitative and managerial analysis).
Understanding MBA School Rankings
Like any school or degree program, quality and rigor of the MBA curriculum varies.
First things first: Make sure you filter only accredited MBA programs for your batch of potential online MBA programs.
The AACSB (Association for Advancement of Collegiate Schools of Business) is the oldest, and most prestigious, accreditor of collegiate schools of business and accountancy.
In the United States, the other two major accrediting bodies are:
Accreditation Council for Business Schools and Programs (ACBSP)
International Assembly for Collegiate Business Education (IACBE)
Many of the world's top ranked business schools and MBA programs hold AACSB accreditation but it comes with a hefty price tag. More affordable programs are generally regionally or DETC accredited.
Naturally, big-name and AACSB-accredited universities such as Stanford, Harvard, and Wharton continually rank into the top MBA programs in the USA. But, you don't need to be a genius or spend a pretty penny to earn your MBA from an AACSB online school. GetEducated ranks the top AACSB MBA programs in the USA by cost—64 affordable online MBA programs all with tuition less than $36,000 per program. If you decide regional accreditation will fulfill your needs, check out the most affordable MBA programs here.
Related Resources
Online MBA vs. Master's in Management: Which is Better?