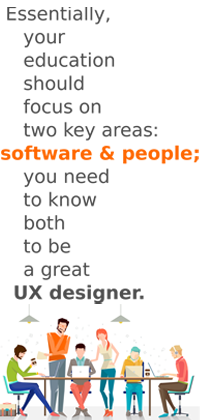 "UX designer."
You may have heard the term, but do you really know what it means?
UX stands for "user experience," so a UX designer essentially deals with making software, websites, and apps work for people. It's all about delivering a good experience. It's the process of making programs as easy to use, allowing people to perform all the tasks that were originally intended.
It requires a high amount of technical knowledge, utilizing computer logic, coding, and other software-related skills. It also involves a knowledge of people; after all, understanding the interaction between a person and an app requires knowledge of both sides.
Because this career is so complex, a good education is a must to become a UX designer. At the very least, you will need a two-year degree, while some UX designers will have master's degrees or higher. You'll also need professional experience or training developing software and technology to break into UX design.
The requirements are high, but so are the potential rewards. UX designers command a high income, and the career, by all accounts, will be around for some time. If you are skilled in the profession, you will likely stand to earn a top salary as a UX designer.

See Online Degrees for UX Designers
---
How to Become a UX Designer
There are four steps to becoming a UX designer:
Enroll in a tech-related bachelor's degree program.
Grow skill sets and become tech savvy. Focus on software and programming knowledge.
Gain experience in the field through freelance work, internships, or in your current job.
Refresh your abilities periodically, by following emerging tech trends and taking online UX courses.
---
How to Learn UX Design
An aspiring UX designer can take many different routes with their education. There is no formal requirements mandating a certain degree, certification, or license, but there are certainly ways to improve your chances of landing a job as a user experience designer.
First of all, you pretty much need a college or post-high school education of some type. At the very least, an Associate of Arts degree in a certain field, such as graphic design or web design will help. This will give you a foundation to break into the industry and start building your knowledge about usability design. Associate's degrees are more affordable, and take about two years to complete, making them a more convenient option for a lot of students.
Most people working in user experience design will have a bachelor's degree in a technology-related area that deals with websites, applications, and other programs that need usability testing. Getting your bachelor's degree not only helps you learn about topics specifically related to technology and software, it also gives you a well-rounded background in interaction, communication, and more. To be a high-quality UX designer, you'll need all the skills that a bachelor's degree can give you.
On top of a bachelor's degree, many people will add a master's degree to their UX designer resume. This education further enhances their ability to deal with software, interpret people's actions, and solve problems related to the UX process.

User Experience Design Degree Options
If you decide to pursue a career as a UX designer, what degrees should you go after? There are many, and one of the biggest draws to UX jobs is the versatility and broad scope of required knowledge.
However, this creates a potentially confusing path for people who want to learn UX design. A future lawyer knows she needs to go to law school. A future teacher knows he needs to get a teaching degree. There's no specific UX design degree—at least yet—so the path isn't so clear.
Essentially, your education should focus on two key areas: software and people; you need to know both to be a great UX designer. The software aspect of your education will help you become familiar with a wide range of programs and systems, including HTML, Javascript, Photoshop, iWork, and more. For many UX designers, a software-related subject will be their major.

Common degrees for UX designers include:
Visual design
Information architecture
UI design

Because the application of user design deals so heavily with how people think, a college education will also be sprinkled with liberal arts topics like psychology or philosophy. Understanding how people think is just as important to UX design as understanding how programs work. While this may be a minor, it could potentially be a UX designer's major.
Typical minors for UX designers include:
Human-computer interaction
Required UX Designer Skills
Because a UX designer has to deal with a wide variety of softwares and programs, there are many technical skills and techniques that they must use. Mastering these skills, or at least having a comprehensive understanding of them, will make you more attractive to potential employers.
The UX process deals with many different steps. Initially, a UX designer will need skills involving research. This could include the analysis of competitor's programs and products, analytical reviews of current software, or interviewing potential customers to gain insight on what they want from the product.
During design and analysis, you will need to understand the basics of user testing, which involves letting people actively use your product, or experience mapping, which lays out the step-by-step path that users should take. You'll need to be competent in wireframes, which are rough outlines of websites or apps, and A/B testing, which simultaneously tests variables to see which version performs best.
One of the best things you can do for your UX design career is to learn code. While an understanding of HTML and CSS is not the golden ticket to a user experience career, it's one of the most vital components of the field. These codes act as the foundation or skeleton of a program, so you can't work in UX design without a basic understanding of code.
---
The UX Designer Career Path
Gaining Experience in UX Design
To start your career in UX design, you not only need UX training and education that relates to the field, you also need to gain experience. You'll likely find that employers are looking to hire people with prior experience, but you don't necessarily need a job in UX design to be experienced in UX design.
Local tech events and organizations are a great start. There may be a UX organization in your local area or region that can help you gain the experience you need. Even events or organizations related to specific software topics, like Javascript or Photoshop, can help you gain valuable experience. Use this opportunity to form relationships with people who are knowledgeable about usability testing and start getting an idea for how the field works. This could also be an opportunity to find a mentor who can guide you in UX design.
If you're already in a job, especially a tech job, you can start incorporating user experience design techniques into your work. Start small and gradually work usability testing practices like surveys, content audits, or reviews into your job. Compile examples of your work into a UX design portfolio to show future employers.
Whatever you do, start understanding the complex user design process so you can present yourself as a competent and reliable designer.

What About Freelancing?
While many UX designers will be hired by companies, the potential exists to be a freelancer, taking jobs as they come and running your own operation. This is a good path for any independent, disciplined, and focused person, but it may not be right for everyone. You should give this career path serious consideration before moving forward.
First of all, you'll likely want to work in ux design for a company for at least a couple years. This will help you build experience and allow you to see if the user experience career path is right for you.
As long as there is no conflict of interest, you can start taking jobs on the side, building your resume and slowly taking on more and more clients. Creating a pipeline of work is essential because it allows you to have a steady, somewhat predictable income when you leave your job. With dedication and hard work, you may be able to leave your job and become a completely independent UX designer.

Do UX Designers Work Remotely?
Because the career of a UX designer deals mostly with software and programming, there is certainly the opportunity to work remotely, even as a full time employee. While some companies have intranets that require special access, you may be able to complete most of the work outside of their system.
There are a lot of tasks that require onsite work. For example, a UX designer often needs to interact with users to determine how they are working with the program. This simply can't be done remotely.
However, a large portion of UX designer tasks can be done remotely. Analytic reviews, online surveys, analysis of competitor's products, and usability testing can all be performed from a remote location, allowing for greater flexibility and freedom.

---
Staying Up-to-Date in Usability Design
UX design is a constantly-evolving profession. Updated software, new technologies, and innovative devices make the task of a UX designer more and more complicated. So how can you possibly stay up-to-date and competitive in the industry?
You can start by reading literature written by experts in the field. There are hundreds of potential options for you to learn UX design and new techniques, ranging from industry publications to expert blogs. You'll be able to learn about new theories, frequent issues, and current trends in the industry.
Another, and probably more reliable option, is to take UX design courses throughout your career. You can take online courses or register in certifications for UX design. These classes give you the chance, no matter what your experience level, to continually improve your skills and knowledge. Many trusted organizations offer high-quality UX designer training and certification, and this is a great way to show your value to future employers.

---

Careers Related to User Experience Design
The Difference Between UX and UI Design
While they share many similarities, UX (user experience) and UI (user interface) design are far from the same thing. They both deal with making the best product for a customer or user, but a UX designer is more rooted in the foundation of the website or app, while the UI design deals with the appearance and visual appeal. Consider it like this: if the program were a human body, the UX design would deal with the bones and muscles while UI deals with the skin.
Let's look at it a little closer. The user interface design is the steps to visually guide the user from start to finish. The user interface will also consider how the product reacts to a user's input, and create guides, hints, and directives for the user to follow. Essentially, if it looks great, it will be a result of good user interface design. If it is easy to use, it will be the result of good user experience design. The two fields of expertise intersect quite a bit, but they are distinct in their own right. However, with some companies the lines can be blurred quite a bit.

The Difference Between UX and Graphic Design
In some sense, both UX and UI design start with graphic design. This is the field that determines how things should look. Not move, function, or respond, but look. A graphic designer will choose colors, fonts, shapes, and tones. Arrangements of elements and layouts will be the role of a graphic designer. They deal with non-interactive layouts, creating visual graphics that help begin the process, which ultimately culminates in excellent UX design.
---
User Experience Designer: Career Information
UX Designer Salary
UX designers continue to be one of the most rewarding careers when it comes to potential earnings. According to a 2015 report on jobs by CNN Money, people working as user experience designers earned an average of $89,300 in 2015, while top professionals brought in salaries around $138,000.
Glassdoor backs these numbers. Their survey of 2,142 user experience designers found an average salary of $90,000. The minimum was $62,000, while the highest reported salary was $117,000.
While the Bureau of Labor Statistics does not keep tabs on UX designers specifically, they do compile information on similar careers, which shine more light on the earning potential of UX designers. For example, computer systems analysts earn around $82,000, web developers earn about $64,000, and software developers earn an average of $97,990! If nothing else, this further shows the earning potential for anyone with high-tech software skills, similar to those needed by UX designers.

UX Jobs: Future Outlook
So UX designers stand to earn a lot of money, but will the jobs be available in the future? All signs point to yes. The ten year job growth for UX designers according to CNN Money will be 18% over the next ten years. This is well above the average expected job growth, which the BLS says will be roughly 7%.
Again, tech-related jobs provide more clues to the future of user experience careers. The BLS says that web developers will grow by 27% over the next ten years, while computer occupations overall will grow 12%. Computer systems analysts will grow 21% and software developers for applications will grow by 19%. Once again, UX designers can see a fertile field on the horizon.

Where are the UX Jobs?
While the industry of UX design is full of telecommuters, there are are certain areas that give aspiring user experienced designers more opportunities. New York, to no one's surprise, is always a hotbed for UX and other technology-based opportunities. This is largely due to sheer size, but it's also because New York has a vibrant technology sector. San Francisco and the Bay Area is also known as one of the top regions for anyone looking to enter UX design. Other top areas include Boston, Atlanta, Seattle, and Chicago.

Related Careers: What Else Can UX Designers Do?
When working as a UX designer, there are many other paths you can take your career.
You could work at a higher level of software and application development, such as project management, or you could move into another job that deals directly with development, such as web developer, information systems manager, database administrator, or one of the many tech-related titles.
---
Learn UX Design: The First Step
If you are considering an exciting and challenging career in UX design, it all starts with education.
You'll learn the latest techniques for developing programs and making them work perfectly. You'll combine human input from surveys and testing with computer science, coding, and other high-tech topics. You'll be one of the people that makes the information age turn, but you need the right education to get started.

See Online Degrees for UX Designers
---
Related Resources
Computer Informations System vs. Computer Science
34 Best Online Bachelor's Degrees in Computer Science
Computer Science & IT Career Center