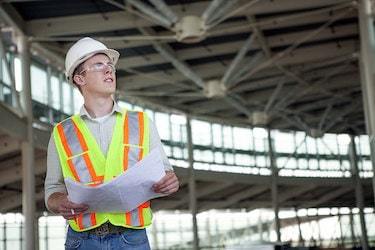 Building construction is a constantly evolving field, with new technologies, new regulations, new materials, and new methods arriving every year. Whether you already work in construction or you are looking for a change in occupation, online programs that focus on construction management can give you the skills to compete in the modern construction industry. The best part is that you don't have to quit your current job or move to complete these programs, so you can learn the latest in the field from anywhere in the world! Without location restrictions, these online construction management degree programs offer the very best education while offering the highest level of flexibility.

Online Construction Management Programs

---
Who Needs Credentials in Construction Management?
You work in the construction industry, facilities management, or architecture, but want to get further education to keep up with the latest advances in the field. Perhaps you want to make it to the next level and really shine in the industry, or perhaps you are looking to switch fields entirely. In any of these cases, you could advance your career and expand your knowledge by taking an online construction management certificate, bachelor, or master degree program. In this article, we will highlight the many options out there for getting a leg up on the construction site and in the management office. Based on your experience, education and goals, there are programs for all levels.
If you have an undergraduate degree in construction management, civil engineering, architecture, or a related field, you may be eligible to pursue a master's degree or certificate in many of the programs out there. Most will allow you to continue working while you study. These programs can advance and update your knowledge and skills, give you a new specialty, fill in areas you are less familiar with, and help you climb the corporate ladder. If you have a specialty in mind, say sustainability or project management, look for programs with the strongest emphasis and broadest range of classes in your interest.
If your undergraduate degree is in a different field, but have been working in the building industry, you may still be able to take a master's degree or graduate certificate program. Most programs will want you to complete some engineering, math, or other subject prerequisites before you enter the program, or while you are starting your studies. Some will waive prerequisites with equivalency testing or proof of experience. Some programs will also welcome students who are looking to change careers, but you will certainly have to finish up some applicable courses first to make sure you are up to speed.
For people with some college, perhaps an associate's degree, there are many programs that will allow you to transfer your college credits into a bachelor's program in construction management. If you are starting your college career but know that you want to work in an area of construction management, you should look for a school that will allow you to start your general education and continue on to the major that will help you fulfill your dreams.
Many of the programs in construction management will prepare you to sit for one of the related exams so you can be licensed in a particular area or specialty. Before you choose a program, look around to see what licensure you might need for the type of job you would like to get, be it scheduling, safety, project management, or finance.

---
How Does It Work?
Online degrees in construction management work much like other online education. Many of your classes would be asynchronous, which means that you can sign on any time during the week to see your assignments, interact with teachers and students on a chat forum, and complete your work for the week. Some courses may also have a synchronous portion, where you will need to be available at a specific time to sign on to a "live" class, usually in some sort of video-casting format. Most programs will have you complete the course in a specified time period, along with a class of your peers. A few programs have self-paced options where you can progress quickly or slowly through a course depending on your time available. Many programs will have a project component, often called a capstone experience, where you will work in your community on a special hands-on project. In some programs, you can complete a more research-oriented thesis as your final project instead. In certificate programs, these are not usually required.
Before you pick a school to apply to, consider the time you have available to study, the format, the special courses available, and what style of studying will suit you best. When you study online, you need a good deal of self-motivation to keep you on track. Some programs will also have extra help available, both tutoring and technical help, if you think you might need it. Many schools offer tuition discounts for military members and their families, people who are members of the trade unions, and others. To help make education affordable, check all of your options. Federal student loans and other financial assistance is normally available if you are registered for a minimum of 6-12 credits, depending on the type of aid. Make this a good investment by checking all your options so that your degree or certificate will help you get a job that will make you happy and also pay you well.

---
What is ACCE Accreditation?
The ACCE is The American Council for Construction Education, an organization that accredits specific construction industry programs that uphold quality standards in education for the building industry. The ACCE has specific guidelines for programs that want to apply for accreditation. Once a program decides to apply for accreditation, they prepare a comprehensive study of the program, and if this is accepted, they will receive a site visit by qualified educators and industry representatives to determine whether the program meets the standards for education to prepare students for the industry. If the program is approved, they receive the accreditation.
The metrics that the ACCE looks at in programs are: stable organizational structure for the school, educational autonomy, faculty involvement, curriculum quality and applicability, faculty quality and work load, administrative support, physical and financial resources, and student policies. The ACCE is looking for programs that are continuously improving and staying up-to-date with the industry, have industry contacts and involvement, and treat students fairly. The education provided must be valuable to the industry and students must have adequate resources to learn and thrive.

---
Who Needs ACCE Accreditation?
There are two main types of accreditation that you will see: programmatic accreditation, like the ACCE, which is specific to the subject matter taught in a particular program; and regular or regional accreditation, which looks at the university as a whole. Regular accreditation is often done by a regional or national association, and looks at the finances, quality, policies, and administration of the whole school, including the many programs you may find at the university. The ACCE accreditation is done for special programs in the construction fields and is carried out by educators who specialize in these areas. Programmatic accreditation will guarantee that the courses and curriculum from the particular program will meet industry standards and therefore offer a sound education that can advance your career.
So, do you need to attend an ACCE accredited program in construction management? The short answer is: not necessarily. It is up to each program to invest the time and energy in the process of becoming accredited by the ACCE. The schools that choose to apply for accreditation and are approved will uphold high standards of quality and you can be assured that your education is up to industry standards.
Some schools have not yet applied for accreditation and may have excellent programs as well. Some school may have had one program accredited, but not bothered, as yet, to get the other programs in the field through the process of accreditation. Programs without ACCE accreditation could still be excellent, but you don't have the ACCE's assurance that they are. You will need to do more investigating yourself.
All online programs range in price, so you might find a non-accredited program that costs less than an ACCE accredited construction management program, or vice versa. Some employers will prefer to hire people who complete an ACCE accredited program, while others may not care as much. There is no downside to a program that is ACCE accredited, and there are many upsides. But it is still worth looking at all the programs out there to determine which is the best to meet your educational and professional goals, regardless of the programmatic accreditation.
Licensing in the construction industry is done by states, countries, specific trade unions, and others. The ACCE does not provide licensure for individuals in the building trades, but many of the programs with accreditation do offer preparation for various licensing exams. Because the field is broad, there are different types of licensure available for different specialties. As you look at your career goals, make sure to research what licensure requirements you will need to meet to work in your dream job.

---
Online Construction Manangement Programs with ACCE Accreditation
Below you will find a list of the online construction management programs that hold ACCE accreditation. Click on any program to find out more information including tuition, admission requirements, and more.

1. Clemson University
Clemson offers the Master of Construction Science and Management (MCSM) is a fully online program of 30-36 credit hours. Students have the option to write a thesis or take a comprehensive exam. There are two start dates per year, and admission requires a 3.0 GPA in undergraduate work, GRE, and one year of approved construction industry experience. Up to 9 credits may be transferred in from another program with department approval. The program allows flexibility and can be undertaken for self-fulfillment, advancement within your company, greater expertise in construction, or to prepare to teach at a college or university.

2. Eastern Michigan University
The online Graduate/Advanced Graduate Certificate in Quality Management at Eastern Michigan University is designed for students with a bachelor's or master's degree who wish to further their knowledge in quality management. For those with a bachelor's degree who want a master's, there is the online MS in Quality Management which is 30-36 credits for completion. These programs are part of the school of Engineering Technology, and both require an undergraduate GPA of 2.7 that applicants meet certain skill levels. The programs are available in most, but not all US states, and overseas students are welcome with appropriate English proficiency as demonstrated by TOEFL or other testing.

3. Indiana State University
The fully online BSCM (Bachelor of Science in Construction Management) from Indiana State University is a 120-credit hour program that also allows students to transfer up to 90 credits from another institution. The program includes internships and can be completed in four years fulltime or taken part time. Students in all US states and territories, the District of Columbia, and Canada are eligible to apply. Overseas students, other than US military and State Department personnel and their families are not accepted in this program. Students will need a Windows computer, or a Mac with Windows installed to participate in the program. A high school GPA of at least 2.5 is required for admission, or a 2.5 college GPA for transfer students.

4. Louisiana State University and Agricultural & Mechanical College
The fully online Master of Science in Construction Management degree from LSU is 36 credit hours spread over 12 seven-week courses. The whole program can be completed in 24 months. Students who do not have their bachelor's degree in construction management, architecture, or engineering will be required to take some leveling courses to complete the master's. Applicants need to have a 3.0 GPA (or 2.75 for probationary acceptance) and specific GRE score minimums (which are waived for US citizens with 3 years of managerial construction experience). Applicants with an AIC certification may be accepted with a 2.5 GPA or above. There are six start dates per year.

5. University of Southern Mississippi
University of Southern Mississippi offers a fully online BS in Construction Engineering Technology at in-state tuition rates no matter where students are located. This military-friendly school offers entrance to the major with general prerequisites fulfilled, or through the summer development program. The program can be taken part or full time. The degree is accredited by the Engineering Technology Accreditation of the ABET. The program prepares graduates for jobs in estimating, scheduling, project management, safety management, contract administration, inspection and more areas of the construction and building management industry. The guidelines for admission to the university requires certain GPAs and test scores, and transfer students are welcome. The university allows for credit by exam for students to test out of some requirements to shorten their path to a degree.

6. East Carolina University
Accredited by the ACCE, East Carolina University is the largest construction management program in the southeastern United States. The Master of Construction Management is offered fully online and accessible from anywhere in the world. The same courses that on-campus students can take are offered in this high-quality program. Applicants need to have a 2.7 GPA on their undergraduate degree and take the GRE or GMAT. Applicants with degrees in engineering, business, real estate, marketing, architecture, and accounting may take the program. For those with other undergraduate degrees, some prerequisites may be required. Ideal for mid-career professionals, this program offers in-demand topics like risk management, sustainable construction, productivity, and many other current topics.

---
Top Construction Management Online Schools
Here are the schools that offer construction management programs online, and a little bit of information about each program. Be sure to fully research your top choices, as sometimes programs and policies change.

1. Southern New Hampshire University
There is an online MS in Management – Construction Management at SNHU with one of the lowest tuitions in the country. They have held their tuition at the 2012 rate for the past six years. No GRE or GMAT is required for admission and students can apply at any time, starting the program in any one of the 5 yearly graduate terms. The whole program can be completed in as little as 15 months. Military students and spouses get a 25% discount off of the already low tuition. The program focusses on developing skills in: critical thinking, effective communication—verbal, written, presentation and technical, project management, business metrics, and organizational management.

2. Columbia Southern University
Columbia Southern University is a for-profit school entirely devoted to online learning. They offer associate's, bachelor's and master's degrees in occupational safety and health, and also certificate programs. The on-time graduation rates across the degree programs ranged from 41-51% for the last year reported, and rates are not noted for the certificate programs. The programs meet the requirements for board certification by the ASP and the CSP, and the programs are approved by the Institute for Safety and Health Management (ISHM). For construction safety programs, this is school has an extensive range of degree and certificate levels. Transfer credits are accepted, and there are six academic terms per year.

3. University of Florida
The University of Florida's M.E. Rinker School of Construction Management offers an online master's degree or graduate certificate in International Construction Management. The School of Construction Management is the oldest of its type in the US, and also offers many on-campus degrees. Admission requires a 3.0 GPA on undergraduate degree courses, and the master's program also requires GRE scores (and TOEFL's for international students.) There are three start dates per year. The certificate programs offer Sustainable Construction or Construction Management concentrations. The master's degree requires successful completion of 11 required courses plus 9 electives, and students may take one semester off without re-enrolling. The program has synchronous and asynchronous portions and a final research presentation is required.

4. Thomas Edison State University
Offering an Associate's in Applied Science in Construction and Facilities Support, or a BS with a concentration in Construction, Thomas Edison State can offer students degrees to help further their qualifications in the construction industry. With the possibility of Prior Learning Assessment credit from either military or civilian job experience, the degree path may be shorter for students who are already working in the field. Thomas Edison State is a public university, and out-of-state students pay about 25% more than in-state students; however, the tuition is quite low either way. There are extensive programs for military and veteran students, and they specialize in serving adult learners.

5. National American University
National American University is a for-profit school with the AAS (Associate's in Applied Science) and BS in Construction Management degrees available fully online, or hybrid with some classes at one of their many campuses in Texas, Colorado, and other states. On-campus courses for this program are not available at their Indiana, Kansas, Minnesota, Missouri, Nebraska, New Mexico, and Oklahoma locations. The programs have extensive course offerings, but not all courses may be available during all semesters. Admission requires evidence of high school graduation or equivalency test, and a 2.0 GPA on all transcripts. International students are welcome with additional application requirements. Students can attend part time or full time.

6. University of New Mexico
The online Master of Construction Management (MCM) at UNM can be completed in as little as 12 months, fully online. Courses are in 8-week segments, and there are five required courses and five elective courses in the program. Applicants are accepted from all related undergraduate majors, like management and architecture. Admission requires an undergraduate GPA of 3.0 in the student's major for the last two years of study, GRE or GMAT scores, and college level English and mathematics skills. Students whose undergraduate degree is not in engineering may have additional requirements to complete the program. Tuition per credit hour is incredibly low and the program allows flexibility for working adults.

7. Tarleton State University
Online courses and programs at Tarleton State University include the Bachelor of Arts in Applied Science with a specialization in Manufacturing and Industrial Management. This engineering degree has courses in quality management, materials, and safety. Tailored to working adults, most entrants into this program have an associate's degree, military experience, or industry work experience. Part of the engineering school, which also houses an on-campus BAAS in Construction Management, the school may be a good choice for those looking for excellence, credit for professional experience, and to complete their degree.

8. Florida International University
The online Master of Science in Construction Management is 36 credits long, fully online, and sits within the strong Moss School of Construction, Infrastructure and Sustainability. Students who have an undergraduate degree in Construction Management may be able to complete the whole program in one year, while students from other majors may need additional coursework to complete the program. Students can take their courses fully online or combine online courses with on-campus work if they desire. Out-of-state and international student tuition is about 50% higher than in-state tuition. Students can choose a thesis or non-thesis option for completing the program.

9. Western Carolina University
Western Carolina offers the Master of Construction Management (MCM) in a completely online format. Designed to fit into a professional's busy schedule, the MCM degree is 30 credits long, with 18 credits in the major and 12 electives. With flexible schedules, access to course materials at any time, and a high-quality program, the MCM is perfect for students who wish to advance their careers and their credentials, learning the latest technology for construction management. Core courses include Sustainability in Construction, Leadership, Advanced Construction Finance, Advanced Legal Issues, Research, and Computer Applications in Construction. Electives include courses in estimating, land development, scheduling, forensics, safety, project planning and materials.

10. National University
The online BS in Construction Management and the online BS in Construction Engineering Technology programs at National University are designed for working adults. Both programs require a capstone project and provide a well-rounded education for students wishing to pursue a number of professional positions in the construction industry. The university was founded by a veteran to meet the needs of adult learners and is military-friendly. Transfer students are welcome and scholarships are available. The programs are flexible and can accommodate those who need to fulfill general education or specialized prerequisites. National University is the second largest private non-profit university in California, and it serves students not only online, but through multiple locations throughout the state.

11. Rowan University
The online BA in Construction Management at Rowan University is a degree completion program. The degree requires a total of 120 semester hours of credit, with at least 30 taken at Rowan University. Admission requires as associate's degree or 24 hours of transferable undergraduate credit, with a minimum GPA of 2.0. Students can transfer their professional experience into credits through a prior learning assessment. There are three start dates per year and tuition discounts for North American Building Trade's Union Members. Rowan accepts students from most US states, but students should check before enrolling. Specifically designed to help individuals develop their leadership and management skills, the program is endorsed by the North American Building Trades Union.

12. University of Washington
With completion times ranging from 1-3 years, the online MS in Construction Management at University of Washington offers flexibility. There are four start dates per year and students progress through courses with a cohort of their peers. Admission requires a bachelor's degree in construction management, science, engineering or in civil engineering. Additionally, applicants need a 3.0 GPA on the last 60 credits of undergraduate work and scores from the GRE test. Applicants who are not native English speakers must provide evidence of proficiency. The program is 45 credits of study and courses can be taken in any sequence throughout the program.

13. University of Wisconsin-Stout
Though the BS in Construction Management at UW-Stout requires on-campus attendance, the MS is Construction Management is a fully online program designed for working professionals. Admission requires a 3.0 on undergraduate work with a bachelor's degree in construction management or a related field. Those with a different bachelor's degree will need to fulfill prerequisites before entering the program or prove equivalent knowledge and/or have an American Institute of Constructors Certificate at Level 1 or Level 2. The program comprises 30 credits including core courses and electives. Students have the option of a thesis or a field research project as their final assessment for the program.

14. Drexel University
The online MS in Construction Management at Drexel University is organized into four 10-week terms per year. The program has three distinct concentration areas to choose from: Construction Project Management, Real Estate Development, or Sustainability and Green Construction. Admission requires a bachelor's degree in Construction Management, Engineering, Business or a non-technical degree from an accredited institution. Tuition discounts are available to Drexel alumni, military, and partner institution members. There are five core courses required, eight courses in the area of concentration, and a capstone course. The program focuses on helping professions develop their skills in the modern construction industry, producing effective leaders who can take on senior management positions in the industry.

15. Northeastern University
Northeastern University offers the Graduate Certificate in Construction Management online. The program covers the latest trends in construction as well as the basic principles of construction management. Courses from the certificate can also count toward the online MS in Project Management, for those who wish to pursue a degree. The certificate program is 16 quarter semester credit hours in four courses. It takes one year to complete full time or one and a half years to complete part time. Admission to the certificate program requires proof of a bachelor's degree. The certificate can benefit owner's representatives, consulting engineers, architects, design engineers, contractors and subcontractors among other professionals.

16. Jefferson (Philadelphia University +Thomas Jefferson University) Online
The 36-credit online MS in Construction Management at Jefferson Online can be completed in 18-24 months. The curriculum is relevant to the current industry and project-based. With an emphasis on sustainability, the program prepares students to engage in Leadership Energy and Environment Design (LEED) standards and to bring a global perspective to their work. Applicants may be required to meet some foundational requirements if their undergraduate work did not include certain courses. Courses in the program are 15 weeks long and the tuition is on the higher side, reflecting the quality of the faculty and specific focus of the program. The program resides in the College of Architecture and the Built Environment.

17. Roger Williams University
Roger Williams School of Continuing Studies offers an online Certificate in Environmental, Occupational Safety, and Health that can be taken separately, or have the courses apply towards a bachelor's degree. The program has courses in hazardous materials management, industrial hygiene, workplace safety, ergonomics, environmental studies and worker's compensation. Four courses (12 credits total) are in core requirements, and two courses (6 credits) are to be taken as electives. The construction management programs at Roger Williams is highly regarded but is not available online. An online Bachelor of General Studies in Technology, Leadership, and Management may be a good option for distance learners who wish to get a bachelor's degree.

18. North Dakota State University
With options of an online Graduate Certificate in Construction Management or the fully online MS in Construction Management, North Dakota State allows you to choose your path. The certificate program is 9-11 credits and they can be applied towards the MS program if you decide to continue to the degree. The MS program comprises a total of 30 credits and can be completed in 15 months, though students wishing to go slower through the program are welcome to take up to five years to complete the master's degree. Application requires a bachelor's degree in construction management, engineering or architecture, though students with construction experience and an unrelated degree may be accepted as well. An undergraduate GPA of 3.0 is required, though students with lower GPA's can start with the certificate program to see if they qualify to continue to the master's program.

19. University of Houston
The online Graduate Certificate in Construction Management at the University of Houston is offered fully online and self-paced. It can be completed in two 15-week semesters, or longer if desired. The certificate program offers 16 CEU credits and is considered preparation to sit for certain licensing exams. The online MS in Construction Management is 31 credits long and admission requires the GRE exam, a bachelor's in Construction management, civil engineering, or architecture. Alternately, students with an unrelated bachelor's degree and three years of verifiable professional experience in construction management are eligible to apply. The online master's is self-paced, and open to students in the United States or abroad.

20. New Jersey Institute of Technology
New Jersey Institute of Technology offers a fully online Graduate Certificate in Construction Management geared towards skills for general contracting, highway and building construction, mechanical or electrical contracting, and/or construction management. The core program consists of three classes in advanced construction management and one elective covering legal issues in one of the following areas: environmental engineering, construction management, or engineering management. This 12-credit certificate program requires an undergraduate degree in civil engineering, engineering, or the equivalent, and basic science and math proficiency. The courses in the certificate program can be put toward a MS in Civil Engineering or Engineering Management.

---
Start Your Construction Management Degree Today!
The field of construction management is booming, with many sub-specialties that you may wish to pursue. Now that online programs offer many options for study in construction management, you can pursue your goals with a computer and internet access. So now is a good time to update your knowledge, advance your skills, and find a program that will help you achieve your dreams in the building industry!

Online Construction Management Programs

Related Resources
19 Highest Paying Jobs in Business
How to Get College Credit for Life & Work Experience