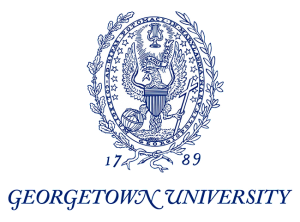 School Details
Georgetown University is a private, not-for-profit, accredited university located in Washington, DC. Founded in 1789 by John Carroll, Georgetown is America's oldest Catholic and Jesuit University. Today, Georgetown is a major international research university. It has nine schools, an affiliated hospital and many highly-ranked graduate programs.
Georgetown University Online
Since 1970, Georgetown University's School of Continuing Studies (SCS) has rolled out online formats for several programs. Look for online Masters degrees in some in-demand fields such as Nursing, Real Estate & Business. Find the same quality academic content in both on campus and online programs.
Mission, Vision and Values
Georgetown's mission and values reflect the Jesuit tradition of educating the whole person. The University fosters a setting where students can develop through reflection, service and inquiry.
Financial Aid
Georgetown University accepts financial aid applications from graduate students throughout the academic year. Students who apply for federal financial aid need to submit a FAFSA. Eligible students may be able to receive loans or grants. The Georgetown University Graduate School may offer limited scholarships, assistantships and fellowships. These are based on academic qualifications.
To remain compliant with federal VISA regulations, international students are not eligible to take courses exclusively online. Georgetown University is not yet able to offer online formats in every state for every online program.
Start Dates
Programs may have specific start dates based on academic semesters. For example, MPS degree programs start in Fall, Summer and Spring Semesters.
Faculty
Georgetown University has over 1,450 full-time and 1,050 part-time faculty. Among Georgetown's instructors are former diplomats, public health officials, economists, scientists, CEO's and other industry experts. Across the disciplines, faculty members hold advanced degrees from the Ph.D. and J.D. to the M.A., M.B.A. and M.Ed., among others.
Accreditation & Licensing
Georgetown University is accredited by:
Middle States Commission on Higher Education (MSCHE)