cybrarian77/Flickr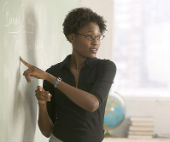 With teaching jobs scarce, some new grads have abandoned the job search and returned to school.
Their thinking: go ahead and earn a master's of education. When the job market opens up again, they'll qualify for higher paying teaching gigs because of their advanced degree.
Be careful using this once-smart strategy, warns author and career education expert Don Asher. By going for a master's in today's economy, you could wind up pricing yourself out of the teaching market.
That's right: earning a master's of education, whether online or in residence, may sometimes hurt your career prospects. This is especially true for teachers who lack substantial experience or are licensed at the
bachelor's level
in low demand teaching areas.
Online Master's in Education: Unmet Promise of Better Pay
Union contracts in many states require schools to pay
teacher salaries
based on degree attainment. Earning potential for teachers who hold a master's of education are locked-in or set at 15 to 25 percent higher than those for teachers who hold only bachelor's degrees.
The problem: cash-strapped school districts are increasingly reluctant to pay extra for a teacher with a graduate degree.
New grads with bachelor's in education who can't find teaching jobs may think it's smart to wait out the unemployment storm by going on to earn an online master's of education. They think this alone will qualify them for a hefty pay raise when the job market opens up.
But, warn the experts, teachers with a master's but no classroom experience may be even less likely to get hired in many cash-poor school districts. The schools are reluctant to hire more expensive teachers just to meet union hiring and salary requirements.
"If you have a master's degree and no experience, you may have accidentally made yourself unemployable," cautions Asher.
Teachers with Online Master's in Education Priced Out of Jobs
In tight budgetary times, even veteran teachers may even find that the promise of better pay in exchange for higher educational levels, such as a master's of education, may fail to materialize.
Without tenure, teachers can quickly be priced out of a
teaching job
that they might have otherwise snagged at slightly lower pay by applying with only a bachelor's degree.
For example, Illinois special education teacher Deborah Ehrhart, 59, a later-in-life teacher with about 10 years of teaching experience, holds an online master's of education degree from Olivet Nazarene University.
Sadly, she hasn't found it opening any job doors for her.
"Schools are hiring young teachers, paying them less money, and don't care that much about experience," she says.
While she has found jobs, they have been short-lived, and she has found herself laid off once the school year ends.
Ehrhart advises those considering obtaining a master's of education solely based on the promise of higher earning potential to wait until they have tenure "so that you don't fall into the position of schools wanting to hire cheaper and younger personnel."
Salaries: Online Master's in Education vs. Bachelor's in Education
According to PayScale.com, elementary teachers can expect to make $39,932 to $55,568 with a master of arts in education degree while those who hold a bachelor's degree make $31,249 to $43,499—a difference of about 25 percent.
At middle school and high school level, the bump for teachers with master's of education is less pronounced. On average, says PayScale, they make from $41,121 to $69,468. Those with bachelor's degrees: $39,099 to $59,445 (English teachers and teachers with bachelor of science degrees make about 10 percent less).
Cost of Online Master's in Education
The top affordable online master's of education comes from East Carolina University. This degree costs $5,800 for North Carolina residents ($24,000 for everyone else). University of Wyoming offers an online master's program in adult and post-secondary education for about $7,300, regardless of residency.
The highest-priced online master's of education (in teaching, learning and curriculum) is offered by Drexel University Online for nearly $39,000.
If you were to shell out, say, $15,000 for your master's degree, you might earn this back within two or three years—provided you are an elementary school teacher with a secure job and that you receive the average 25 percent bump that PayScale.com illustrates.
Obviously, if you can't find a teaching job—and your new master's may partly be to blame—then your investment was not a wise one.
What Can You Do With A Master's in Education?
When does the cost of an online master's of education prove itself with job opportunities? Take a wild guess.
"There are a tremendous number of jobs in instructional design and computer-based module design," says Asher.
These jobs often require a master's in instructional design or a master's in educational technology.
However, if a teacher chooses either if these high demand career paths, he or she will most likely no longer engaged in direct classroom teaching. He or she might, at best, become teachers who show other teachers how to adopt or use instructional technology.
If someone wants to become a classroom teacher or continue in teaching, then a master of arts in teaching (MAT) may be required.
High demand majors in ed tech are not the right degrees for many hands-on teachers, says Asher.
Another option is to pursue a master's in higher education administration. Earning potential for master's of education grads is excellent at the college level, in areas such as student services, financial aid and career advising, says Asher.
Once again, these jobs do not involve teaching.
If recent education graduates can't find teaching jobs, Asher suggests gaining classroom experience through tutoring, coaching or advising as a way to build up teaching experience until the job market improves.
After teachers are in secure positions, the earning potential of master's of education may become attainable.
Related Resources
Motivating & Retaining Adult Learners Online (Free GetEducated.com e-Book)
Top Ten Free Online Training Courses for Distance Educators
Online Teaching Careers: Become an Online Instructor
Best Buys in Online Masters Degrees in Education
Online Alternative Teacher Certification?
---

Lorna Collier has been a writer and editor for more than 20 years, with specialties in education, technology, business and health.