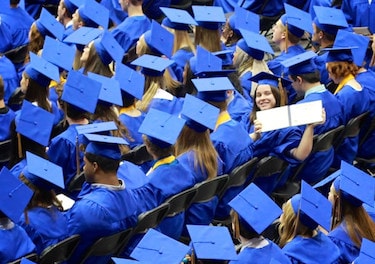 Students drop out of high school for many different reasons. Some students have to leave high school to start work because of their families' financial needs. Others have trouble attending a traditional school schedule due to health issues. Some students struggle academically and may not receive the support they need to succeed. Others simply don't see the value of education at that point in their lives. A 2015 study from the National Center for Education Statistics reported that in 2012, 2.6 million 16-24 year olds in the US had not earned a high school diploma or equivalency.
According to the U.S. Census Bureau, the average annual income of a high school dropout is $10,386 less than a high school graduate and $36,424 less than a college graduate with a bachelor's degree. A 2017 report from the Bureau of Labor and Statistics also reports high school dropouts as having the highest rate of unemployment at 7.7% compared to 5.3% for high school graduates and only 2.5% for college graduates. And if those numbers aren't motivation enough to pursue an accredited high school diploma, studies also show that high school dropouts have a poverty rate of 30.8% and a 63 times higher incarceration rate!
---
What is High School Equivalency or GED?
Now that you've decided to become a high school graduate, there are so many different programs and options that the information may be overwhelming. You may be asking yourself, should I get a GED? Is that different than a High School Equivalency? Is it the same as a diploma? What are these new tests—the HiSet and the TASC?
The process of earning a High School Equivalency has undergone some major changes in the past few years.  There is some confusion because of the way we use the term "GED".  Most people think the GED is a credential, but it is actually the trademarked name of a series of tests used to earn a High School Equivalency credential. States grant these credentials based on passing scores on the GED tests. In 2013, 800,000 people took the GED and 560,000 of those individuals passed and earned a high school credential from their state. In 2014, a new version of the GED test was released with a higher level of difficulty to reflect the changes in education in the U.S. related to Common Core standards. In 2014 only 248,000 people took the GED test and only 86,000 received passing scores.
Until recently, the GED was the only testing option to earn a High School Equivalency. When the new version of the GED test was released in 2014, two other testing options became available. The HiSet and the TASC were both introduced as alternatives and 10 states dropped the GED test altogether. Find out which tests are offered in your state here.
---
GED vs. HiSet vs. TASC
GED
4 tests: reasoning through language arts, mathematical reasoning, science, and social studies
All testing on computer
Essay response in language arts and social studies, short answer in science
Must take at state-approved testing center
Some states offer 2 discounted or free retakes
Cost varies by state, average $120
HiSet
5 tests: Language Arts (both reading and writing), mathematics, science and social studies
Includes essay in writing portion of Language Arts
Testing is available on paper and computer
Aligned to new common core standards with further adaptation planned
States decide testing locations
Includes 2 free retakes
Cost varies by state, average $95
TASC
5 tests: Language Arts (both reading and writing), mathematics, science, and social studies
Includes essay in writing portion of Language Arts
Testing is available on paper and computer
Will phase in Common Core over 3 years
State decides testing centers
Includes 2 free retakes
Cost varies widely by state, typically around $90 but as little as $0 and as high as $140
While there are differences in the 3 tests, passing scores on any of these 3 tests result in a High School Equivalency (HSE) certificate that is issued by the state in which the test was taken.
---
What is the Difference Between HSE & Diploma?
A high school diploma is earned through an approved, accredited school district or private program that is based on completing a required number of credits in specific subjects. Earning a traditional high school diploma as an adult is academically the same as earning a diploma as a teenager in high school. Each diploma granting institution has its own requirements that a student must meet to obtain a diploma. The classroom setting is likely different as an adult, and may even be online, and the courses are commonly self-paced, but the content is the same.
---
What's Better: Diploma or High School Equivalency?
The answer to this question depends largely on your own personal, academic, and career goals. An HSE is accepted at over 97% of colleges and employers. While the credential may be accepted, it may not be competitive at 4 year colleges or with some employers. An HSE is adequate for entry into a 2 year community college. Successful completion of an associate's degree will typically enable students to transfer to a 4 year college. Obtaining an HSE, therefore, does not prevent a student from continuing with higher education. Statistically, however, students with an HSE attend college at lower rates and also have lower completion rates. The assumption is that working to obtain a traditional, credit based diploma requires a longer commitment and a higher level of dedication. This work ethic then translates into higher success in college. It is for this same reason that employers often prefer an applicant with a traditional high school diploma. It demonstrates perseverance and a strong work ethic.
On the other hand, If you already have a job that is now requiring a high school credential, taking one of the High School Equivalency tests may be the right choice for you. If you have established yourself in a career but want to earn the credential for your own personal satisfaction, the HSE option may also be more practical for you.
If you are interested in enlisting in the military, a traditional high school diploma is your best option. Each branch does allow a certain number of individuals to enlist each year with an HSE, but the numbers are low. The Army and Navy both allow up to 10% of new recruits to have an equivalency credential while the Marines only allow 5% and the Air Force less than 1%! If your goal is entry into a 4 year college to pursue a professional career, a credit based, traditional high school diploma will be the most beneficial.
To complicate things even further there is a third option. Some states offer an Adult Diploma that is competency based rather than credit based. This means students demonstrate the skills they have learned through life and work experiences by completing a variety of real world tasks. Programs may include credit for job training and technical skills and working with a mentor to build a portfolio to present to future employers. The programs have different names in different states. The only program that is not specifically implemented in one state is the National External Diploma Program (NEDP). It is currently available in 8 states: California, Connecticut, Indiana, Maryland, New York, Rhode Island, Virginia, and the District of Columbia. Learn more about the NEDP. Check with your local board of education to determine if any competency based programs are available in your area.
An additional program worth mentioning is Job Corps. Job Corps is federally funded by the U.S. Department of Labor. The program is for low-income youths between the ages of 16 and 24. There are 125 campus locations nationwide offering high school diploma completion in addition to career training. Most campuses are residential and offer students free meals, furnished rooms, basical medical care and recreational activities. Penn Foster has partnered with many campuses to offer online high school degree completion for their participants. Some campuses partner with local school districts as well. In addition to high school completion, students choose from over 75 career fields for job training. All equipment and uniforms for career training are provided as well. Job Corps continues to support students for 12 months after graduation by offering counseling to assist graduates in reaching their career goals. You can search for Job Corps programs in your area by zip code, state, and your career field of interest.
---
Online High School Diploma Options
Maybe you're thinking, I don't have time to take classes in person. I have work and family responsibilities! Fortunately, there are a number of online options available throughout the U.S. to accommodate busy adults with limited time for school. We continually caution students to thoroughly research programs before paying any fees. There are numerous, and always changing, online scams offering fake diplomas (we have a whole article about it!). You should be leary if:
The program claims no classes or test are required
Classes and tests are free but you have to pay for the diploma (It's typical to have to pay for classes, but you should not have to pay for the diploma itself)
The program claims to be affiliated with the federal government (Programs are approved by states, not the federal government)
The program claims the degree can be completed in days, weeks or a few short months
No teacher interaction is required
You must also verify the school's accreditation to ensure that it is a legitimate accrediting agency. Check with us or the Better Business Bureau to verify the school's reputation. A school may be accredited by an actual agency, but the agency may have a poor academic reputation or be completely fake meaning colleges will not accept the high school diploma. Or, simply see the lists below for properly accredited high school diploma programs!
---
Accredited Online High School Diploma Programs
The following accredited schools offer 100% online, credit based paths to a high school diploma and accept credit transfers from other institutions.
PENN FOSTER
Private school based in Pennsylvania open to both high school aged students and adults
Nationally accredited by AdvancED, regionally accredited by Commission on Secondary Schools of the Middle States Association of Colleges and Schools
Work at your own pace
Offers a high school diploma program or career pathway training in combination with a high school diploma—Automotive, Carpentry, Child Care, Culinary Arts, Electrical, Healthcare, Information Technology, Pharmacy Technician, Plumbing, and Early College
Career planning services
21.5 credits for $1315 (available in monthly installments as low as $49)
Offers discounts ($96 discount for autopay; $366 discount for full payment upon enrollment)
Accepts up to 16 transfer credits. Tuition is reduced by $45 for each accepted transfer credit.
Penn Foster is unique because it partners with Career Schools, Colleges and Job Corps programs around the country.  If eligible and accepted by one of these partner schools, tuition for the high school diploma program may be covered.
SMART HORIZONS CAREER ONLINE HIGH SCHOOL (COHS)
Part of Smart Horizons Career Online Education, the nation's first private, accredited online school district
Accredited by AdvancED/SACS/NCA/NWAC
Students earn a career certificate in addition to the high school diploma. Available career paths include General Career Preparation, Office Management, Childcare and Education, Certified Protection Officer, and Homeland Security
Additional career preparation through webinars and creation of a Career Portfolio
Each student assigned an Academic Coach
Partners with corporations such as McDonald's, Wal-Mart, and Goodwill to offer employees scholarships
18 credits for $1,295; payments plans of $77/mo
Accepts transfer credits up to 14 courses
Smart Horizons has amazing community involvement and a dedication to promoting education for all. COHS also partners with libraries around the country to offer free high school programs to adults.
NEW LEARNING RESOURCES ONLINE
Based in Jackson, MS
Accredited by AdvancED, Mississippi Department of Education and Distance Education Accrediting Commission (DEAC)
Year round, open enrollment
$200/course; Total cost for college prep $4,915; Total cost for career path $4,315
JAMES MADISON HIGH SCHOOL ONLINE
Based in Norcross, GA
Accredited by AdvancED, DEAC, and Council for Higher Accreditation (CHEA)
Year round, open enrollment
Tuition:

If no high school credits completed $1,799
Completed 9th Grade $1,439
Completed 10th Grade $1,079
Completed 11th Grade  $779

Offers 0% interest monthly payment plans as low as $49/month
THE KEYSTONE SCHOOL
Based in Bloomsburg, PA
Offers Standard Pathway (course by course) or Accelerated Pathway (for students with 12+ transfer credits)
8 week minimum/12 week maximum to complete each course
Students typically earn 5-6 credits per year
Accredited by AdvancED, State Board of Private Licensed Schools, Commonwealth of PA
$399/course for Standard Pathway; $1,485 total for Accelerated Pathway
Offers payment plans over 4, 7, 9 or 12 months
EXCEL HIGH SCHOOL
Based in Plymouth, MN
Accredited by AdvancED
Standard diploma track is 21.5 credits
Full time is 4-6 courses/semester
Many courses completed within 12 weeks
Flat $99/month tuition fee for unlimited courses
INDIANA UNIVERSITY HIGH SCHOOL
Based in Bloomington, IN
Offers College Prep and Standard Diploma Pathways
Accredited by AdvancED
At least 10 credits must be earned through IUHS
$252/course
PARK CITY INDEPENDENT ONLINE ADULT HIGH SCHOOL
Based in Scottsdale, AZ
24 credit program
6 credits must be completed at Park City Independent
Accredited by AdvancED
Call 888-866-4989 for tuition rates
UNIVERSITY OF MISSISSIPPI HIGH SCHOOL
Based in University, MS
Accredited by AdvancED
Must complete at least 6.25 credits at UMHS
$375 per 1 unit course; $250 per ½ unit course
MIZZOU K-12 ONLINE HIGH SCHOOL
Based in Columbia, MO
Accredited by AdvancED
$500/course
Missouri residents and U.S. residents who have been admitted into the Diploma Program may qualify for 50% tuition reduction
TEXAS SUCCESS ACADEMY
Based in Arlington, TX
Accredited by AdvancED and Texas Education Agency
Receive all classes at once and work at your own pace
Students with 0 credits – 11.5 credits pay $1,005 or $105/month for 8 months
Students with more than 11.5 credits pay $905 or $105/month for 9 months
ORION HIGH SCHOOL
Based in Midland, TX
Must complete at least 25% of credits at Orion
Accredited by AdvancED and Texas Private School Accreditation Commission
Full-time student annual cost is $1750 or $225/month
May offer discounted tuition based on need
THE WHITMORE SCHOOL ADULT DIPLOMA PROGRAM
Based in Morgantown, WV
Accredited by AdvancED
Can earn 6 credits/year
$1499 for 12 months; payment plans available
MIDDLETON ACADEMY
Based in Woodbridge, VA
Accredited by AdvancED and DEAC
$325/credit
FRANKLIN VIRTUAL HIGH SCHOOL
Based in Tallahassee, FL and Scottsdale, AZ
Accredited by AdvancED
$330/month
CLINTONDALE VIRTUAL SCHOOL
Based in Clinton Township, MI
For students ages 22 and over
Accredited by AdvancED
$200-$250/course
BRIGHAM YOUNG UNIVERSITY ADULT DIPLOMA
Based in Provo, UT
Accredited by AdvancED
Free tutoring via phone
Issued diploma from Provo, UT public school district
$148-$170/course
LIBERTY HIGH SCHOOL
Based in Brattleboro, VT
Choose between print based by mail or online
Approved by the Vermont State Board of Education and Better Business Bureau
Requires $300 down payment. Contact school for more information.
VIRTUAL LEARNING ACADEMY
Based in Exeter, NH
Approved by New Hampshire State Board of Education as a public charter school
Tuition depends on how long you need to complete each course—4 week plan is $110; 15 week plan is $350
UNIVERSITY OF NEBRASKA HIGH SCHOOL
Based in Lincoln, NE
Accredited by AdvancED and Nebraska Department of Education
Non-residents  pay $200/course; residents pay $150/course
NORTH DAKOTA CENTER FOR DISTANCE EDUCATION
Based in Fargo, ND
Accredited by AdvancED
Residents pay $169/course, non-residents pay $250/course
---
In-Person High School Diploma for Adults