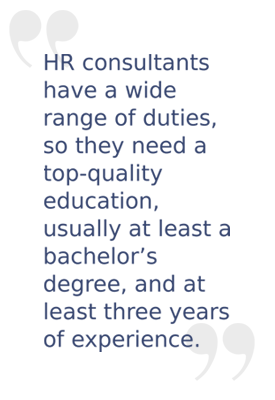 Human resources is the field of recruiting, hiring, training, and moderating employment. People who work in human resources, or "HR" as it's often called, act as a link between available job candidates and companies both large and small.
While many businesses have a human resources department, usually headed by an HR manager, some companies choose to use human resource outsourcing, which is conducted by professionals known as independent human resources consultants.
HR consultants have a wide range of duties, so they need a top-quality education, usually at least a bachelor's degree, and at least three years of experience. Because they are usually self-employed, they also need a strong independent spirit and self-driven energy.
Thinking of becoming a human resources consultant? Below we'll explore required education and experience, as well as the job outlook of this interesting, engaging career.
See Online Human Resources Degrees
---
How to Become a Human Resource Consultant
Education for a Human Resources Consultant
While there is no government-mandated training or education for become a human resources consultant, there is a general education track that will set you up for a long and rewarding career in the field. You will not need an advanced degree, but having at least your bachelor's degree is practically a requirement, as you will find it difficult to enter and advance in the industry without it. Even better, your HR education can be completed entirely online.
If you are wondering how to become an HR consultant in the business sector, consider getting your degree in a business-related field. One option would be business administration, which covers business on a broad level, including topics like accounting, business law, strategic management, and marketing.
The most affordable online bachelor's in Business Administration is from University of Florida Heavener School of Business and costs about $15,500 for residents of Florida. See GetEducated's rankings of the most affordable BBAs for options under the national average of $47,500.
For a more specific education, consider a straight up human resource degree. HR degrees offer thorough training in the practice of recruiting, hiring, and employment. Classes may include subjects like business communication, organizational development, employment law, compensation, and employee development. With these classes, you will be equipped to work in the human resources field and start building a career towards HR consulting.
Once you have your bachelor's, consider a master's in HR to set yourself apart from the competition. The average cost for an online master's degree in human resources is $23,533. Many online schools, including Fort Hays State University and Amberton University offer HR master's degrees for less than $10,000, while other institutions, like Drexel University, can cost over $45,000.
Minors & Specializations for Human Resources Consultants
A human resources degree gives you direct and specific knowledge about the industry, but there are still many minors and elective courses that can be paired with a BBA to enhance your overall knowledge and skills. These may not apply directly to the business of recruitment and hiring, but they make you better equipped to deal with people, organize projects, and manage the complexities of human resources consulting.
Minors that will help you build a career in human resource consulting include:
Economics
Business history
Government
Training and development
Human Resources Certification
Becoming a human resources consultant usually also means obtaining certification. Like collegiate education, there is no required level of certification, but to give yourself a shot at landing employment or clients, human resources certification is nearly a prerequisite. Especially if you are an independent human resources consultant, maintaining certification shows potential clients that you are completely up-to-date on the latest issues facing the industry.
There are many organizations that provide human resources certifications. One of the most recognized and respected is the Human Resources Certification Institute, which provides numerous certificates in HR, including "Professional in Human Resources," "Global Professional in Human Resources," and even a certification specifically designed for California HR experts. Human resource consulting demands that you differentiate yourself from competitors and HR certifications are a popular way to do so.
Importance of Staying Educated, Knowledgeable & Up-to-Date
Formal education will set you up to start your career as an independent human resources consultant, but the industry, like nearly every field, is constantly changing and evolving. HR, perhaps more than other careers, is subject to new laws, innovative practices, and changing demographics on a continuing basis.
Five years after you receive a human resources degree, you may need to learn new ways of communication and master new organizational software. Because of this, continuing education, including attending classes, taking certification tests, and staying informed on the industry, is vital for your long-term success.
Building Experience in Human Resources
To be successful in an HR consultant role, education and certification is rarely enough. You will need to demonstrate experience to get hired as an independent HR consultant. Being a consultant in any field requires you to have as much direct experience as possible; after all, consultants are the experts.
Gaining experience usually means starting at the ground floor and working your way up. Before graduating, you should look into available internships that will help you gain valuable first-hand experience inside a human resources department. Although popular culture portrays internships as menial, nearly servant-like work, these opportunities give you a first-hand glimpse of the industry and allow you to make a clear decision on your career path.
Even if you haven't graduated, you can still seek entry-level employment in the human resources field. These jobs might include payroll administrator, on-boarding specialist, recruiter, or human resources associate or assistant.
Once you have your foot in the door, you can begin building your experience, knowledge, and reputation. In general, human resources consultants are expected to have at least three years of experience in the field, so the earlier you start, the better.
---
What to Expect from a Human Resources Consulting Career
Human resource consultants are expected to do a lot of jobs. Not only will they have to be experts in the field of recruitment and hiring, they will also have to be skilled in analyzing data, dealing with complex organizations, and creating plans to deal with future challenges. There are many career possibilities before, during, and after human resource consulting, making it an interesting career with new challenges on a daily basis.
What Do HR Consultants Do?
There is no one set HR consultant job description. When you work as a human resources consultant, you will be a lot of things to a lot of people. While many of the responsibilities overlap, it is possible for two human resources consultants to have differing responsibilities and assignments. Many HR consultants will handle recruiting and hiring, as well as benefits management. They will also be responsible for setting standards when it comes to performance and evaluating employees after certain time periods, such as 90-day or six-month reviews. Many HR consultants are responsible for training new hires, making them the first contact an employee may have with the company.
Other human resources consultants will have more advanced roles, beyond the basic of HR management. This could include strategic services that they may sell to larger business. For example, an independent HR consultant may have to perform an advanced candidate search for a company that needs a highly-specific and rare talent, like marine engineers for an oil company or an advanced systems analyst for an insurance provider.
Day-to-day, a human resources consultant will take on a large portion of administrative work. They may have to interpret HR policy, offer advice on implementing a training process, or simply answer HR-related questions from corporate executives. In essence, a human resources consultant is responsible for making sure a company is compliant with human resource policy.
Who Makes a Good Human Resources Consultant?
We've talked about the education, certification, and experience that you need when becoming a human resources consultant, but what type of person is naturally suited to the career? To work in the field, you need a combination of strong organizational skills as well as outstanding people skills.
When you work in human resources consulting, you will be responsible for managing numerous details, requiring you to have almost flawless organization. This organization will come in handy when you need to meet deadlines and perform under pressure, and it will help you get through even the most complex tasks, like scheduling a round of 200 interviews over the course of a month or less.
Robotic organization isn't the only required trait for a human resources consultant, as you also need excellent people skills. Working with groups, acting as a mediator between job candidates and the company, communicating company policy, and resolving conflicts all require excellent people skills.
Careers in Human Resources
There are many roles that relate to HR consulting, from managing a human resources departments to specializing in a specific topic, including policies and procedures for training.
As companies expand, they will often need highly-specialized human resource employees or consultants. For example, a company may hire a compensation and benefits manager, a development specialist, a recruitment coordinator, or an HR information systems analyst, which is a more technical role related to the human resources software used to manage employment and staffing.
---
Human Resources Career Outlook
The Pros
One of the main advantages of becoming a human resources consultant is the independence that the job gives you. Like a self-employed entrepreneur, you get to set your own agenda, create your own hours, and work on your own time. You can pick clients as they come and take days off as you choose, assuming, of course, that all your work is caught up. Another advantage is the fact that you get to meet with many different people, and have the satisfaction of knowing that what you do helps hard-working individuals find good jobs, while simultaneously helping great companies fill their staffing needs.
The Cons
However, there will be certain drawbacks. One of the top challenges faced by human resources consultants is the loss of a guaranteed paycheck, company benefits, and other advantages that come from employment. There are no paid sick days and no vacation time for the self-employed. You either work and get paid, or you don't. As anyone who works in the human resources field will tell you, there are also frustrations due to the nature of the job, which includes dealing with complex hiring and legal procedures.
HR Consultant Salary
Because human resource consultants are essentially independent contractors, finding reliable and comprehensive information on their earnings and salaries can be difficult. However, there are some numbers that you can look at to get a general idea of a human resource consultant salary.
According to PayScale, a salary and wages research firm, human resources consultants earn an average of $67,591 per year. This information comes from surveys conducted by the group, which show that almost all human resources consultants will be over $42,000 a year, while the top earners in the field command a salary around $125,000.
While the Bureau of Labor Statistics (BLS) does not compile information on human resources consultants, they do have salary numbers for HR managers and specialists. Human resource managers made an average of $102,780, with some salaries going above $180,000 in 2014. HR specialists, meanwhile, brought in about $57,000, with top earners nearing $100,000. These numbers support the fact that anyone in human resources, including consultants, are in high-demand, pulling down lucrative salaries.
Job Outlook for Human Resources Consultants
Like the salaries and earnings, finding data on HR consultant job growth can be difficult. But once again, we can count on HR-related jobs to help us make a conclusion. Human resource managers, according to the BLS, are expected to see a 9% rise between 2014 and 2014. This is higher than the 7% expected growth across all occupations. Human resources specialists, however, are only expected to grow 5% by 2024.
So will there be HR consultant jobs in the future? With the need for experts who can navigate a complex legal and corporate environment, you can enter the field with a comfortable knowledge that yes, high-quality HR consultants will certainly be in demand for the foreseeable future.
---
Becoming a Human Resources Consultant
With interesting work, daily challenges, professional independence, and a steady job market, becoming a human resources consultant is a great career path. Anyone can work in this exciting field, but you'll need the right experience and the right education. Start by requesting degree information today!
See Online Human Resources Degrees
Related Resources
20 Most Affordable Online Master's in HR
Business Career Center
Which Bachelor's in Business Lead to the Best Jobs?
Most Lucrative Business Degree Majors