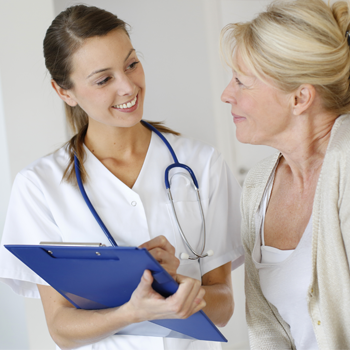 Nurse practitioners (NPs) treat 916 million people in America every year. Why are so many people becoming a nurse practitioner? Unlike a registered nurse (RN), a NP has the ability to prescribe medicine and make clinical diagnoses. And unlike doctors who treat specific medical problems, a nurse practitioner has expertise in health promotion, disease prevention, and counseling/education. Put simply: NPs focus on health totality to guide patients in making smarter health and lifestyle choices.
The NP profession is booming. It strikes an appealing balance between clinical care, education, and research. From a salary standpoint, it has more potential than many other nursing pursuits. In fact, four different nurse practitioner specialties were listed in the top 10 highest paying nursing jobs of 2015. And from a growth standpoint, NPs can advance to even higher levels in the healthcare industry thanks to the rigorous and unique experience gained during the career. When you combine an NP's expertise with the massive shortage in primary care providers existing in the U.S. these days, the result is a well-compensated, in-demand vocation.
View Online Nurse Practitioner Programs
---
Quick Definition: What Is a Nurse Practitioner?
Registered nurses go through extensive clinical training as well as nursing education to become a nationally certified nurse practitioner in a chosen specialty. They work in a multitude of settings – from rural health centers to urban general hospitals – and maintain their certification through regular peer review and clinical evaluations.
Through patient care that blends clinical expertise in diagnosing and treating health conditions with an added focus on disease prevention and health management, NPs bring a comprehensive perspective to health care that many other nursing and healthcare fields cannot match.
---
How to Become a Nurse Practitioner
While variations do exist, the most popular steps to a becoming a nurse practitioner are:
Become a registered nurse and gain experience.
Pursue a Bachelor of Science in Nursing (BSN).
Pursue a graduate degree such as the Master of Science in Nursing (MSN) or the Doctor of Nursing Practice (DNP) in a chosen specialty.
Get certified by a national certification board.
---
Step One & Two: Become an RN & Earn Your BSN
The typical first step to becoming a nurse practitioner is to get your four-year Bachelor of Science degree. While majors can vary, the degree that provides the most immediate career in nursing is a Bachelor of Science in Nursing (BSN). It is also important to note that most graduate nurse practitioner programs require a BSN for entrance.
Many nurses do not have four-year degrees. For instance, a popular path is to earn an Associates Degree in Nursing (ADN), get an RN license, and begin work in a three-year timeframe. Others earn a licensed practical nurse (LPNs) / licensed vocational nurse (LVN) certificate to begin their nursing careers. These full time jobs used to hinder the ability of nurses to advance their education, but now several online bridge programs provide solutions.
An RN-to-BSN bridge program requires intense coursework, but enables you to maintain employment while earning a BSN in as little as 12 months. These programs are competitive because RNs are seeking their BSNs in record numbers. According to the American Association of Colleges of Nurses (AACN), 36.8% of RNs held BSN degrees as of 2008. In 1980, only 22% of RNs had their BSN degrees.
LPN/LVN-to-BSN bridge programs can take as long as four years to complete. These programs require entrance testing and interviews in most cases. The length of the program can vary based on criteria such as previously earned college credits, part time or full time coursework, and specific institution-based requirements.
Some schools even offer RN or ADN to MSN bridge programs which would bypass the BSN step towards becoming a nurse practitioner. Two online schools that offer these programs are South University and Massachusetts College of Pharmacy and Health Sciences. Again, these will take many years to complete.
---
Step Three: Earn a Graduate Degree
The next nurse practitioner education requirement is an advanced degree in nursing. In fact, more than 98% of NPs have graduate degrees. Main types of advanced degrees are:
Master of Science Degree in Nursing (MSN): MSN programs are generally a two-year commitment. Not only will you earn your graduate degree, but you will also be trained in a specialty of your choosing.
MSN Nurse Practitioner: While a large number of Master of Science in Nursing degrees offer multiple concentrations, including that of an NP, a growing number of schools now offer a master's degree specifically aimed at becoming a nurse practitioner.
Doctor of Nursing Practice (DNP): This degree provides a clinical focus on nursing. It can help you stand out in an increasingly educated and qualified field. It requires an additional 2 – 3 years of study after you get your BSN or MSN.
Graduate NP programs require applicants to have an active RN license and to have passed the National Council Licensure Exam (NCLEX) for Registered Nurses. In addition, many of the programs require professional RN experience. And even if it isn't a requirement, you will have an advantage over other candidates if you have worked as an RN and they have not.
Hot Topic: What Advanced Degree Is Best for Nurse Practitioners?
While many nurses use an MSN to obtain their NP certification, change is in the air for NP schooling requirements. The AACN recommended back in 2004 that the new nurse practitioner school requirements include the DNP by 2015.
The argument for the higher education requirement focuses on the comprehensive nature of the NP job description. Advocates for the higher level say it is needed to ensure NPs have the clinical expertise from the start of their practice.
Not all nursing organizations believe a higher requirement is necessary. For instance, the Commission on Collegiate Nursing Education has said it will keep on accrediting all MSN programs and has no intention of changing its policy. They feel the MSN is more than adequate. They also do not want the MSN programs to be phased out since they help train other nursing pursuits as well.
As of this publication, the main exam boards have not raised the education requirement to exclude MSN program graduates. However, several nursing associations recommend students pursue the DNP since the shift could happen in the near future and employers are more likely to hire nurses with a DNP background.
---
Online Nurse Practitioner Programs
Graduate online NP programs offer live web-based classes. When it's time to complete clinical hours, online programs typically set you up at a partnered health care facility.
Requirements vary depending on the institution, but nurse practitioner prerequisites will typically include a BSN along with some professional nursing experience in order to be successfully admitted to an online NP program. Other requirements include: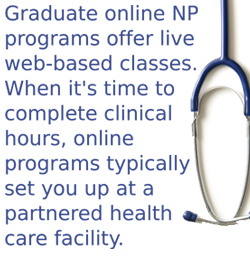 Resume
Official transcripts
An essay or personal statement
Letters of reference
Interview or video-essay
Proof of U.S. registered nurse (RN) licensure
Graduate Record Examination (GRE) or Miller Analogies Test (MAT) scores, particularly for MSN program applicants
Test of English as a Foreign Language or International English Language Testing System scores for non-native speakers of English
Application fee
Nurse Practitioner Specialties
There are several nurse practitioner specialties.  The American Association of Nurse Practitioners (AANP) reports that the largest number of NPs, more than 54%, specialize in the Family (FNP) concentration, while the next closest specialty is Adult Care at just over 19%. Acute Care (7.5%), Pediatric Care (5.3%), Women's Health (4.9%), and Psych/Mental Health (3.7%) specialties are less popular.
You will pick your specialty at the start of your graduate coursework. This decision will define the classes you take, the type of clinical experience you will pursue, and the certification exam you will need to become a certified NP.
---
Step Four: Nurse Practitioner Certification
There are more than 205,000 registered nurse practitioners (NPs) licensed in the U.S. To join this number, you will need to pass a national board certification exam. The board exam you take depends on your chosen specialty.
Nursing Certification Agencies

Exam Requirements

The American Academy of Nurse Practitioners Certification Program (AANPCP) Exam

Nurses with master's-level, post-graduate, or doctoral degrees can apply for AANPCP certification in the following specialties: Adult, Family, and Adult-gerontology.

To be eligible to sit for the AANPCP test, applicants must have:

an MSN, post-master's certificate, or doctorate

Active RN license

At least 500 clinical clock hours supervised by a faculty member

Final transcript or transcript showing work accomplished so far

Note: You can begin the application process for AANPCP's certification exam if you are within six months of graduating with an MSN or higher.

The American Nurses Credentialing Center (ANCC) Exam

The ANCC lets students apply for their exam prior to graduation and offers nurse practitioner certification in the following specialties:

Acute Care

Adult

Adult-gerontology acute care

Adult gerontology primary care

Adult psychiatric-mental health

Family

Gerontological

Pediatric primary care

Psychiatric-mental health

School

While the specific ANCC eligibility requirements vary depending on the selected specialty, the general requirements include:

A current RN license

A master's degree, post-graduate, or doctoral degree in your specialization

At least 500 faculty-supervised clinical hours

Graduate courses in physiology, pathophysiology, advanced health assessment and advanced pharmacology

Graduate-level content in health promotion and maintenance, disease management, and differential diagnosis

The Pediatric Nursing Certification Board (PNCB) Exams

The Certified Pediatric Nurse Practitioner-Primary Care (CPNP-PC) exam certifies graduates of primary care pediatric nurse practitioner programs. It also also offers the Certified Pediatric Nurse Practitioner-Acute Care (CPNP-AC) exam.

PNCB eligibility requirements include:

Current, active, unencumbered RN license issued by a US state, US territory, or Canada,

Graduation from a formal post master's pediatric primary care nurse practitioner certificate program from an accredited college or university

Transcript from an MSN, DNP, or Post-Graduate Pediatric Nurse Practitioner Program

Your transcript should confirm the successful completion of:

Advanced physiology/pathophysiology, including general principals across the lifespan.

Advanced health assessment skills, including all human systems and advanced assessment techniques.

Advanced pharmacology, which includes pharmacodynamics, pharmacokinetics and pharmacotherapeutics for all broad categories of agents.

The National Certification Corporation (NCC) Exam

This board offers certification exams for women's health or

neonatal nurse practitioners.

The NCC exam requirements include:

Current U.S. nursing licensure (Canadian licensure accepted if the applicant graduated from an NCC approved U.S. program.)

Successful completion of an accredited graduate nurse practitioner program that meets NCC program requirements. The program can be a master's DNP or post-master's. NCC no longer accepts certificate-prepared applicants.

You must take the exam within 8 years of graduation from your program.

PDF file of your diploma for upload to the NCC website.

PDF file of your official transcript that documents successful completion of all course work and indicates your NNP or WHNP program.
---
Quick Guide: Becoming a Family NP
Pursue an MSN with a family NP specialization (2 – 3 years).
Obtain a certification from the ANCC or the AANPCP.
---
Quick Guide: Becoming an Adult Gerontology Nurse Practitioner (AGNP)
Pursue an MSN with an adult gerontology NP specialization (1.25 – 2 years). There are generalized adult gerontology (AG) programs, as well as two subspecialties: primary care (PC) and acute care (AC).
Obtain a certification from the ANCC, the AANP, or the American Association of Critical Care Nurses (for adult and adult-gerontological specialties).
---
What to Know About a Nurse Practitioner Career
Basic Nurse Practitioner Job Functions
After receiving your certification, you are eligible to begin your nurse practitioner career. This means you will be able to do the following either autonomously or in collaboration with healthcare professionals:
Assess and provide treatment for chronic conditions, including diabetes and high blood pressure
Assess and treat acute illnesses and injuries
Request diagnostic tests, like lab work and x-rays, and have the knowledge to interpret such tests
Prescribe medications
Provide patients with a healthy management plan, including education about disease prevention and healthy lifestyle options
Offer counseling
Being an NP is fast-paced work. The majority (69.5%) of NPs see 3 or more patients per hour. In addition, they write an average of 21 prescriptions per day.
Job Environment for Nurse Practitioners
NPs work in rural, urban, and suburban communities. They staff many types of health care settings including clinics, hospitals, emergency rooms, urgent care sites, private physician or NP practices, nursing homes, schools, colleges, and public health departments.
The Bureau of Labor Statistics (BLS) says most NPs work in physicians' offices. Other settings with high concentrations of NPs include:
General medical and surgical hospitals
Outpatient care centers
Colleges, universities, and professional schools
Home health care service centers
How Nurse Practitioners Stay Up-to-Date with Standards of Care
Nurse practitioners undergo periodic peer review, clinical outcome evaluations, and adhere to a code for ethical practices. Self-directed continued learning and professional development are also keys to staying up-to-date with standards of care. Additionally, NPs promote quality health care and improve clinical outcomes by leading and participating in health care forums and ongoing research studies.
To maintain their license, nurse practitioners must stay current with their certifications. The following table details the recertification requirements of the various boards:
| | |
| --- | --- |
| Board | Recertification Requirements |
| AANPCP | Recertify every 5 years |
| AANC | Recertify every 5 years |
| PNCB | Yearly recertification and 15 hours of continuing education are required |
| NCC | Recertify every 3 years with a continuing education or reexamination requirement |
Nurse Practitioner Scope of Practice State by State
Practice authority varies by state. The following states and the District of Columbia give NPs full practice authority. This means they receive the ability to evaluate patients, diagnose, order and interpret diagnostic tests, initiate and manage treatments—including prescribe medications—under the exclusive licensure authority of the state board of nursing:
Alaska
Arizona
Colorado
Connecticut (after 2 years of supervised practice)
District of Columbia
Hawaii
Idaho
Iowa
Maine (after first 2 years of supervised practice)
Maryland (after 18 months of collaborative practice)
Minnesota
Montana
Nebraska (after 2000 hours of supervised practice)
New Hampshire
New Mexico
Nevada
North Dakota
Oregon
Rhode Island
Vermont (if the NP meets supervision requirements)
Washington
Wyoming
States not listed above require NPs to work with physicians in some manner before executing a job function. This can be as strict as reviewing every prescription or as unobtrusive as an annual review.
Hot Topic: Practice Authority
Nurse practitioner scope of practice is a hot-button issue at the legislative level and the rules affect the day-to-day operations of every NP. With the growing issues surrounding primary care in the U.S., there is a strong push from the NP community to initiate full practice authority in every state. They face stiff competition from lawmakers and physicians groups who believe doctors should be the sole providers of primary care.
Nurse Practitioner Salary & Jobs
In 2015, the mean, full-time base nurse practitioner salary was $97,990; this is higher than the salaries for RNs ($66,640) and LPNs/LVNs ($42,490), according to the BLS. Nurse practitioner salaries are highest in:
Hawaii ($115,870)
Alaska ($115,670)
California ($115,460)
Oregon ($111,160)
Massachusetts ($107,230)
As for job growth, the BLS has predicted that nurse practitioner jobs will be in higher demand than other areas of nursing. As an example, the BLS says nurse practitioner job growth for the period of 2014 – 2024 is 31%. This compares favorably to RNs and LPNs/LVNs, which all have a 16% growth outlook.
Career Advancement for Nurse Practitioners
Becoming a nurse practitioner can open many doors in the healthcare industry. Thanks to their training in leadership and communication, they often advance to become hospital administrators. Many NPs establish their own independent practice. Those interested in disseminating knowledge to a new batch of nurses can explore an educational path, while others turn to careers as medical researchers utilizing their analytical skills.
---
Become a Nurse Practitioner
So if you are looking to become a nurse practitioner be prepared for a multi-step, multi-degree process. While alternate paths to the career exist, the clear frontrunner involves:
Achieving your BSN.
Earning an advanced degree in a chosen specialty.
Getting certified by the appropriate national board.
Once you are certified, research the authority limits in the state you wish to work in. While full authority gives more autonomy to NPs, it also involves more responsibility. Conversely, limited authority means more required collaboration with doctors and other healthcare professionals. Deciding where you stand on this issue will help you prepare for the job requirements.
Lastly, full-time work is no longer the hindrance it once was to people who want to become a nurse practitioner. Several online NP programs offer the classes necessary to become board certification-ready while partnering with local health care institutions to provide the necessary clinical hours.
View Online Nurse Practitioner Programs
Related Resources
How to Become an RN with Online Education
How to Choose an Online MSN
MHA vs. MBA: Which is Best for My Career?