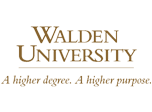 Master of Science in Education / STEM Education (Grades K-8)
Program Details
As the demand for STEM professionals increases, so does the need for strong educators who can help prepare the next generation of innovators.
The STEM Education specialization prepares certified educators to more effectively teach, engage, and inspire students in the STEM fields. Through this program, you can gain the skills and knowledge to lead and improve STEM curriculum in K–8 classrooms. You will learn strategies to help diverse student populations become critical thinkers and build the educational foundation for future STEM-related careers.
Requirements
A bachelor's degree or higher
Completed online application and transcripts
Materials you are required to submit may vary depending on the academic program to which you apply
Special Accreditation
Walden University is accredited by the National Council for Accreditation of Teacher Education (NCATE) for a period of 7 years, from 2012 to 2019. In 2013, NCATE merged with the Teacher Education Accreditation Council to form the Council for the Accreditation of Educator Preparation (CAEP). Walden University is eligible for and will seek accreditation based on CAEP standards beginning in fall 2018.
School Accreditation Statement
The Higher Learning Commission