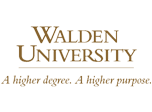 Master of Science in Education / Elementary Reading & Literacy (Grades PreK-6 / Non-Licensure)
Program Details
The Master of Science in Education at Walden University is focused on enhancing educator effectiveness and student success. MSEd coursework explores beliefs and behaviors that contribute to a higher level of teacher performance, cultural and linguistic diversity, and the skills needed to adapt to various learning and language styles. Gain insight into building a supportive learning community that motivates and engages students. You can also learn how teachers can leverage data assessment to be instructional leaders.
The specialization in Elementary Reading & Literacy (PreK-6) (Non-Licensure) prepares you to help students (Grades PreK–6) develop the 21st-century literacy skills required for college and career readiness. Designed by national experts in the field, coursework explores current research and practical strategies that can help you increase the achievement of all students, including linguistically, culturally, and academically diverse learners. This specialization addresses teaching digital literacy, managing classroom literacy programs, and effectively engaging students to promote lifelong literacy.
Requirements
A bachelor's degree or higher
Completed online application and transcripts
Materials you are required to submit may vary depending on the academic program to which you apply
Special Accreditation
Walden University is accredited by the National Council for Accreditation of Teacher Education (NCATE) for a period of 7 years, from 2012 to 2019. In 2013, NCATE merged with the Teacher Education Accreditation Council to form the Council for the Accreditation of Educator Preparation (CAEP). Walden University is eligible for and will seek accreditation based on CAEP standards beginning in fall 2018.
School Accreditation Statement
The Higher Learning Commission