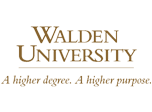 Bachelor of Science in Elementary Education (Licensure)
Program Details
Walden's BS in Elementary Education program prepares you for teaching certification, which is required in most public school systems in the United States. This program incorporates strategies proven to help students develop confidence and succeed in today's diverse classroom environments.
Coursework explores the integration of technology in the classroom, building family partnerships, collaboration, and literacy. You'll also have the opportunity to apply best practices through in-person experiences in K–6 classrooms.
Note: Walden is approved by the Minnesota Board of Teaching to offer a program leading to initial licensure in Elementary Education.
Individuals interested in an elementary education licensure in states other than Minnesota may qualify by virtue of completing a state-approved teacher preparation program; however, individuals must review their state's regulations to ensure the program meets all requirements, paying particular attention to any requirements specific to out-of-state program completers.
Requirements
Admission is considered for adult students who hold a high school diploma or its equivalent. Applicants must also meet one of the following criteria:
You are 21 years of age or older
You are less than 21 years of age with 60 quarter credit hours
You are an active member of the military or a veteran with documentation of service
You are concurrently enrolled in an approved partner institution with an articulation agreement with Walden
Special Accreditation
Walden University is accredited by the National Council for Accreditation of Teacher Education (NCATE) for a period of 7 years, from 2012 to 2019. In 2013, NCATE merged with the Teacher Education Accreditation Council to form the Council for the Accreditation of Educator Preparation (CAEP). Walden University is eligible for and will seek accreditation based on CAEP standards beginning in fall 2018.
School Accreditation Statement
The Higher Learning Commission