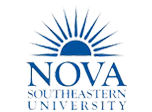 Master of Human Services in Child Protection
Nova Southeastern University
Program Details
Students earning a Master of Human Services in Child Protection will be well prepared to handle the sometimes difficult situations associated within a child protective services organization. The objectives of such organizations are aimed towards training and educating professionals on the critical skills of child advocacy, foster children, cooperating with investigators and law enforcement, program design and mentoring programs.
Graduate students with the advanced degree will have the opportunity to seek positions beyond ground level, and enhance studies of on-the-job training and scientifically grounded best-practices. In addition to the core masters courses, the program will instill the critical knowledge, values, and skills necessary for child protection professionals to effectively respond to complex problems afflicting children and families in the child protective services system.
Requirements
Students must have a grade point average (GPA) of 2.5 or higher in last 60 semester hours of undergraduate coursework or a master's degree with an overall GPA of 3.0 or better; or a total score of 950 or higher on the combined verbal and quantitative sections of the Graduate Record Exam (GRE) taken within the past five years, or other similar measures.
School Accreditation Statement
Southern Association of Colleges and Schools, Commission on Colleges