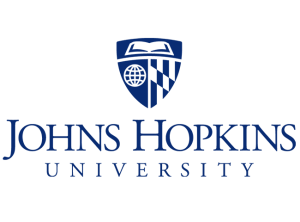 School Details
Established in 1876, Johns Hopkins University is America's first research university. With campuses located in Baltimore, Maryland and Washington, DC, the University is able to reach a global student body through its online graduate programs. Designed for working professionals, these flexible, part-time, education opportunities are taught by accomplished faculty that bring a relevant mix of theoretical and practical lessons to the coursework to ensure students receive a well-rounded education.
Through the Krieger School of Arts and Sciences, The Advanced Academic Programs offers various online learning opportunities, showcasing both graduate certificates and graduate degree programs, spanning various industries with the goal of providing a world-class Johns Hopkins education in a part-time format.
The Carey Business School builds leaders who create lasting value in an ever-changing world.
Designed for working professionals, the AACSB-accredited part-time programs help you balance the demands of your career and personal life. Gain the skills and business fundamentals to advance your career, establish yourself in a new industry, or forge an entrepreneurial path.
Challenge the status quo, collaborate with students from a wide variety of backgrounds, and find business solutions that support more than just the bottom line.
Accreditation & Licensing
Johns Hopkins University is accredited by:
Middle States Commission on Higher Education (MSCHE)