Federal Alternative Repayment Plans
Consolidation is the gateway to three of the four repayment options provided by the federal government. The fourth repayment plan is the standard, which is originally included with all federal loan packages, providing a loan term of 10 years and a minimum monthly payment of 50 dollars.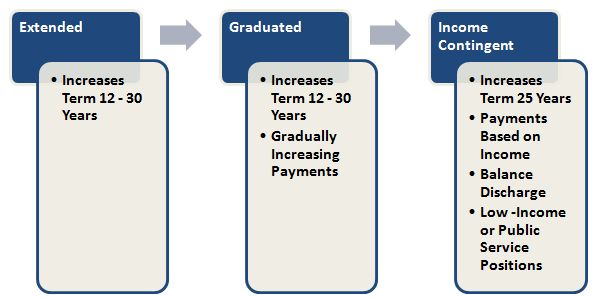 Federal Student Loan Forgiveness
Federal student loans are ensured by the government. This makes them highly more attractive and suitable for forgiveness options than private student loans, which are ensured by private lenders. The government sponsors many federal student loan forgiveness plans that are directed at students pursuing careers in public service, such as teaching. However, many public organizations, themselves, and private agencies help students pay off federally ensured student loans.
Public Service Loan Forgiveness
This program is designed for students who pursue full-time careers in public service. Only federal loans are eligible for the program, which discharges any remaining debt after 10 years of full-time public service employment.

Similar to the income contingent repayment plan, this program discharges debt for students pursuing low-income jobs. Public service loan forgiveness cuts the repayment term back to 10 years and discharges any remaining debt tax free. However, the income contingent plan does not require students to hold a full-time public service position.

Eligible students must have made at least 120 payments as part of the direct loan program. Any direct loans (Stafford, PLUS, Consolidation) are eligible for public service loan forgiveness. However, if consolidated, the Perkins loan also becomes eligible.
Perkins Loan Forgiveness Program
A Perkins Loan automatically provides students with a chance at loan forgiveness. For each year a student spends in a public service position, a percentage of any unpaid balance is canceled.
Loan Forgiveness
Many organizations that participate in the federally sponsored student loan forgiveness programs also help students pay off student loans in trade for volunteer, military or public service. Usually only federal student loans qualify.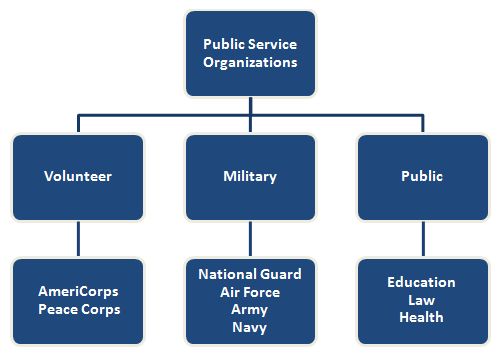 Student Loan Repayment Program
This program allows agencies to repay federal student loans as a recruitment or retention incentive.