Federal Supplemental Education Opportunity Grant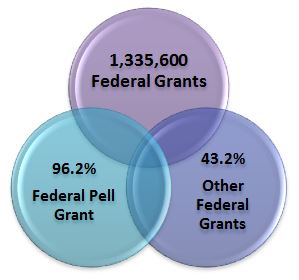 During the academic year 07-2008, more than half of all students with financial assistance received a Pell award. However, only 13 percent of these students received funding from the Supplemental Education Opportunity Grant. There are several reasons for this, the first being that a Supplemental Education Opportunity Grant can only be awarded in addition to a Pell Grant.
Only Pell Grant recipients are eligible for Supplemental Education Opportunity awards. These undergraduate students have the lowest expected family contributions and exceptional financial need. Allocating anywhere between 100 and 4,000 dollars, the average Supplemental Education Opportunity award is around 700 dollars. In 2011, more than a thousand recipients shared over 900 million dollars in available aid, depending on financial need and amount of other aid received.
Supplemental Education Opportunity Grants are campus based aid that is administered through an institution's financial aid office. Unlike the Pell Grant Program, which supplies aid to every eligible student, Supplemental Education Opportunity Grants are distributed on a first come, first serve basis and do run out. For deadlines and to apply, students must go through their school's financial aid office.
These federal awards are formulaic and funding is awarded to institutions based on levels of funding and student need from previous years. In order to receive funding, institutions must apply yearly and contribute at least 25 percent of the award amount.

Iraq & Afghanistan Service Grants
The Iraq & Afghanistan Service Grant is a non-need based grant. In order to receive funding, students must prove their expected family contribution is above average amount that would qualify them for financial need. By applying to the Pell Grant Program and being disqualified based solely on financial support, students become eligible for Iraq & Afghanistan Service Grants.
These awards were created specifically to help the families of armed forces members. Along with meeting all the prerequisites required for a Pell Grant, except for demonstrating financial need, eligible students must have lost a parent or guardian serving in either Iraq or Afghanistan after the events of September 11. To receive an award, students must have been under 24 or in college at the time of their loss.

In 2011, close to two million dollars were secured for Iraq & Afghanistan Service Grant undergraduate funding. From this funding, the average award was around five thousand dollars and not much lower than the maximum award, which was 5,500 dollars.
Like Pell Grants, these awards are considered a first source of funding and are not reduced based on additional aid. However, Iraq & Afghanistan Service Grants do not affect a student's eligibility for other federal student aid and are excluded from total financial assistance estimates.
TEACH Grant Program
The TEACH Grant is the only federal grant offered to both undergraduates and graduates. It is also the only need and merit based federal grant. Eligible students must demonstrate financial need and also meet set academic standards, such as maintaining a cumulative grade point average of at least 3.25.
In 2011, more than 131 million dollars were distributed among recipients, with the average award being around three thousand dollars. To receive funding, students must agree to teach a high need field in a low income area for at least four academic years. These fields include bilingual education, foreign language, mathematics, science and special education taught at an elementary or secondary education level.
If this service is not performed within eight years of completing the program that was funded by the TEACH Grant, a student's awarded funds will be converted into a Direct Unsubsidized Stafford Loan to be repaid with interest starting at the date the funds were given.