The National Guard/Flickr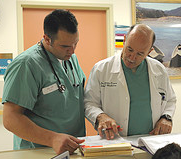 More than one type of online healthcare degree can qualify you for a high-powered management career in the medical field.
If your goal is to launch or accelerate a career in the lucrative health sector, you'll want to carefully compare at least three different nursing and healthcare master's degrees:
Master's in Healthcare Administration (MHA)
Master's of Business Administration in Healthcare (MBA)
Master's in Public Health Administration (MPH)

Get Educated interviewed healthcare students and career advisers to ferret out which of these three types of healthcare degrees might be the best for any rising executive in the medical sector.
MBA vs MHA
"The biggest dilemma health administrators face is choosing between the MHA vs. MBA," says RuthAnn Althaus, coordinator of the online master's of health administration degree program at Ohio University.
In choosing between these two online healthcare degrees, Althaus advises students to think carefully about their career goals. "If they know they want to stay in healthcare, then the MHA is probably a better choice than a MBA." But, she says, if a student isn't committed to healthcare as a career sector, then "an MBA is an MBA, and it will work in other fields." In other words, a general Online MBA will allow someone who manages a healthcare center today to switch and work in the technology sector more easily tomorrow, should the future require a sudden career change.
But if you're wedded to a healthcare career, definitely go for the MHA.
Cons of a MBA in Healthcare Management
Alison Farrell, 47, chose to pursue the more healthcare-focused option when debating between getting a MHA vs. MBA at Ohio University. Farrell works as director of pharmacy for a pharmaceutical management and consulting company in California. She wanted to focus her career on healthcare systems management. She decided against an online healthcare MBA because she wanted her degree to emphasize health management as opposed to business administration.
The MBA programs she considered were, she says, "a lot more focused on the financial and business aspects, whereas with the MHA, we were looking at all the bits that are involved in managing a healthcare system, what I would call the managed-care environment, and not so much the business aspects of it."
Farrell completed her MHA online in June 2011. Already her career has benefited from her new master's degree. Her corporation has assigned her to a new job where she will manage an outpatient pharmacy.
Farrell believes her MHA degree will also give her a boost if she decides to seek employment later elsewhere. "A master's on your resume is going to get you in the door," she summarizes, confident her online education was a wise investment that will keep paying off as her career progresses.
MHA vs MPH
A MPH (master's in public health), on the other hand, is tailor-made for those who want to concentrate on the management of community health services, such as health education or outreach, says Althaus. She terms the MPH the "least business-oriented" of the three degrees, with the MBA being the most focused on business and the MHA falling between.
People who are confident they want to pursue a public service career in government or nonprofit agencies will probably be most comfortable getting a MPH online. That degree is especially designed for those who intend to manage public, governmental and nonprofit health care agencies.
According to Althaus, a MPH is more likely to focus on grant and government funding and regulatory care, whereas an MHA or MBA would assume that students will be managing privately funded, for-profit corporations.
Online Health Administration Degrees — High Demand for All Majors
Demand for healthcare managers is expected to remain strong throughout the coming decade, with some jobs paying in the six-figure range.
According to PayScale.com, salaries for professionals with a master of health administration range from $38,974 for a medical office manager to $240,000 for a CEO. Hospital administrators, who make the most, can rake in from $75,000 to $250,000, reports the Bureau of Labor Statistics.
John Lloyd is CEO of the Commission on Accreditation Healthcare Management Education (CAHME). CAHME accredits 83 master's degree programs in health management, including several that are delivered completely online.
Lloyd says the U.S. educational system is going to be hard-pressed to turn out enough qualified healthcare executives, due to upcoming changes in the U.S. healthcare system. He believes online education can help ease the shortage of management professionals in the health field.
"With the mandated increase in the implementation of electronic medical records due to the stimulus, with healthcare reform and with the significant number of injured soldiers from the wars in Afghanistan and Iraq returning home, we are going to need more leadership in health care administration," says Lloyd. "We may not be able to produce enough people to meet the demand."
Long story short: if you find yourself in the middle of the MBA vs MHA face-off, no matter which degree you choose, you'll end up with sunny career prospects.
Related Resources
Online Accelerated BSN Programs: Second Degree BSN for Career Change
Masters in Nursing Online: How to Choose One