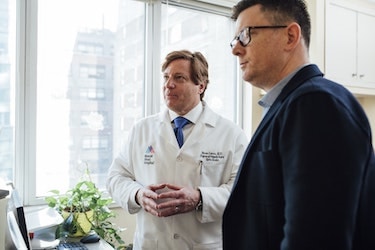 Healthcare careers are booming and our health system needs more than just doctors and nurses to deliver quality healthcare. The Bureau of Labor Statistics projects employment for medical and health services managers to rise 18% between 2018 and 2028, much faster than average.
To work in healthcare management, more and more employers are requiring a master's degree level education. Plus, getting a master's to work in the health field is a great investment in your career, as people with a master's degree make a 29% wage premium over their peers with just a bachelor's. Choosing at a master's level program in healthcare can be confusing, as there are so many options. This article compares MBA vs MHA vs MPH arming you with information about the different programs available so you'll have an easier time picking the right type of program for your career.
More than one type of online healthcare degree can qualify you for a high-powered management career in the medical field. Let's look at the three most popular master's degrees for healthcare managers.
If your goal is to launch or accelerate a career in the lucrative health sector, you'll want to carefully compare at least three different nursing and healthcare master's degrees:
Get Educated interviewed healthcare students and career advisers to ferret out which of these three types of healthcare degrees might be the best for any rising executive in the medical sector.
MHA VS MBA
"The biggest dilemma health administrators face is choosing between the MHA vs MBA," says RuthAnn Althaus, coordinator of the online master's of health administration at Ohio University.
In choosing between these two online healthcare degrees, Althaus advises students to think carefully about their career goals. "If they know they want to stay in healthcare, then the MHA is probably a better choice than a MBA." But, she says, if a student isn't committed to healthcare as a career sector, then "an MBA is an MBA, and it will work in other fields." In other words, a general online MBA will allow someone who manages a healthcare center today to switch and work in the technology sector more easily tomorrow, should the future require a sudden career change.
But if you're wedded to a healthcare career, definitely go for the MHA.
Cons of a MBA in Healthcare Management
Alison Farrell, 47, chose to pursue the more healthcare-focused option when debating between getting a MHA vs MBA at Ohio University. Farrell works as director of pharmacy for a pharmaceutical management and consulting company in California. She wanted to focus her career on healthcare systems management. She decided against an online healthcare MBA because she wanted her degree to emphasize health management as opposed to business administration.
The MBA programs she considered were, she says, "a lot more focused on the financial and business aspects, whereas with the MHA, we were looking at all the bits that are involved in managing a healthcare system, what I would call the managed-care environment, and not so much the business aspects of it."
Farrell completed her MHA online in June 2011. Already her career has benefited from her new master's degree. Her corporation has assigned her to a new job where she will manage an outpatient pharmacy.
Farrell believes her MHA degree will also give her a boost if she decides to seek employment later elsewhere. "A master's on your resume is going to get you in the door," she summarizes, confident her online education was a wise investment that will keep paying off as her career progresses.
MHA vs MPH
A MPH (master's in public health), on the other hand, is tailor-made for those who want to concentrate on the management of community health services, such as health education or outreach, says Althaus. She terms the MPH the "least business-oriented" of the three degrees, with the MBA being the most focused on business and the MHA falling between.
People who are confident they want to pursue a public service career in government or nonprofit agencies will probably be most comfortable getting a MPH online. That degree is especially designed for those who intend to manage public, governmental and nonprofit health care agencies.
According to Althaus, a MPH is more likely to focus on grant and government funding and regulatory care, whereas an MHA vs MBA would assume that students will be managing privately funded, for-profit corporations.
Online Health Administration Degrees — High Demand for All Majors
Demand for healthcare managers is expected to remain strong throughout the coming decade, with some jobs paying in the six-figure range.
According to PayScale.com, median salaries for professionals with a master of health administration range from $82,000 to $117,000. Medical and health services managers rake in $99,730 on average, with the top 10% earning over $182,600 a year, reports the Bureau of Labor Statistics.
John Lloyd is CEO of the Commission on Accreditation Healthcare Management Education (CAHME). CAHME accredits over 90 master's degree programs in health management, including several that are delivered completely online.
Lloyd says the U.S. educational system is going to be hard-pressed to turn out enough qualified healthcare executives, due to upcoming changes in the U.S. healthcare system. He believes online education can help ease the shortage of management professionals in the health field.
"With the mandated increase in the implementation of electronic medical records due to the stimulus, with healthcare reform and with the significant number of injured soldiers from the wars in Afghanistan and Iraq returning home, we are going to need more leadership in health care administration," says Lloyd. "We may not be able to produce enough people to meet the demand."
Long story short: if you find yourself in the middle of the MHA vs MBA face-off, no matter which degree you choose, you'll end up with sunny career prospects.
HOW TO COMPARE MHA VS MBA VS MPH
To better understand these three distinct types of master's education, let's delve into the specifics of each degree type.
What is an MPH?
The Master of Public Health focusses on population health. This means that you will be studying topics like biostatistics, epidemiology, sociology, environmental health, healthcare financing, qualitative and quantitative research methods, healthcare law, medical ethics, global health, and disease prevention. Though there may be some management topics involved in the MPH curriculum, the focus is more on science, research, and public policy.
People with the MPH degree often go on to work in government agencies, non-profits, community health settings, hospitals, and research laboratories. With the focus on the health of larger groups of people, MPH graduates may be involved in research to help prevent disease, setting public hospital policy to serve the highest number of patients, or helping decrease occupational health hazards for workers. The work environment can vary for graduates with an MPH, but the focus is on using data, analysis, and management to improve health outcomes in large groups of people.
Popular Online MPH Programs
What is an MHA?
A Master's of Health Administration is a degree program that focuses on business management within the healthcare system. Curriculum usually involves some basic business courses and some industry-specific subjects within healthcare. In an MHA program, you may study such topics as accounting, strategic planning, health care delivery, ethics, human resources, medical informatics, health policy, and microeconomics.
Jobs for graduates with an MHA degree include medical practice managers, hospital department managers, health insurance and reimbursement managers, medical records managers, nursing directors, or even high level positions like the CEO or CFO of a healthcare facility. Many MHA students have a concentration in one area of healthcare management, as the need for managers exists in many different settings: hospitals, government agencies, insurance companies, long-term care facilities, and group practices. While some MHA graduates focus on similar issues of public health to MPH graduates, their focus will be more on the business management than the research and analysis of public health.
Popular Online Master's in Healthcare Administration
What is an MBA with a Concentration in Healthcare?
The master of business administration (MBA) is one of the most popular and remunerative graduate degrees in our economy. People with MBAs make some of the highest salaries, and healthcare MBAs are no exception. healthcare spending accounted for 17.8% of the US gross domestic product (GDP) in 2017. It is one of the biggest industries and is growing as the population of elderly grows, projected to reach 19.4% of the economy by 2027. Managing healthcare is big business, and there are many opportunities for those with the MBA to contribute to the efficiency and effectiveness of our healthcare delivery system.
The curriculum of an MBA program will focus more on general business management topics like financial planning, accounting, statistics, human resource management, marketing and public relations, strategy, information systems, and coursework relating specifically to business practices within the industry. While some courses may focus on healthcare, the main thrust of your MBA education will be in gaining thorough competency in business management topics.
In the workplace, you will find MBAs in the C-suite of major health corporations, as marketing managers, strategic project managers, policy analysts, hospital managers, pharmaceutical brand managers, corporate development managers, clinical practice managers, or as healthcare consultants. While the focus of the MBA may be healthcare, some managers may love the flexibility of the MBA degree to allow them to transfer their skills into related or even un-related industries.
Popular Online MBAs in Healthcare
What to Expect in an MHA, MPH or MBA Degree Program
All three degree programs will require you to work hard, stay focused, and raise your skills levels to meet the needs of a demanding industry. For those who can devote their full attention to gaining their master's degree, the degree can usually be completed in about two years of full time study. However, so many students in these programs wish to continue their jobs that programs offer part time, evening, and online options, which can take longer to complete. The rise of online education has made getting a master's degree to work in healthcare easier than ever. Distance education allows students to continue their jobs and family lives while updating their credentials to be able to move into higher levels of management.
No matter the format you choose for your master's, your fellow students will be an important part of the educational experience. Some programs require students to progress through courses with the same cohort of students, allowing you to get to know your classmates as you all grow your skills together. You will often find a mixture of life and career experience among your fellow students, and this can contribute to the educational environment in many positive ways.
Many programs will have a hands-on or capstone project towards the end of the coursework, requiring students to spend time working in a healthcare setting to gain a more visceral understanding of how healthcare functions. For online programs, this may be performed at an approved site near your home or even performed at your place of employment if you already work in healthcare. This valuable experience gives students time to raise their questions with professors before they are out on their own in a management position.
Who Should Get a Master's in Healthcare?
With rising need for managers, programs recognize the breadth of experience that can bring people to their doorstep to earn an MBA, MPH, or MHA. Doctors, nurses and other health practitioners are increasingly moving into management positions, adding administrative skills on top of their medical training. Some students will come from a background in business. Many people who seek graduate degrees in health administration come from other careers that aren't related to health, but their skills and life experience will give them perspectives that can inform their future work in the health system.
Students who have recently completed their undergraduate education are welcome in many programs. Programs often like to see documented work experience of some type, but especially in a healthcare setting, but students may be able to satisfy this with volunteer work or extra classes to prepare for the rigors of a master's program.
Application Requirements
All master's programs in health management have some sort of minimum GPA requirement, and the top programs may require a GPA of over 3.5. Some programs have more holistic or conditional admission requirements, allowing those with a slightly lower GPA to be provisionally admitted to prove that they can now earn adequate grades in their courses to complete the program. If your GPA is below 3.0, there are many programs that will accept you, but understand that some programs will not be easy for you to get accepted into. Sometimes, higher GRE/GMAT scores or professional experience can compensate for a lower GPA.
For the MHA, most programs do not require GRE or GMAT scores, while almost all MPH programs will require scores from one of these tests. MBA programs in healthcare management sometimes require test scores, but many programs do not. Often, if you have a high undergraduate GPA and/or relevant work experience, the GRE/GMAT requirement may be waived. If you haven't taken the GRE or GMAT in the past five years, pick the schools you wish to apply to before going to the trouble of taking one of the tests—you may find that you don't need to spend the time of money to take these standardized tests.
Different programs are geared towards students with specific backgrounds, while many encourage applicants from a variety of backgrounds. Some MBA programs are designed for those with clinical healthcare experience like doctors or nurses. MPA programs often look for an undergraduate degree in a scientific field, or require some prerequisite basic science and mathematics courses to bring students from other majors up to speed. MHA and MBA programs often prefer students to have foundational knowledge in business, so may require those with none to take a couple of prerequisite courses in accounting or finance. Executive MBA or MHA programs are often designed for those with a certain number of years of health industry experience, and thus often offer a shorter path to the degree.
Choosing a Degree Program
Passion for the world of healthcare? Want to help your community's well-being while making a good living? Healthcare management is such a high-demand field with many jobs available, especially to those with a master's degree in health management. But which master's is right for you? There is a good deal of overlap between these three degrees, but there are enough differences that you should be able to narrow your choice down to suite your goals and your background.
If you want to work on the management side of health care, whether in a hospital, long-term care facility, or insurance, then an MHA vs MBA would work. If you are coming from outside the health industry, an MHA will give you more specific courses to help familiarize you with the day-to-day running of the system. If you currently work in healthcare, perhaps in nursing, the MHA is great if you want to stay involved in clinical care yet take on a management role. If your desire is to get very involved in the business and operational aspects of healthcare, an MBA will give you the most business knowledge and perhaps help you reach the upper tiers of management. An MBA is also great if you can see yourself transitioning to working in another industry one day. The reality is that healthcare professions can be very high stress, and work burnout is an issue, so an option to switch industries may be wise.
If you want to influence policy and help improve population health overall, an MPH is the best degree for you. An MHA, however, can have a focus on public health too, so for those who see staying more involved in healthcare delivery, and MHA can offer you a combination of public policy and business skills to perform in that role. Often, people with a background in nursing will do very well to add either an MPH or MHA to their credentials to work in government, clinical, and non-profit settings. If your interest lies more in the research side of public health, then an MPH is definitely the direction to go in.
It is worth also investigating your options for financing your master's degree. Many employers have tuition assistance programs to help employees upgrade their credentials, so check to see what your employer may offer. MBA programs tend to be more expensive than other educational types, but they also may provide the biggest salary lift afterwards, so don't forget to weigh the costs against the potential benefits. Grants, scholarships, and loans can also help you to fund your education, so don't rule out a particular program if the sticker price is more expensive—you may find that your financial aid will more than make up the difference.
As you weigh your options with an MHA vs MBA vs MPH, look at the different programs that offer the focus you want. Because online degrees have become so widespread and high-quality, you will find it much easier to figure out how to fit your master's degree program into your current life. There are so many affordable options to choose from, and the future is yours to take! You can earn more while also making the world a better—and healthier—place.
Related Resources
Online Accelerated BSN Programs: Second Degree BSN for Career Change
Master's in Nursing Online: How to Choose One