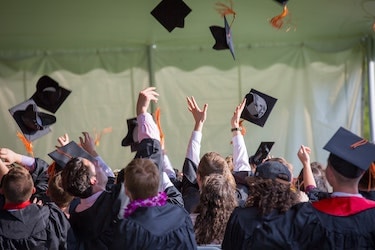 A post-graduate certificate— sometimes called a post-graduate diploma—is a short course of study taken after a master's or doctoral degree. Post-graduate certificates usually focus on a specific career specialty that professionals want to add to their repertoire.
Quick Facts About Post-Graduate Certificates
Why earn a post-graduate certificate?
Post-graduate certificates can update skills, change your career specialty, or help you obtain licensure in a new professional discipline. Certificates are the fastest-growing credential in higher education, and can be a quick and cheap way to add skills to your resume.
How long does it take?
Most post-graduate certificates can be completed in less than a year. Some are more involved, especially in medical fields, and may take as long as three years to complete.
How much does it cost?
Anywhere from four thousand dollars to over $20k. Post-graduate certificate and professional courses cost more than undergraduate credits.
Is it worth it?
Workers with a certificate earned more than their peers without a certificate. Certificates can enhance skills in the most sought-after specialties or allow students to sit for licensure exams. Much faster than a degree, certificates can boost income in many professions.
What types of post-graduate certificates are there?
The most common post-graduate certificate programs are in nursing, mental health, business, and education. There are post-master's certificates available in many other subjects including architecture, engineering, agriculture, law, information technology, genetics, biotechnology, and more.
How do I choose the right post-graduate certificate program?
Consider your goals, schedule, and budget, and then compare, compare, compare. Costs and curriculum vary between programs with the exact same name, and programs that offer the exact same subject may be called something different, so do thorough research to find all the most relevant programs to compare.
Why Earn a Post-Graduate Certificate?
In the United States, a post-graduate certificate (PgCert) is a short educational program designed to give a specific set of skills in a very focused subject. Post-graduate certificates in the United States are typically meant for people who already have a master's degree or even a doctorate in a relevant subject and have been working professionally in that field.
There are numerous programs labeled as graduate certificate programs, and some of them are intended for students who hold an advanced degree as well. But the term "post-graduate certificate" refers more specifically to a course of study taken after graduate school. There are post-baccalaureate certificates targeted to people with a bachelor's degree. Sometimes, however, a "graduate certificate" may be meant for post-master's study, so you may want to search both terms to find all the programs in your field.
Post-graduate certificates are often in subjects that could be a concentration in a master's degree. For instance, if you have a master's degree in nursing with a specialization in pediatric primary care, but you would like to transition to working with a geriatric population, you could take a post-graduate certificate in geriatric primary care. In fact, many master's degree programs that offer concentrations will also allow professionals or advanced students to take the courses within the concentration for a certificate.
Some post-graduate certificates allow people with a bachelor's degree to take them while deciding whether to pursue the whole master's program associated with the specialty. This makes post-graduate certificates a very flexible way to add a skill to your resume while deciding whether or not to pursue a full graduate degree in the profession.
About one-third of people who get a bachelor's degree go on to get a graduate degree. Increasing levels of education are associated with higher earnings, though no statistics are available for those who add a certificate on to a bachelor's or master's degree. But if the trend holds, any additional education will likely add to your earnings.
Post-Graduate Certificates Outside the US
In the United Kingdom, the post-graduate certificate is a standard master's level certificate qualification. It is shorter than the full master's degree, usually being completed in one third of an academic year. A UK honors degree, which is a four-year undergraduate degree in the UK, is usually a prerequisite for taking a post-graduate certificate.
In the UK, there are two types of specific post-graduate certificates. The Post-graduate Certificate in Education (PgCertEd) is used for post-graduate, master's level training in education. The Certificate in Post-graduate Studies (CPGS) is a certificate offered by many institutions as the first year of a PhD program, allowing for an exam to test the competencies of a student to continue on toward the PhD. In Ireland, the PgCert is quite similar to the UK programs, with a wide range of subjects taught at the master's level, and requiring an honors degree as a prerequisite.
In most countries, the distinction between graduate certificates and diplomas is similar the difference in the US. A graduate certificate contains curriculum that is at the level of bachelor's degree, or undergraduate work. The post-graduate certificate or diploma is comprised of coursework at the master's degree level, assuming a full undergraduate degree is earned first.
The difference in the US is that most post-graduate certificate programs assume students have already completed a graduate degree, not just a bachelor's degree. In the US, a certificate meant to be taken after only an undergraduate degree is often known as a post-baccalaureate certificate or even just a graduate certificate. The terminology can be a little bit confusing from country to country and program to program. Check out the fields that interest you the most and look for programs requirements and curricula to see if they match what you want to learn at the right level.
How Long Does It Take?
Most post-graduate certificate programs in the United States require between 12-36 credits of work. Often, there are requirements for clinical or hands-on experience to complete the program, so that may add time to the degree.
Some programs are designed to be completed within a little less than a year, while others may take up to three years to complete part time. Some students may have taken equivalent courses during their master's degree program, so may be able to waive one or more of the required courses for the certificate.
The number of credits required for the certificate, as well as the scheduling constraints of the student and of the program, determine the length of time to complete the certificate. Check with the program you are considering to find out what options and scheduling may be available to you.
How Much Does It Cost?
Like most graduate programs, most post-graduate diploma or certificate programs have a price that they charge per credit, and most students will pay as they go. The cost for a whole program can be as low as a bit over $4,000, as is the case for some international diplomatic certificate programs, to over $20,000 for some of the longer programs. Per-credit prices can range from around $225 per credit for in-state students to close to $1,400 per credit.
Federal student aid is not available for post-graduate certificates or diplomas, as they are not degree-granting programs. Students enrolled in certificate programs will need to self-finance, use corporate benefits, or use private loans to help them pay for this credential.
If the post-graduate certificate is part of a master's program, until you are registered for the master's degree program, you will not be able to get federal financial aid. So this is something to consider if you are pretty sure you will want to continue on to a full degree.
There are numerous ways to finance your education even without federal loans. Many companies offer tuition assistance programs to their employees, and if the specialty you want to study is something that you can use in your current job, then your company would be more likely to offer to pay some or all of your tuition. Other employers just offer some tuition assistance as part of employee benefits, so you may be able to use those funds on a post-grad cert in another field.
Is It Worth It?
This is the question: will a post-graduate certificate be worth it? There are a number of different factors that you need to consider.
The most obvious question is the financial value. Is a post-graduate certificate a good return on your investment? In terms of ROI, almost all graduate education can give your income a boost, and a post-graduate certificate is no exception. Plus, a post-graduate certificate or diploma is a much smaller investment than getting another degree. In most cases, you would be taking a graduate certificate course in a subject that will qualify you to work in a specialized area, and with your extra expertise, you will most likely see a hike in your pay too. Do some research to see if people with this certificate specialty can earn more than you are currently earning.
All education is an investment of time, and you might wonder if it is worth putting yourself through the stress of going back to school. To complete a diploma or certificate, you will need to give up some of your free time and perhaps put your job on hold to study for this credential. If the specialty area requires the certificate for a position, or if you think you will only be competitive with the post-graduate certificate, then it is definitely worth it. If, however, you may be able to get a position or internship in the special field without added educational cost—both in time and money—then it may not be a good way to spend your time. Only you can judge how valuable your time is, and whether it is worth it to push aside some of your family, work, or leisure activities to get a post-graduate diploma.
The other measure of whether a postgrad cert will be worth it is your potential job satisfaction. If what you will learn will help you get a more interesting or fulfilling job, then that is a huge reward for your time. You may have always wanted to be a midwife, but never had the time to get the training until now. Or perhaps you want to work in an area of finance that you have never studied. The PgCert might just be what will set you free to discover more passion in your workaday life.
What Types of Post-Graduate Certificates are There?
In the United States, there are some common post-graduate certificate types, but more are being added all the time.
Nursing Post-Graduate Certificates
In nursing, it is common for master's level nurses, whatever their specialty, to add a post-grad certificate to expand their scope of practice. With so many possible concentrations for nursing, there are numerous possible subjects for PgCerts. Certificate areas include: pediatric primary care, family practice, pediatric acute care, gerontology, midwifery, education, administration, informatics, psychiatric/mental health, women's health, health policy, executive leadership, emergency nurse practitioner, palliative care, and more. Programs vary in length, but most allow you to continue working while you study. Some programs offer completion within two semesters, while others will requires more time to complete both coursework and clinical practice requirements.
Mental Health Post-Graduate Certificates
In psychology, there are advanced certificate programs in school counseling, depth psychology, addiction, trauma and disaster relief, clinical psychology, cognitive behavioral therapy, child and adolescent therapy, autism spectrum therapy, couple and family therapy, gender diversity, organizational development and leadership, applied behavioral analysis, nonprofit leadership, and elder care. These can range from 12- 20 credits, and program formats and lengths vary.
Medical and Research Post-Graduate Certificates
Other medical fields also have this type of program available. Many of these are post-doctorate advanced training for nurses, doctors, or researchers. Healthcare professions often have a requirement for continuing education to maintain licensure, and an advanced certificate is a great way to fulfill that while also adding another credential to your practice.
Post-Graduate Certificates in Education
Another profession where post-graduate certificates serve a very useful purpose is in education. Topics for education certificates include leadership, special education, online teaching, education policy, STEM education, student affairs, English as a second language, early childhood education, sports and athletic management, international education, gifted education, curriculum and assessment, adult education, educational technology, inclusion, and literacy. Many educators want to add a post-graduate certificate to update their resumes and move into a new area of education with a new focus. Many PgCerts in education lead to a specialized certification or license that is required to take up a position, and therefore, the certificate is a quick and fairly painless way to gain additional career opportunities in education.
Business Post-Graduate Certificates
Business professionals also love to polish their resumes with a new post-graduate certificate. The competitive business world requires those with ambition to stay current with the fast-moving technology and structure of global business. Certificates in business could be in a standard area of master's concentration, like accounting, finance, supply chain management, marketing, or analytics. Business post-master's certificates may also be in more specialized industries such as homeland security, healthcare, criminal justice, technological innovation, artificial intelligence, tourism, corporate responsibility, real estate, capital markets, or pharmaceutical management. People with MBAs who are looking to be very competitive for top positions also have the option of getting a certificate from a highly ranked business school, updating their skills and adding an esteemed school to their resume at the same time. These post-MBA certificate programs are a quick way to boost earnings in the business world, with many of the newest and most sought-after subjects available online.
Professional Post-Graduate Certificates
There are a range of other post-graduate certificates in all kinds of professions or new subjects. Engineers and information technologists often need to update their skills. Similarly, new tools are available to architects, so numerous certificate programs have sprung up online. Lawyers looking to add to their practice area may wish to pursue a specialized post-graduate certificate. Genetics and biotechnology post-graduate certificates may be of interest to medical, pharmaceutical, or research professionals. No matter what type of master's degree you have, you will find a post-master's or graduate diploma or certificate to keep you competitive in the field.
How Do I Choose the Right Program?
Just like any education today, this program is available in online or hybrid online/on-campus formats. Since they are designed for professionals, most will expect you to continue to work in your field, though some will require full time study for you to switch to the new specialty. Nursing and psychology programs usually require clinical practice hours, and sometimes in-person sessions to develop new competencies. Often designed for working professionals, these on-campus requirements are usually scheduled for an intensive week or weekend session to allow students from all over the country to come to participate.
At this level of education, you will find fewer scams designed for the novice learner, but it still pays to be a bit cautious. Since financial aid is less likely for certificate programs, the sticker price may be an important consideration for you. For-profit schools often have higher tuition rates, but often have more flexible schedules. You may be able to get some required courses waived due to your previous education or work experience, so check for schools that give you the maximum credit.
When you are looking at post-graduate education, you are brushing up your professional qualifications, so looking for the very cheapest option may not pay off. You may find that the most well-respected programs are more expensive, but they may also open more doors for your career, so the price may be worth the investment. Your time is also valuable, so don't waste it on a less expensive school if it is not the best one for you.
Continuing education is a necessity for many professionals, and even if not required, it can offer a huge boost to a career in today's work world. Taking a post-graduate certificate program will give you a credential that is faster and cheaper than an additional degree, and it can be a way of keeping you competitive in your profession or allowing you to move into a higher-paid specialty. With less to lose—both financially and in terms of your time—a post-graduate certificate can keep your skills up-to-date, keep your job in a tough economy, and lead you to a satisfying specialty in your profession.
Related Resources
What is a Graduate Certificate?
Highest Paying Associate Degree Careers