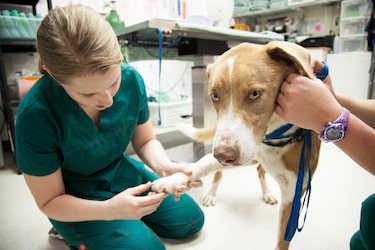 For the many people who love animals, the idea of working with them all day is a dream come true. Taking care of animals, from exotic birds to farm animals, is a profession that many young people aspire to. Though you might first think about cats and dogs, which are the most popular companion animals, there are many other types of animals that need care. Veterinary technicians perform many of the same types of work as nurses do in human medicine, and there is always a need for more of these necessary professionals in animal hospitals, zoos, laboratories, and animal rescue facilities. Because the profession requires only a specialized associate degree to take the exam for licensure, the education doesn't take that much time. Often, people who already work or volunteer with animals may want to consider taking an online program to become a veterinary technician while continuing to work with animals every day. In fact, that hands-on experience is going to be required to complete a degree, and constant exposure to animal care will only serve to make coursework more meaningful.
Veterinary technicians earn more than their less-educated colleagues, veterinary assistants, and have the skills to perform much more complex tasks in caring for animals. The job growth for veterinary technicians, or vet techs, as they are called for short, is expected to be 20% between 2016 and 2026, much faster than average. Job growth in this profession is driven by the strong need for care of household pets, and the trend of veterinarians towards using vet techs for more of the routine procedures and care. With good job prospects and a satisfying career working with animals, getting a veterinary technician degree could be worth the time and effort for those who really enjoy their furry, slithery, and feathery friends.

---
The Road to Licensure for Vet Techs
The programs that teach people to become veterinary technicians will have challenging courses and practical skill requirements. There will be science, mathematics, and general education courses in any program that you choose. If you think about it, this makes a lot of sense, because vet techs perform a wide range of complex procedures including: collecting specimens and performing laboratory procedures, preparing for and assisting in surgery, administering anesthesia, performing diagnostic imaging and educating clients. All these technical and medical procedures will require training, both in the science behind the work and in the hands-on care of animals. Vet tech programs are meant to be rigorous and challenging to produce capable, competent veterinary technicians for this in-demand profession.
The first step towards the profession is to
find a program
that is right for your life and interests. The online associate degree programs can be either Associate of Science or Associate of Applied Science degrees, depending on what the school offers. With a high school transcript or a GED, students can begin applications. Some programs will require students to take the general education portions of the program before entering the specialized section of the program. General education requirements will include English writing, humanities, mathematics, science, and social sciences. Many programs also include a course in communication or speech—good idea, since this profession requires good communication skills, both with colleagues and clients.
The specialized portion of any vet tech program will include animal-focused curriculum, and will also require some time to be spent practicing hands-on skills under the mentorship of a veterinarian or licensed vet tech. These can usually be arranged in the student's home town, with some even allowing those who are already employed in an animal hospital to use that as their clinical site. The vast majority of these practices deal primarily with small animals, and some programs will require practical work with farm and food animals too. This can sometimes be arranged through the school by arrangement with a large animal practice or can be done closer to home with an appropriate mentor and animal population for practice. Some programs also have exotic and laboratory animal practicums, which are a must for those who want to treat a very wide range of animals. When doing practical skills in your own area, you will usually need to video tape these procedures so that your instructors can verify that you have successfully mastered them.
Associate degree programs usually take two years of full-time study, but online programs can vary in length. If you are working, you may want to study part time, and some programs even require you to go slower through the coursework. While much of the online coursework can be completed asynchronously, some will require your attendance at live lectures and discussions. You always need to plan for a few hours of work outside of class time on each course each week, especially with the challenging courses you must take to get this professional degree.
To be licensed as a veterinary technician, you must check with your state for requirements. In most cases, you are required to pass a national exam, the
Veterinary Technician National Exam
(VTNE), that is administered by the American Association of Veterinary State Boards. Educational programs are often accredited by the
American Veterinary Medical Association
(AVMA), through their Committee on Veterinary Technician Education and Activities (CVTEA). Programs that are accredited by this board are checked for educational and institutional quality, so you can be especially assured of a good program if it is approved. Once a graduate passes the exam and fulfills any other state requirements, they can apply for licensure in their state.
---
The Best Vet Tech Schools Online
Get ready for the first step towards a career as a Veterinary Technician by looking at the different programs available to study for this growing profession online. You can do this research from the comfort of your own home. Consider the emphasis of the program you want, in addition to cost and schedule.
1.
Penn Foster College

Penn Foster also boasts a very low tuition price for their online Veterinary Technician – AS Degree, again below $100 per credit hour. They also have payment plans with no interest. Other attractive features include award-winning faculty, and a strong Vet Tech student community. Courses are very interactive, and the clinical externships can be completed with one of the national veterinary hospital partners. Courses include live webinars—day and evening—and asynchronous course elements that you can access on your own schedule. The cost of textbooks, your choice of either eBooks or physical copies, is covered in the tuition. Coursework is mobile-friendly, which is a great feature for those who need to use every minute of the day to study between other commitments. Unlimited students support, academic coaching, and career services are also available for this program. For those with previous study in the field, up to 75% of credits toward the degree may transfer from other institutions, as long as the course grade was a "C" or above. The online degree program is designed to be completed in four semesters, and it prepares students to take the VTNE. With the largest community of online vet tech students and a vibrant interactive student experience, the online space in this program contains ways to connect with faculty and research career options, discuss coursework, and share common interests.
2.
San Juan College

The online Associate of Applied Science in Veterinary Technology from San Juan College is accredited by the AVMA and the program can be started in any semester—fall, spring or summer. General education courses in the curriculum are 16 weeks long, while specialized Vet Tech courses last 12 weeks each. Every course is offered during each semester, making this program especially flexible for students. Designed for working professionals, this 100% asynchronous online program integrates course work alongside hands-on labs designed to be performed at a veterinary clinic in your area. Students will need to work with both a companion animal site and a Food and Farm Animal site. The options to do "fast-track" labs for large animal skills on-site in Waco, Texas is popular with students, who cover their own transportation, lodging and meals in Waco; there is no lab fee for this program. Students normally take one to four courses per semester and should plan on devoting four to six hours per week on each class. Full time students can complete the program in two years and then sit for the VTNE or similar state exams. International students may enroll in the online program, and students with prior relevant work experience or college credit may be able to transfer credits or test out of some courses. Once accepted but before registering for classes, students will have an advisement by phone with program staff.
3.
Purdue University

At Purdue University, the online Associate of Applied Science in Veterinary Technology is offered as a part time program that can be completed in three years, but most students take over five years to complete the degree around family and work commitments. Purdue considers the program a veterinary nursing program, which is a term that not all schools use, but more accurately represents the rigorous science-based curriculum and job duties of this profession. Most students already work in a veterinary practice and students are responsible for securing their own mentorship sites. No credit is awarded for life experience, and specific mentorship assignments must be completed for the program.


Students may begin any semester and must maintain a 2.0 average to complete the program. Distance learning program in Vet Tech graduates have a 90% pass rate on the national exam. Requirements for admission include: high school diploma or equivalent, six semesters of high school science and math, eight semesters of English, minimum 18 years of age to begin program, and SAT or ACT scores if under 23 years of age. The program is open to international students, and all students in this program pay the same tuition rate regardless of residence. Most hands-on skills will be practiced with a mentor in the student's area, but Purdue does hold on-campus workshops in May/June for students who wish to get large animal experience on campus.
4.
St. Petersburg College

The online Associate of Science in Veterinary Technology at St. Petersburg College is accredited not just by the AVMA, but also by the American Animal Hospital Association too. The training includes radiology, nursing, dentistry, anesthesia, surgical preparation, and clinical laboratory tests. Before a student applies to the Vet Tech program, they need to complete 18 or 22 credits of the general education requirements for the degree, including mathematics, composition, speech, and natural sciences. In addition, prospective students must have worked or volunteered at least 40 hours in an animal hospital before applying.

Coursework is completely online, while students complete the clinical practicum with a mentor in their area. A few courses may have required evening class discussions, but most learning is asynchronous. An online tool called Academic Pathway can help students to design their course plan, assisting in scheduling classes in the recommended order. During the program, students must spend at least 20 hours per week in a veterinary clinic. Florida residents pay less than a third of the tuition charged out-of-state students, and there is also the possibility to combine classroom and online learning to fit the schedule needs of area students. Tuition is affordable, and a great bargain for Florida residents. The program accepts students year-round, and students can start in fall, spring or summer semesters. Graduation requires a minimum grade of "C" in all program courses.
5.
Colby Community College

The convenience of distance learning can be combined with weekend on-campus mentorships for specialized subjects in the online Associate of Applied Science in Veterinary Technology at Colby Community College. All coursework can be completed online asynchronously, and students can do practicums in their home area, though on-campus weekend mentorships for large animals, laboratory/exotic animals, and microbiology are available to distance learning students. Starting with the second terms courses, online students are required to work with veterinary hospitals in their area to cover hands-on skills. Students will need a video camera and tripod to record their essential skills under the supervision of a licensed veterinarian or credentialed vet technician for submission to program faculty.


The program can be completed in three years part time, or two years full time. There are 22-26 credits of prerequisite general education coursework, and 60 credits of program-specific courses and practicums. Transfer credit is available for students who have completed coursework at another accredited institution. Students must have completed at least 12 credits of their prerequisites before enrolling in first term vet tech courses. Tuition is very affordable, especially for Kansas residents, but tuition for out-of-state and international students is also very low. Courses are offered three semesters per year, though not all courses are offered every semester.

6.
Barton County Community College

An appealing feature of the Barton County Community College's online Associate in Science in Veterinary Medicine is that the cost per credit hour is very low for all students, regardless of where they live. As part of the pre-professional academic program, this AS degree is designed to set students on the way to a professional position in veterinary medicine. Transfer credits are allowed but will need to be verified by transcript. The associate program is a total of 64 credit hours and begins with a number of general education requirements, including foundation studies, humanities, social and natural sciences, and mathematics. The required courses for the Veterinary Medicine emphasis are chemistry, physics, and zoology. There are elective options in anatomy and physiology, statistics, and organic chemistry. Flexible scheduling allows for shorter or longer course terms, from 4-week intersession courses up to 16-week full semester classes. Students can receive a 100% refund if they drop a course within seven days of the start of class. Free online tutoring is available, and the school is military friendly. The program may require practicums, field work, internships, and clinicals. This degree program is also available on campus at the Barton County, Kansas campus, so students may be able to combine online and in-person learning.

7.
Allen County Community College

The tuition for the online Pre-Veterinary Medicine (AS) at Allen County Community College is far lower than most online programs, coming in well under $100 per credit hour. Credit for prior learning or military experience is available to students after they have completed 12 credit hours of work at Allen County Community College. The recommended sequence of courses allows students to complete the program in as little as four semesters. Courses in science, math, English composition, computer applications, and humanities are recommended to be interspersed with specialty courses for the veterinary technician program. These courses include Animal Science and Industry, Fundamentals of Animal Nutrition, and Agricultural Economics. Many of the general education requirements are elective, meaning that students will have a chance to choose courses that most interest them. Like other Kansas community colleges, Allen County has transfer agreements with public universities in Kansas for further education, if students are interested. Programs are open to international students and out-of-state students, with the same incredibly low tuition costs. Benefits of online education at Allen County include a writing center for individual tutoring, math tutors, access to the online library, and technical assistance.

---
Start Contacting Online Vet Tech Schools Today!
Now you can compare the top seven online vet tech programs to find one that is right for you. A professional career where you get to interact with animals every day is just a few clicks away. If you have a passion for critters of all types, becoming a veterinary technician could be a very satisfying career choice. With a bit of education, some hard work, and some clinical experience, you could join the ranks of this needed profession and care for the health of your friends in the animal kingdom, large and small alike.