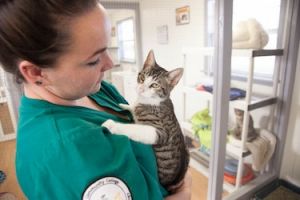 When working with animals, the good, the bad and, unfortunately, the sad, can all be a part of a normal work day. Veterinary assistants and technicians who work in veterinary facilities, from private practices to laboratories and research centers—even zoos—experience nearly every range of care during the course of their work day. Morning may start with the birth of a litter of puppies, adoring human parents present for every minute, while the afternoon can bring the sadness of an owner saying his or her final goodbyes to a much-loved companion. If you love animals and can comfort pet owners in their times of distress, then consider online vet tech programs for a booming career path.
Two career paths exist. When an animal requires care from a veterinary professional, whether it's for a domestic pet or an exotic specimen, there are two categories of associates who work hand in hand with the veterinarian. Although both are often referred to as an assistant, there is a clear difference between what veterinary assistants and veterinary technicians do, as well as their long-term career prospects.
---
Veterinary Technician vs. Veterinary Assistant
Veterinary Assistant
Veterinary Technician
Education
High school diploma or equivalency

May earn a certificate to be more
competitive in the job market

2 year associate's degree
Responsibilities

Pet owner interactions
Office duties
Basic pet care
Sanitation of pet areas
Assisting veterinarian or technician with animal restraint

Veterinarian assistant duties
Wound care
Medication administration
Surgery preparation and assistance

Median Yearly Salary
$25,250
$32,490
---
How to Become a Vet Tech
There are three steps to becoming a certified veterinary technician:
Earn your high school diploma or equivalency;
Graduate from a two-year, associate's degree;
Pass the licensing exam required in your state.
---
Vet Tech Responsibilities
While there is some overlap in the responsibilities of a vet assistant and a vet technician, the tech has the formalized training and experience gained through a vet tech school education and onsite experiential guidance that allows them to fulfill a wider range of duties. A vet assistant education is largely completed on the job and therefore they will fulfill a lower level of animal care.
Veterinary assistant duties usually include:
Office support including billing and scheduling appointments or surgeries.
Understanding the common medical terms used, the most expected conditions and diseases, pertinent laboratory and surgical procedures, and overall operation of facility.
Responding to client questions with appropriate information and generally managing the patient from admission to release.
Caring for all patients, including feeding, providing fresh water, cage and kennel cleaning, exercise, grooming, and observing the animals for signs of illness and/or infection.
Assisting the veterinarian and the veterinary technician with animal restraint when examinations and injections are performed, medication—either orally or topically—is administered, pre-surgery and wound care, and during testing, such as x-rays.
Following and performing sanitation and sterilization protocols for all areas of the facility—exam rooms, kennel, laboratory, and surgical areas—as specified by the veterinarian or administrator.
On the other hand, due to their formal vet tech program education, vet techs are the "nurses" of the animal world. As such, in addition to the duties a veterinary assistant may execute, they are qualified to:
Speak with pet owners to obtain the animal's medical history, inclusive of the current complaint. Obtain and utilize medical reports, laboratory results, and other pertinent information as needed.
Complete tasks related to patient surgery, i.e.., patient prep (shaving surgical area and anesthesia administration), care following surgery, including medical record updates, and helping the vet during surgery.
Fill and dispense prescription medications as ordered by the veterinarian.
Fulfill laboratory work including the collection and preparation of specimen(s) for blood work, urinalysis, and microbiological and parasitic identification.
Act as an "animal nurse". Assist during procedures—including pre-and-post operative preparation. Assist in diagnostics and the preparation of medical equipment and instruments for surgery and other procedures. Administer injections, medications, and other forms of treatment. Wound care (cleaning, medication application, bandaging).
---
Online Vet Tech Programs
One of the biggest difference between a veterinary assistant and a veterinary technician is the education required and the option to become licensed. A veterinary assistant will only need a high school diploma or a high school equivalency certificate. No higher education or licensing is required to enter this field but a certificate in veterinary science will make job applicants more competitive.
For the veterinary technician, a two year associate's degree from an accredited online college or technical school is required. The online vet tech school should be accredited by the American Veterinary Medical Association, like Penn Foster. After, the inspiring vet tech will need to take and pass a licensing exam according to their state laws.
Veterinary Assistant Certificate Programs
For those who are just starting out in the veterinary field, becoming a veterinary assistant can be a good first step. This is a position where on-the-job training definitely comes into play, however, as with pretty much every other starting position, bringing more to the hiring table benefits the employee. Although not required, completing a certificate or diploma program from a vet tech school can be what makes one candidate outshine another.
A veterinary assistant certificate will include coursework on:
The basics of the medical terminology involved in the medical field of animal care.
The basic role of a veterinary assistant, including appropriate care of the animals of different breeds.
Sanitary and prophylactic procedures regarding the facility, kennel, surgery and examination rooms.
Facility administration, such as computer program operation, scheduling, records maintenance, and patient information.
Patient protocols, i.e. providing general animal care information, nutrition, medication, vaccination and other care-related specifics.
#TRENDING: Veterinary Assistant Program from San Juan College.
Associate Degree Programs for Veterinary Technicians
For those wanting to advance their education and become a veterinary technician, online courses allow the student to volunteer and/or work in their field as they get their degree. Completing a vet tech program takes approximately two years. Throughout four semesters, there will be an emphasis on the following areas:
English, business, and technical writing, including history documentation and record keeping.
Computer applications, mathematics and veterinary office management to allow the technician to facilitate the running of a veterinary practice, laboratory and research center.
Animal genetics, reproduction, nutrition and aging encompassing of companion and domesticated animals, as well as farm animals.,
Diagnostic imaging inclusive of radiation and ultrasound performance, development, and related protocols.
Anesthesiology and surgical procedures to include preparation for, assistance during and proper sterilization techniques at all stages.
Anatomy and physiology of animals, the mechanics of the animal body.
Pharmacology as related to veterinary medicine.
Animal diseases, including pathology, immunology, and parasitology, both an overview and breed specific.
#TRENDING: Associate of Applied Science in Veterinary Technology from Purdue University.
As with many online degree programs, there will be practical experience required that must be compelted in person. Many vet tech schools offer placement assistance with this part of the course requirements. Because of the specific nature of online classes—basically the ability to take them according to the student's schedule rather than the school's schedule—an online student may find the practical part of the degree requirements is easier to accomplish, even with a work schedule.
Of course all the usual college bonuses are present, including assistance from instructors and advisors, online libraries, student led study groups, and course materials. Unlike regular college classes, students are not limited to normal class hours when seeking assistance. Instructors are an email away and, as many students are participating in their practicums, it's not unusual to find online student groups at all hours of the day and night. For someone who is already working in a veterinary facility, online vet tech programs—with classwork after work—will help add practical experience to the material being studied.
---
Career Opportunities
With a U.S. pet population currently at 377 million and counting, both veterinary assistants and veterinary technicians are in a growing field.
With a projected a growth rate of 9% by 2024, the Bureau of Labor Statistics notes that veterinary assistant job opportunities are "excellent". Over 6,600 new jobs are expected by the year 2024.  This is great news for those who are entering the animal care arena and considering online vet tech programs. The median yearly wage of $25,250 is a great start. The hourly wage, averaged at $12.14 per hour in 2016, will vary according to the area of the country and the size of the facility where the veterinary assistant works, along with years of experience. Without formalized training, assistants will be slightly limited in the scope of employment opportunities. They may find more success in private practice or group clinic settings, animal shelters, or large city facilities.
Veterinary technicians, on the other hand, can look forward to a 19% growth in employment. What this translates into is the addition of approximately 17,900 new jobs by 2024. The education that a veterinary technician receives increases their median yearly salary to $32,490 or roughly $15.62 per hour. As with vet assistants, technicians will experience differences in both hourly wage and yearly salary depending on where in the country they find employment. With an education geared toward animal care, technicians have a wide array of employment possibilities. From private practice clinics to laboratories to zoos, adding to their education only grows their career options.
---
Start Becoming a Vet Tech Today!
Entering into the veterinary technician job market, with the outstanding growth potential for those just starting out and for those who've advanced their education with one of the many online vet tech programs, can be an exceptional career choice. Turning a love of animals into an expansive career means matching passion with pay and enjoying a winning combination!
Related Resources
19 Highest Paying Associate Degree Jobs
How to Choose an Online Degree Major